We continue our playoff coverage in The No-Look Pass with our team previews with some of the best writers around the internet.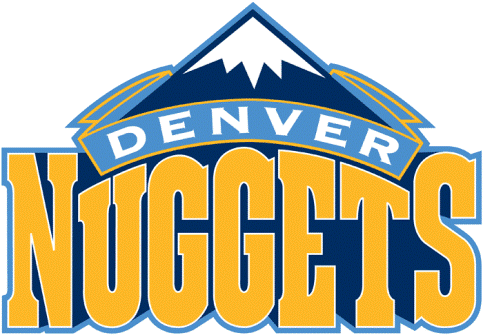 Seed: #3
Record: 57-25
Stat Leaders: Ty Lawson (16.7 PPG, 6.9 APG), Kenneth Faried (9.2 RPG), Andre Iguodala (1.7 APG), JaVale McGee (2.0 BPG)
Opponent: Golden State Warriors, 47-35
Record Against Opponent This Season: 3-1
Writer: Tammy AKA "NBA Mistress" (@Mrs__NBA)
Web Site: NBA Mistress
The Denver Nuggets was part of a huge trade that ended up netting them defensive wiz Andre Iguodala from the Philadelphia 76ers. With their incredible depth, the Nuggets had a fantastic season, culminating with a 57-25 record and the third seed in the tough West. Even with the injury to Danilo Gallinari, the Nuggets look poised to make a huge run in the playoffs. And they seem invincible at home as they only lost three games at the Pepsi Center all season.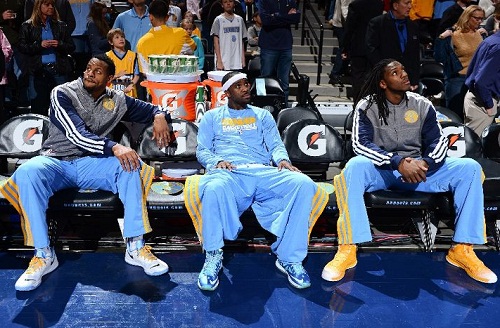 I talk to Tammy of NBA Mistress of how the Nuggets' season went. Denver has Golden State in the first round of the playoffs.
How does the Gallinari injury affect the team?
NBA MISTRESS: Immediately following his injury, I was more worried about who would cover the offensive spread with him out. The defense he provided would be handled by Denver's depth at the wing, but Gallinari is phenomenal at driving to the basket, drawing fouls, and hitting those free-throws. Not to mention, his penchant to turn it on from downtown, but so far, Andre Iguodala, Corey Brewer, and Wilson Chandler has taken care of that.
In terms of the playoffs, that remains to be seen; Gallinari wasn't pivotal in last season's postseason (point of reference) and Denver's depth is key here.
Should Ty Lawson be considered one of the more elite point guards in the league?
NM: This is a tough question mainly because he spent close to a third of the season playing like a fat kid on the local rec squad; but since then he has been playing phenomenal. It's unfortunate he was sub-par to start the season, but he's certainly playing like a top 5 point guard since then, and even after his recent injury.
Is that enough to be considered an elite point guard? I can't say it does.
Do you like JaVale McGee coming off the bench?
NM: I love it.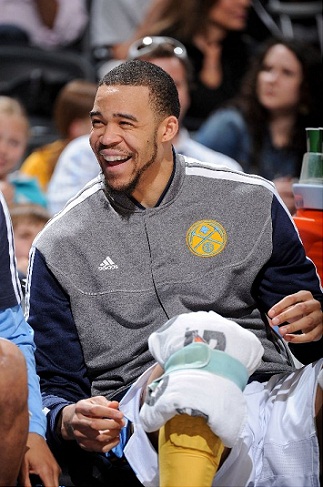 Look, JaVale apologists always start with the "Why is Kosta starting!?" without understanding Kosta is defensively underrated, he has the fundamental skill set.
JaVale is perfect as the second-unit big man who eats at other opponents second-unit's bigs. Pairing him with Andre Miller off the bench, is a beautiful lineup decision by George Karl.
In what ways does Andre Iguodala affect the squad besides his obvious defensive expertise?
NM: Playmaking.
He's a beautiful point-forward; he's such an unselfish player and he's ingenious when passing and setting up his teammates. Also, when he's engaged and driving to the basket; that's a beautiful thing to witness.
The Nuggets draw the Warriors. Keys to beat Golden State?
NM: Defending their perimeter, first and foremost. Limiting - stopping Steph Curry 100% isn't going to happen - Curry, Klay Thompson, Jarrett Jack are bullet points for Denver defensively.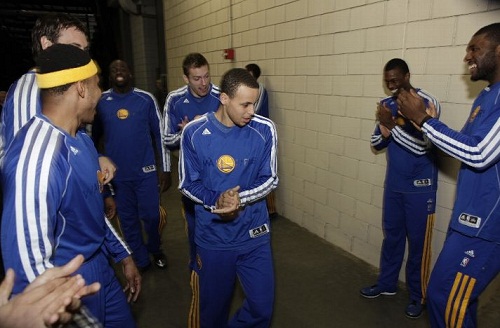 Prediction for the series.
NM: Denver in 6 games.
Most underrated boy band in history.
NM: I still feel Take That was severely underrated -- "Back For Good" was on repeat when I was going through my teen angst.
PHOTO CREDITS: 1, 2) Garrett Ellwood/Getty Images. 3) Sam Forencich/Getty Images.
Follow Rey-Rey on Twitter: @TheNoLookPass. And "LIKE" us on FaceBook. Thank you!
We're always up late. How about buying us a coffee? Or an energy drink!?