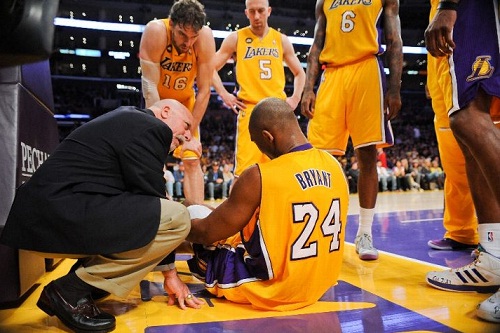 Kobe Bryant has a possible torn Achilles and is knocked out for the remainder of the season. And there's a huge chance that he'll miss a lot of the 2013-14 season.
Kobe tearing his Achilles basically summed up the Lakers' season. A disappointing start was followed by a myriad of injuries for everybody. Steve Nash, Metta World Peace, Jordan Hill, Pau Gasol, Dwight Howard, and Steve Blake have all missed a chunk of time. And just when Kobe was on the verge of getting them into the postseason, he gets hurt.
It took three injuries to knock Kobe out of their game against the Golden State Warriors. He jammed his knee on an awkward landing. He sprained his right ankle. And then, finally, the wheels fell off Kobe when he crumpled to the floor with three minutes left in the game. And it was the worst possible outcome for Lakers organization and the fans.
There's no doubt Mike D'Antoni is getting a lot of blame here although probably too much. While D'Antoni claimed it was his call to keep Kobe in there, stars usually win out on this matter. Especially stars with championship rings. Kobe would never ask to come out of a game.
This injury has a lot of ramifications. Kobe will make over $30 million next year. They're going to be tied up with him and while no one thinks the Lakers will amnesty him, it does limit the franchise on what they can do in the summer. Dwight Howard's free agency is also looming; he may come back because this would be his team come next season. But this team hasn't been exactly the model of a championship squad this season so he may bolt, too. Pau Gasol's status with the team is also very unclear.
We can talk about what the Lakers will do and what will happen to their playoff run another time. The real question is what's next for Kobe?
This was part of his rant on FaceBook:
This is such BS! All the training and sacrifice just flew out the window with one step that I've done millions of times! The frustration is unbearable. The anger is rage. Why the hell did this happen ?!? Makes no damn sense. Now I'm supposed to come back from this and be the same player Or better at 35?!? How in the world am I supposed to do that?? I have NO CLUE. Do I have the consistent will to overcome this thing? Maybe I should break out the rocking chair and reminisce on the career that was. Maybe this is how my book ends. Maybe Father Time has defeated me…Then again maybe not!
There were many times when he hinted on retiring after next season. An Achilles injury takes nearly a year to recover from. This will not be the way Kobe goes out (no one dares to think he's done) but now it seems that he will play beyond next season. Contract terms for that season will be another story for another time. He'll put in the work like he usually does and probably come back sooner than most (all) from this injury.
But right now, this is surreal. We're not going to see Kobe Bryant in the playoffs (which has only happened once in his career). There's a chance we're not going to see Kobe for much of the season next year. No matter what you think of him and the way he plays the game, he always gave it his all on the court. Kobe was a maniac in the game of basketball, doing whatever it takes to win the game whether it was scoring 45 or giving out a dozen assists. There is no way you can question his heart on the hardwood; he played through everything from bad ankles to mangled fingers. Kobe lived and breathed the game. He always wanted to get better, even at his age.
And we're going to get a preview of what the NBA will be like without Kobe. I don't think anyone is ready for that and I don't think anyone will ever be ready for it. We all love to watch him. He drives basketball conversations. We look forward to his next quote. He drives basketball fanatics mad with his unapologetic play yet his shot-making elicits incredible emotions out of all of us. Simply put, we just all watch Kobe.
Whether you love him or you love to hate him, you respect him for his basketball acumen. Kobe Bryant will come back. But the reality is that he won't be back for a while. And we're just not looking forward to an NBA without him.
Come back soon, snake.
PHOTO CREDIT: Noah Graham/Getty Images.
Follow Rey-Rey on Twitter at @TheNoLookPass. Also, please "LIKE" TNLP's FaceBook page. Thanks!