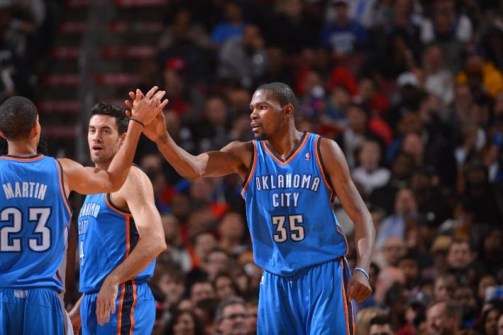 Oh, hey. I'm back on here, even if it's just for a little moment. Y'all remember me, right?
As I've said before in the past, please support SportsCity.Com. And please follow the Twitter account that I am in charge of: @NBASportsCity. In case you forgot, I changed my Twitter name to my real name (@ReyGMoralde) but fear not; I still have @TheNoLookPass parked. So that ain't going anywhere.
Because I am too busy churning out news for SportsCity.Com, I haven't really had a chance to give out my opinion about what's going on in the league so far. Since I actually have a little bit of time right now, I'm going to give my opinion right now.
This season is weird.
So Miami has been up to par, record-wise. However, their defense has suffered quite a bit; they are 23rd in defensive efficiency at the moment. It could be the classic case of not being as hungry or/and waiting for the postseason to come around since Miami has already won that championship. But they have to be careful about becoming too complacent. We know that LeBron James continues to put out all-world numbers but, overall, the team has to be better defensively.
San Antonio is doing well once again but their bread is buttered better with the offense. They are, however, 9th in defensive efficiency right now. Can they keep this up? Who knows? But Tim Duncan is defying father time yet again; the future hall-of-famer is averaging 18.5 points, 10.9 boards, and 2.3 blocks so far. For someone who is 36 years old, that's pretty ridiculous. But I'm not sure if I can take them seriously as a title contender... yet.
Oklahoma City is 10-4 and they've been doing pretty well without James Harden (who was traded to Houston). Kevin Martin has been great as OKC's new sixth man; he's been averaging 15.9 points and shooting .460 from the field. Russell Westbrook has become a better distributor and Kevin Durant, among other things, has turned it up defensively. Still, anything but a ring at this point would seem like a failure for the Thunder.
Other notables? It's hard to judge the Lakers until they have full manpower. The Clippers are stumbling a little bit after a fast start; are they regressing to the mean? Memphis looks really legit right now and has looked scary this season. Is Boston going to get hot soon? Is Indiana doomed this season? Are the Knicks for real? How about them Bobcats? It seems like there is so much more parity this season. It's pretty damn exciting.
Hopefully, it continues to be this way. I like good basketball and I like being surprised.

---
PHOTO CREDIT: Jesse D. Garrabrant/Getty Images.
Follow Rey-Rey on Twitter: @ReyGMoralde. And "LIKE" us on FaceBook. Thank you!
We're always up late. How about buying us a coffee? Or an energy drink!?