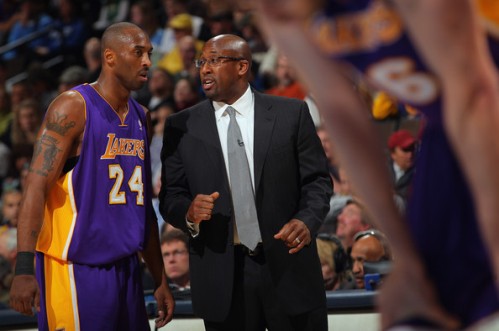 WOW! It will be inescapable today. This will be a Lakers post for the most part. MIKE BROWN HAS BEEN FIRED! It's official.
The Lakers let the hammer fall on the second-year head coach this morning and it has, in turn, created gleeful pandemonium among Lakers fans. You are going to get tons of Laker content today, so if you don't feel like reading it, scroll down to the birthdays and then start your weekend. If you do, then read away and then start your weekend. Better yet, go get some liquor, drink it, read the Bullet Passes and consider your weekend started. Only if you are of age, of course.
Let's just get to the madness before it drives me mad.
First, let's get to who will coach the Lakers tonight when they play against the Warriors. Bernie Bickerstaff will fill in as interim head coach until the Lakers find a suitable replacement.
Replacement suggestions are abundant, especially from NBA royalty:
@JalenRose: If the Lakers don't hire Phil Jackson or Brian Shaw I think Nate McMillan would be the best choice. #NBA
@MagicJohnson I'd love to see Phil Jackson or Brian Shaw. Wish Pat Riley was available.
@SHAQ Brian Shaw, mike dantoni, mike Fratello or jerry Sloan should b considered as lakers coach. And of course the the great Phil jackson
Some of those names will be hard to pull out of their retirement. The Brian Shaw bridge looks like it was burned, and the same can be said about the bridge to Jackson, who seemed at odds with management when he left two years ago. Jerry Sloan is a heavy possibility, but Mike D'Antoni is only two weeks out of hip replacement surgery, not exactly the best circumstances for starting a new job.
Brown being fired seemed like a sure thing this year with the start he had and his failure in last year's playoffs. He struggled to get past Denver and that was possibly the tipping point for some fans. But popular theory is Brown was never liked by fans, in part because he wasn't the beloved Phil Jackson.
All in all, I think he just wasn't the guy for L.A. There have been many reports even before his tenure with the Lakers about his inability to command the respect of a room, and how he wouldn't hold some people accountable for their actions. Yes, I'm talking about LeBron.
And maybe that was the problem, or at least part of it. There were also the gimmicks: the Princeton offense with a pure point guard like Steve Nash. I think it was Brown's idea, knowing he was already on the hot seat in LA., to get an offense instituted no one had seen before in order to keep his job and it didn't seem like a good one and it failed.
Truth is, we all knew it was over when we saw this on Wednesday night.
And now we will move on, but not from the Lakers. Devin Ebanks got arrested on suspicion of a DUI. He couldn't have picked a better day to get arrested. This will barely make the news.
Did you know every rookie has to take a seminar on the inner workings of the NBA when they make a roster? And the Wizards had a prize for whomever scored the best on the test. But did the winner cheat?
There has always been something comical about Mikhail Prokhorov, or as I like to call him, Proky. And now he is officially a comic book. Yeah, I know that was an easy pun, but it's Friday and I want Mojitos, give me a break.
The Hawks have a new in-game announcer. This scares me. I don't even want to tell you who it is. Just read and then worry for Hawks basketball.
Good news for the Hornets. Anthony Davis has been cleared to play.
That is all for today, folks. I know it was Laker-heavy, but you can't say I didn't warn you, and you really can't blame me. That was big news that I am sure you will be hearing about for more than just today. Though you won't be hearing about it from me until Monday, have a great weekend and a good night!
Today's Slate
Milwaukee at Washington (7 P.M. EST/4 P.M. PST)
Brooklyn at Orlando (7 P.M. EST/4 P.M. PST)
Philadelphia at Boston (7:30 P.M. EST/4:30 P.M. PST)
Dallas at New York (7:30 P.M. EST/4:30 P.M. PST)
Miami at Atlanta (7:30 P.M. EST/4:30 P.M. PST)
Houston at Memphis (8 P.M. EST/5 P.M. PST)
Charlotte at New Orleans (8 P.M. EST/5 P.M. PST)
Detroit at Oklahoma City (8 P.M. EST/5 P.M. PST)
Indiana at Minnesota (8 P.M. EST/5 P.M. PST)
Cleveland at Phoenix (9 P.M. EST/6 P.M. PST)
San Antonio at Sacramento (10 P.M. EST/7 P.M. PST)
Utah at Denver (10:30 P.M. EST/7:30 P.M. PST)
Golden State at LA Lakers (10:30 P.M. EST/7:30 P.M. PST)
Birthdays for November 9
Player Name (playing years)
Battle, John 1985-1994
Bowie, Anthony 1988-1997
Davis, Mel 1973-1976
Selvy, Frank 1954-1963
Smith, J.R. 2004-2010
---
PHOTO CREDITS: Doug Pensinger/Getty Images.
Payton Wales is our TNLP scribe in charge of links. Catch his writing at TheProBasketballTalk.Com and follow him on Twitter at @PaytonWales.
We're always up late. How about buying us a coffee? Or an energy drink!?