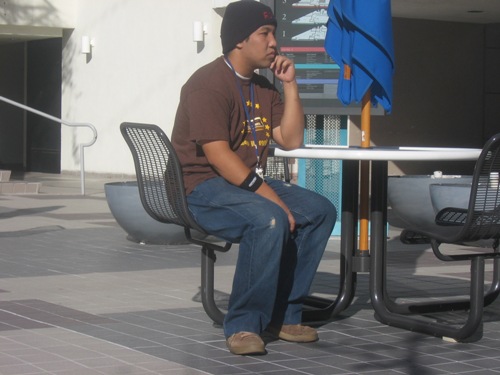 Yes. That really is me.
This will have nothing to do with the NBA at all. If you can let me be personal for a bit of your time here, please…
I will admit this right now.
The No-Look Pass is standing at a fork in a road right now.
When I started TNLP, it was nothing more than a hobby. Something to do on the side. I had messed up my right ankle really badly earlier that year and I had fallen badly out of shape that I was afraid to step on the court. If you keep up with The No-Look Pass, you probably already know why I started it. It was because Dave told me that nobody cared about my NBA writings in LiveJournal (THAT'S RIGHT! LIVEJOURNAL!), where I kept a daily personal blog nearly every day since 2000. I was hesitant on making a separate blog but I finally gave in on December 2, 2008. But I didn't want it to be JUST an L.A. Laker/Clipper blog; I was interested in the whole league so I made it an "L.A.-based NBA blog."
I'll also admit that I didn't read much of the NBA blogosphere back then. I went to a few like Free Darko and Hardwood Paroxysm but I hardly had any sports sites outside of maybe the mainstream ones on my bookmarks. It just wasn't something I was keen on doing at the time.
But once I started this site, the ball got rolling. I just didn't think TNLP would grow to what it is today. It was just for fun, you know? And I was having tons of fun doing it (you've seen our offbeat entries over the years). I got unexpected early success and thought to myself that I got something going here.
However, it was one event that completely altered my course.
Two years ago, Complex.Com asked me for my opinion on the 2010 NBA Finals. They asked "the best NBA bloggers of the internet" and I was so honored to be on that panel. To be on the same panel with guys like Russ Bengtson and Lang Whitaker (guys that I READ in my younger years!) was very, very flattering.
I thought to myself, "If I'm actually included in this panel then I'm not too bad at this whole NBA writing thing. Why don't I make this a career?"
So I pressed on this new journey. I had a short stint at SLAM Online. I was managing writers for Stacheketball. I've been doing Forum Blue & Gold for the last year. I made all these connections with people in the media and scored some fantastic interviews with media and NBA players. And my work has been cited by various sites, including Sports Illustrated earlier this year.
There were times when I almost gave up on this path, including a few months ago. And then, almost seemingly out of nowhere, I was hired to do some sportswriting full-time a couple of weeks ago. I started my work at the first of this month. I can't reveal the project that I've been working on just yet but part of my contract includes doing recaps for Lakers Nation.
I am very happy that I am now writing for a living. It's not often you can say that your work is something that you love to do.
So with that going on, I don't know how much time I can put into The No-Look Pass. I can still oversee it, yes, since all of its content goes through me. But that was the reason why I hired a couple of writers in the first place because I wasn't sure how much content we'd have with me not as writing as much.
As far as our podcast goes? I don't know. We haven't done one in five months. It seems way more likely than ever that we're only going to be doing one more show to say farewell. 1) The other guys are married and they have other priorities in LIFE. 2) I don't have much time to devote to the podcast. As some of you know, I also edit the show and that takes hours to do. If the others can still do it, I can certainly still participate but I definitely won't be editing the show.
In any case, TNLP is at a crossroads. We're not sure if this is the final season of TNLP or if we're going to convert this site into a farm for young writers (with attitudes, of course) that want to do this as a hobby or want to make it in this business. Of course, things could be different by the time we get to the end of this season so we'll see where the road leads us.
The No-Look Pass is what got me here. And if I have to part with it, it's not going to be easy for me. This is my baby so this site means so much to me. Heck, I still use the name of this site as my Twitter handle and I may never, ever change it because TNLP, in a lot of ways, IS me. I will always be proud of this site no matter what happens to this. And, yes, I do have the final say on what happens to The No-Look Pass.
This is not goodbye. There may not even be a goodbye by June of 2013. But let's enjoy the ride of this NBA season first before we can even think about talking about that.
To those that want to make it in this business or, really, to those that have goals, never give up on them.
To everyone reading and that was involved with The No-Look Pass one way or another: many, many thanks. We (especially me) would never have made it this far without you. And because of all of you, you changed my life. I truly mean it.
Thank you, thank you, thank you.
sincerely,
Rey Moralde A.K.A. "Rey-Rey"
---
PHOTO CREDIT: Me.
Rey-Rey (@TheNoLookPass) is the founder and editor of The No-Look Pass. You can also find his work at Forum Blue & Gold from the ESPN TrueHoop Network as well as LakersNation.Com.