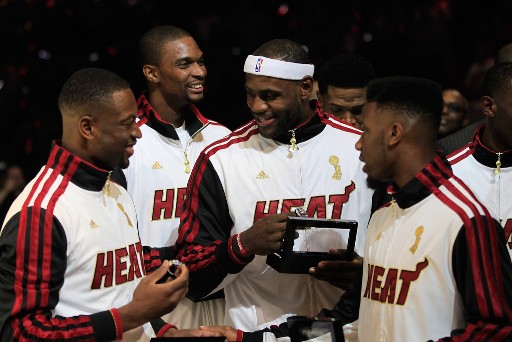 When I was three years old, something special happened. As if a movie had cut to mid-scene, I found myself standing in the middle of a dimly lit living room on a cloudy day in front of blue post with a bulky white board with an orange circle attached to it. Without thinking, I scrambled over to the object and tossed my small orange rubber ball through the circle and watched it fall back at my feet. Swish.
That was my first memory as a child; draining an uncontested lay-up on a ďLittle TikesĒ kiddy hoop and from that moment on, I was hooked. I instantly began watching games at any moment I could. Of course, with me being so young, it was up to my father to leave it on the channel the game was on or it wasnít happening. Letís face it, I had no idea what I was doing. From that young age of three, I was destined to love the game; growing up watching idols like the Mailman, Karl Malone and his side-kick John Stockton make magic happen with a basketball on a nightly basis. It was bliss.
As I got older, I was demanding to watch games whenever they were on and falling more in love with the game itself. From Shawn Kemp eradicating opponents on the court to the craftiness of Muggsy Bogues, I couldnít stop watching at any expense. Then there was a man by the name of Michael Jordan. I hated this man as he dismantled my beloved Jazz squad year after year and continued to break my heart. The final straw was in Game Six of the 1998 NBA Finals when he crossed over Bryon Russell and proceeded to nail the game-winning shot to seal the deal. I cried that night and it took my father handing me a dollar to get me to stop. Why a dollar? I donít even know. I was only five years old.
My passion for the game only grew from there and, on Tuesday night, I fell in love with the game all over again as we welcomed the NBA back in our home with the first official games of the 2012-2013 season. Starting with the ring ceremony and the fantastic start Stern got us off to by sending well wishes to those enduring Hurricane Katrina (I know, he meant Sandy and he is forgiven for meaning well but you could see some kind of mistake coming from him a mile away), it was a fine moment to watch the World Champion, Miami Heat, indulge in the spotlight again for the first time since June as they tried on their championship rings and raised the banner. Somewhere in all of that mess I couldnít help but think, ďMan, this must be awkward for Ray Allen.Ē Itís not often heís had to stand on the court while others around him received rings and the first time heís ever had to look up and see his old teammates staring back at him all the same. Awkward but motivating, Iíd imagine. From opening tip of the Celtics vs. Heat game to the Lakersí struggles against Dallas, one thing was clear: itís great to have professional basketball back in our lives.
Basketball fans, I hope you enjoy this season as much as I will. I hope your inner child comes out as you watch these games and remember the good times you had watching future legends instill a hard fought game that is still being played at a top-notch level years later. Put your fantasy team aside, put your bets aside, and tune out anything bothering you for the moment and take time to catch a game and relax. Grab the kids and tell them about LeBronís 50-point showcase in the Garden of Kobeís 81-point jaw-dropper in Toronto. Who knows? It could be what gets them interested in the game. Either way, enjoy the season because itís going to be a hell of a ride.

---
PHOTO CREDIT: Chris Trotman/Getty Images.
Jeremy Rincon is the youngest scribe of The No-Look Pass so naturally he gets to carry everyone else's bags and buy food for all of the other writers. You can also catch Jeremy at BallIsLife.Com where I assume he's doing the same thing for all the writers over there. Follow him on Twitter at @jermcon.
We're always up late. How about buying us a coffee? Or an energy drink!?