19 years ago, Midway's NBA Jam burst into the arcade scene. It had NBA players jumping ridiculously high for ridiculous dunks and had neat little things where they hardly miss (on fire) after making three straight buckets without the opponent scoring. It was also helped by a play-by-play announcer that said some catchphrases that are still being said in basketball circles and even in gaming circles. He's heating up! He's on fire! Boomshakalaka!
So it was suggested that we should take a look at the NBA Jam roster. The original NBA Jam only had two players for each team so they had no subs. Did Midway really make the right choices for each team? Let's have a gander.
The rosters were based off the 1992-93 season. So there would be no Canadian teams and Bobcats. Also, the Wizards were still called the Bullets, the Hornets were still in Charlotte, the Nets were still in Joisey, and Seattle still had a team.
Now I'm sad.
EASTERN CONFERENCE
ATLANTA HAWKS: Dominique Wilkins and Stacey Augmon.
'Nique was obviously a no-brainer. The lanky Augmon was one of the more exciting players in the league at the time as he could dunk with the best of them. But Kevin Willis was left out. He was an All-Star the year before. But I guess they went with the more exciting player so I can live with that.
BOSTON CELTICS: Reggie Lewis and Kevin McHale.
Larry Bird had retired the year before. It would've been sweet to see Bird in the OG NBA Jam. Anyway, Lewis was a shoo-in. As far as the second-best player for the Celtics? It was debatable. Xavier McDaniel was the second-leading scorer. Kevin Gamble was third but casual fans didn't know who he was. Robert Parish was still there and he could've been a decent choice. Dee Brown was the dunk contest champ two years before. Midway went with the biggest name remaining, Kevin McHale. He was the sixth leading scorer for Boston and winding down on his career. I'm iffy on the choice but you gotta go with star power.
R.I.P. Reggie Lewis
CHARLOTTE HORNETS: Larry Johnson and Kendall Gill.
Grandmama was no doubt the best player for the Hornets. The omission of Alonzo Mourning is glaring. Gill was a very good player in his own right but this one surprised me a bit considering the other prized '92-'93 rookies were also in this game.
CHICAGO BULLS: Scottie Pippen and Horace Grant.
Michael Jordan was, of course, notably absent. He was very picky on where to put his likeness (like legendary games such as Michael Jordan: Chaos In The Windy City). So Midway decided to go with the #2 and #3 players of the Bulls. No problem.
CLEVELAND CAVALIERS: Mark Price and Brad Daugherty.
They got this right. An alternate choice would've been Larry Nance but you can't complain about the choices here.
DETROIT PISTONS: Isiah Thomas and Bill Laimbeer.
Isiah was an easy choice. Laimbeer was at the end of his career but he was no doubt chosen because of his reputation as a bruiser. Tough to ignore Joe Dumars, though, who went on to average a career-high and team-leading 23.5 points for the season. And then there was Dennis Rodman, who gobbled up nearly 19 boards per game. I would've went with Dumars but I can live with Midway's original choice of Laimbeer. I'm almost guessing Laimbeer went to the Midway offices and threatened to beat up everyone there if he wasn't included in the game.
INDIANA PACERS: Reggie Miller and Detlef Schrempf.
That's about right. Rik Smits, the Dunking Dutchman, would've been a nice alternate choice but they're good with these two.
MILWAUKEE BUCKS: Brad Lohaus and Blue Edwards.
The Bucks were a terrible team in 1992-93. And looking at the roster, they had no choice but to put in Blue Edwards, who led the team in scoring. Blue was also in the 1991 Slam Dunk Contest so there's that. Lohaus was an interesting choice. He's never averaged double figures in his career and is more likely to land in our Obscure Players section than the All-Star game. Frank Brickowski, interestingly enough, was their second-leading scorer. Todd Day could've been a good choice at the time (#8 pick of 1992). If they wanted a bigger name, Alvin Robertson was still playing. I thought even Eric Murdock would've been a better choice.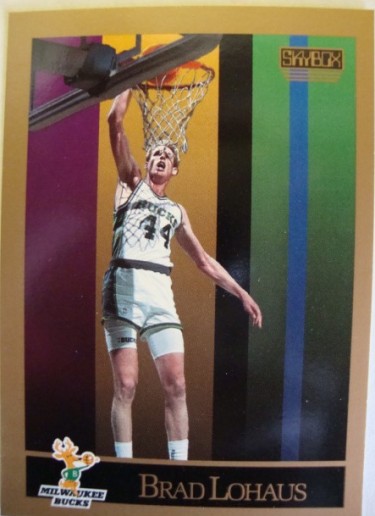 But Lohaus was probably one of the more laughable choices to be on the OG NBA Jam. Well done, sir. That should be on your resumé forever.
MIAMI HEAT: Rony Seikaly and Glen Rice.
They were the two best players for the Heat so this is correct. Steve Smith was a rising star for the Heat so he would've been a nice alternate.
NEW JERSEY NETS: Derrick Coleman and Drazen Petrovic.
This is correct as well. R.I.P. Drazen.
NEW YORK KNICKS: Patrick Ewing and Charles Oakley.
John Starks was the second-leading scorer for the squad but I like the choice of Oakley simply because he was in the forefront of the bruising Knicks defense. He did not take shit from anybody. I'm fine with these two guys.
ORLANDO MAGIC: Shaquille O'Neal and Scott Skiles.
No-brainer for Shaq. I actually have no problems with Scott Skiles being chosen, who went on to average 15.4 points and 9.4 assists per game that season. The flashier 2nd choice would either be Nick Anderson or Dennis Scott but this is fine.
PHILADELPHIA 76ERS: Hersey Hawkins and Jeff Hornacek.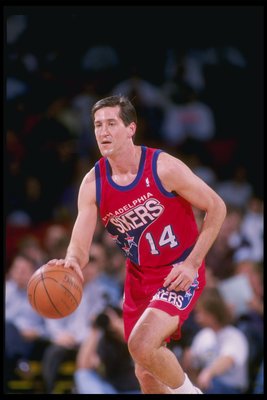 There really weren't any better two choices for this squad. I SUPPOSE you could make somewhat of a case for Clarence Weatherspoon, who was a really good dunker at the time. What? Yes, Hornacek played for the Sixers. This was through the Charles Barkley trade.
WASHINGTON BULLETS: Tom Gugliotta and Harvey Grant.
Alternate choices? Michael Adams and Pervis Ellison. But they went with the leading scorer, Grant, and their prized rookie, Googs. I'm not going to put up much of a fight and I don't think anyone else will. This squad was terrible.
At least, Harvey didn't have to hear it from his twin brother, Horace, about not being left out of NBA Jam.
WESTERN CONFERENCE
DALLAS MAVERICKS: Derek Harper and Mike Iuzzolino.
The Mavs were on their way to becoming one of the worst teams in history when this game was made. Harper was a no-brainer. Jim Jackson would've been, too, but he was in the middle of a contract dispute. So let's see the other choices they had.
Sean Rooks, Terry Davis, Doug Smith, and Randy White were 2nd through 5th in scoring for the team (not counting Jackson, who got to the squad late in the year). God. Those are awful choices. And then Tim Legler was 6th. I suppose I could've lived with either Rooks or Davis.
Midway instead went with second-year player Mike Iuzzolino (coincidentally, he was also the second player we ever featured in We Like Obscure NBA Players). Iuzzolino really didn't do anything remarkable in the league. He finished the season with an 8.7 PPG average and dished out 4.7 assists per. After that season, he never returned to the NBA.
That was the best you could come up with, Midway? Fantastic!
DENVER NUGGETS: Dikembe Mutombo and LaPhonso Ellis.
They weren't the two leading scorers for the Nuggs; Mahmoud Abdul-Rauf and Reggie Williams were. But they went with the rookie Mutombo and exciting PF leaper, Ellis. I can live with those choices. And the name, Reggie Williams, is so generic that he's kind of unmemorable. Poor guy. (PLUS there's another Reggie Williams in the league TODAY.)
GOLDEN STATE WARRIORS: Tim Hardaway and Chris Mullin.
I miss you, Run TMC.
HOUSTON ROCKETS: Hakeem Olajuwon and Kenny Smith.
Yes, people. Kenny Smith was actually a decent NBA player at one point. Vernon Maxwell would've been a good choice, too.
LOS ANGELES CLIPPERS: Danny Manning and Ron Harper.
Hey, guysh! Did you know that this squad was a playoff team in 1992-93? I'm serious!
Oh, yeah. Easy choices by Midway.
LOS ANGELES LAKERS: Vlade Divac and James Worthy.
The Lakers were crippled after the sudden retirement of Magic Johnson in 1991. Worthy was the second-leading scorer on the team but his career was winding down. Still, he was a big name. Divac was a player on the rise at the time so it sorta made sense for him to be on here. Sedale Threatt led the team in scoring so he would've been a nice alternate. Byron Scott and A.C. Green would've been good choices, too, but in this team where nobody stood out, I can live with the original Midway choices.
Yes, I know. A Laker team where nobody stood out.
MINNESOTA TIMBERWOLVES: Christian Laettner and Chuck Person.
Neither of them were the leading scorer. You know who was? Doug West! These two were the bigger names and were the #2 and #3 scorers of the team so this was fine.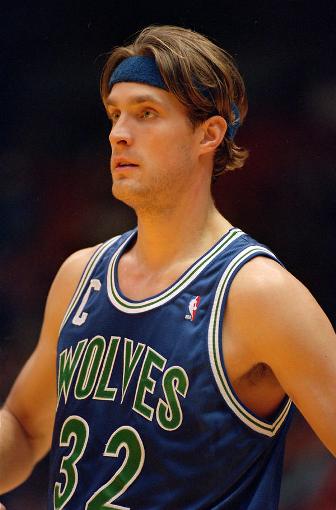 Also, I wish they had Laettner wearing a headband when headbands weren't the norm at the time. I remember when we were all thinking he was some sort of poseur for doing that. Now? I applaud him.
PHOENIX SUNS: Charles Barkley and Dan Majerle.
Barkley seemed like one of the names back in the day who was selective on putting his name on a video game (Shut Up And Jam, everybody!). But he's on Jam so that's good. The omission of Kevin Johnson (the MAYOR!) was a tad surprising but Dan Majerle was coming into his own as a player. It's a minor complaint but I'd rather have KJ than Thunder Dan in the game. No offense intended, Thunder Dan. We're still homies, right?
Actually, I wish Tom Chambers was chosen. After all, his double-pump dunk from the 3-point line in Lakers Vs Celtics is legendary.
PORTLAND TRAILBLAZERS: Clyde Drexler and Terry Porter.
Easily the best choices. Next.
SACRAMENTO KINGS: Wayman Tisdale and Spud Webb.
Spud Webb has to be included in every NBA Jam game forever because he's a 5'6" guy that won the Dunk Contest for crying out loud. Tisdale is a good choice but you can't help but think there were better choices. Mitch Richmond led the team in scoring. Lionel Simmons (the L-TRAIN!) was coming into his own as a player. Then there's their rookie, Walt Williams (THE WIZARD!), who had a very good first-year campaign.
Still, Wayman Tisdale is a decent choice. R.I.P.
SAN ANTONIO SPURS: David Robinson and Sean Elliott.
Were there any other choices? I suppose Vinny Del Negro would've been hilarious.
SEATTLE SUPERSONICS: Shawn Kemp and Benoit Benjamin.
The Reign Man HAD to be on NBA Jam. Gary Payton wasn't even on any of the NBA Jam games, arcade or console, which made me think he owned his likeness or something. But did they go with Eddie Johnson? Ricky Pierce? Derrick McKey?
They went with Benoit Benjamin. This guy was traded to the Lakers halfway through the season in the Sam Perkins trade. I mean, I think it's hilarious Benjamin got on NBA Jam but, God, Midway. HOMEWORK!
I need to ask Gary Payton about not including himself on NBA Jam at some point.
UTAH JAZZ: Karl Malone and John Stockton.
I would've chosen John Crotty.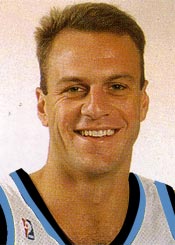 I'll do an NBA Jam console roster evaluation soon!

---
Special thanks to Scott Racer for this incredible suggestion for a post.
PHOTO CREDITS: 1) OCAU. 2) Entertainment Weekly 3) SC-Liquidations.Com. 4) Tim DeFrisco/Getty Images. 5) ??? 6) Minnesota Timberwolves Official Twitter. 7) NBA.Com. 8) CavsHistory.Com.
Rey-Rey is the founder and editor of The No-Look Pass. You can find his work here and at Forum Blue & Gold from the ESPN TrueHoop Network. You can also find his charm on Twitter at @TheNoLookPass.
We're always up late. How about buying us a coffee? Or an energy drink!?