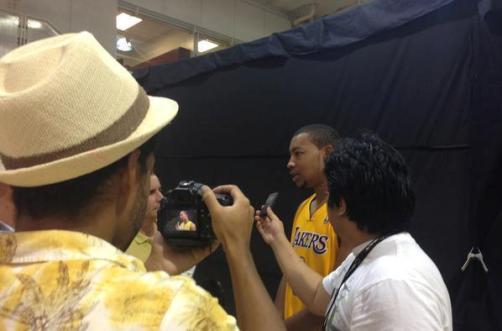 Here's me interviewing Andrew Goudelock. I like to act like I'm big-time.
Hey, what's up, everyone? It's been a while!
You probably didn't see much updating here since the Olympics ended. The truth is that so much went on behind the scenes, which resulted in the site still staying independent. A lot went on for the core members of TNLP and I actually have a lot more on my plate now more than ever. Most of you will find out within the next month or so but I personally am still committed to bringing content here at The No-Look Pass for a fifth season.
There are going to be some changes here at TNLP. As you can see, things DO look a little different here (and we'll be fixing things here little by little but this is the paint job we're using; also, WordPress seems to be having a ton of problems with their images right now). I would like to personally thank Steve Duffis (@DuffisBoy) for redesigning our layout, banner, and logo. We want to thank Deron Yamada for helping us get on the map with his awesome banner and logo for us. We are grateful forever but I felt it was time for a little change cosmetically.
With most of the core members becoming real busy with their lives, we probably won't be able to produce our podcast, the Chronicles of Crotty, as much anymore. If we do end it in the near future, we'd like to thank everyone that has participated and everyone that has become a guest in our show. We'd also like to personally thank John Crotty for lending us his name (well, okay, not really) and also for appearing in our podcast twice. We had some of our best moments talking NBA when doing this podcast.
As mentioned, some of the core members are real busy but I'm sure, once in a while, they'll come back and provide some entries about the Los Angeles Clippers. We are still definitely an NBA at-large site with emphasis on the L.A. teams but I felt it was time to add some new blood to the team as we need to get some more content.
Payton Wales (@PaytonWales) has actually been a contributor to the site with his awesome photo work in last year's playoffs. He has also provided some content in TheProBasketballTalk.Com. Payton will be in charge of Bullet Passes (remember that?!), a look at excellent and funny NBA pieces written by our favorite NBA scribes around the internets.
Jeremy Rincon (@Jermcon) is one of the more younger writers out there at 19 but he's an excellent scribe that does his work at BallIsLife.Com, which is a fantastic site for hoopheads everywhere as it covers high school ball, college, streetball, and the NBA. He also covered the Sacramento Kings for Hoops Talk Nation last year.
I am very excited to have these two individuals on board. To me, they bring the same attitude that made TNLP tick over the last four seasons. We are going to provide the same content that has made TNLP the site it is now and also some new content to keep this site fresh.
So sit back, relax, and enjoy the ride with The No-Look Pass. We can't wait for October 30th.
many thanks,
Rey Moralde A.K.A. "Rey-Rey" or "R.R. Magellan"
FOUNDER AND EDITOR OF THE NO-LOOK PASS
---
PHOTO CREDIT: Kam Pashai.
Rey-Rey is the founder and editor of The No-Look Pass. You can find his work here and at Forum Blue & Gold from the ESPN TrueHoop Network. You can also find his charm on Twitter at @TheNoLookPass.
We're always up late. How about buying us a coffee? Or an energy drink!?