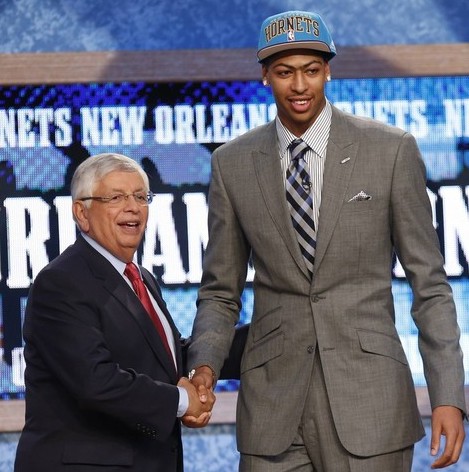 The NBA Draft happened last night. Let's check out the lottery picks of the 2012 NBA Draft.
1. ANTHONY DAVIS (PF) from Kentucky (NO)
2. MICHAEL KIDD-GILCHRIST (SF) from Kentucky (CHA)
3. BRADLEY BEAL (SG) from Florida (WAS)
4. DION WAITERS (SG) from Syracuse (CLE)
5. THOMAS ROBINSON (PF) from Kansas (SAC)
6. DAMIAN LILLARD (PG) from Weber St. (POR)
7. HARRISON BARNES (SF) from North Carolina (GS)
8. TERRENCE ROSS (SG/SF) from Washington (TOR)
9. ANDRE DRUMMOND (PF/C) from UConn (DET)
10. AUSTIN RIVERS (SG) from Duke (NO)
11. MEYERS LEONARD (C) from Illinois (POR)
12. JEREMY LAMB (SG) from UConn (HOU)
13. KENDALL MARSHALL (PG) from North Carolina (PHX)
14. JOHN HENSON (PF) from North Carolina (MIL)
For the rest of the picks, here's the list. And they have all the scouting reports there. Check 'em out.
From my little knowledge of these guys, only Anthony Davis seemed to be the surefire #1 pick. Some people seemed surprised that Kidd-Gilchrist was picked second, as a lot of these mock drafts had Thomas Robinson going to the Bobcats. Bradley Beal had been talked about going to the Wizards for quite a while now. Cleveland picking Waiters picked up a lot of momentum a couple of nights ago. I like a Robinson/Cousins frontcourt. Portland did well by getting a PG and a C on the draft; Lillard was said to be the one that made the biggest leap in the draft.
Harrison Barnes? I had heard so much about him in the last couple of years but his "isolation" comment concerned and cracked me up at the same time. Heard Ross wasn't going to go as high as #8. Drummond and Monroe sounds pretty devastating for a Pistons frontcourt. Was not impressed with Austin Rivers from the few games that I've caught of him. Houston got themselves some assets; are they done dealing? Is Marshall taken just in case Nash doesn't re-sign? And I thought the Bucks drafted the dude that created the Muppets.
A few other names that I'm familiar with are Jared Sullinger and Fab Melo. And they both went to the Celtics, going 21 and 22, respectively. I know Sullinger simply because he loves the song, Party In The U.S.A.. I knew about Fab Melo because he was suspended from playing in the tourney.
I had read about Perry Jones' story weeks earlier and I am glad he's going to a stable team in the Oklahoma City Thunder. And it was nice of the Draft crowd to chant, "U.S.A.", when Bernard James was drafted. He had served in the military previously before resuming to chase his dream of becoming an NBA player.
I'm not going to say who won or who lost in this draft because, well, how can you? After all, the season doesn't even start until October/November. We'll know plenty about them and their games later on in the 2012-13 campaign.
Congrats to all that got drafted. I'll see most of these guys at Summer League in a few weeks.
PHOTO CREDITS: Reuters.
Rey-Rey is the founder of The No-Look Pass. Follow him on Twitter at @TheNoLookPass. While you're at it, "LIKE" us on FaceBook.