We continue with our conference semifinal team previews!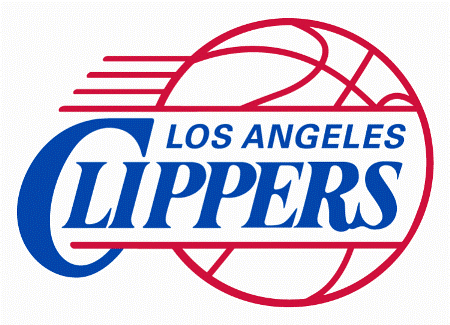 Beat Memphis in the first round, 4-3.
Seed: #5 (West)
Record: 40-26
Stat Leaders: Blake Griffin (20.7 PPG, 10.9 RPG), Chris Paul (9.1 APG, 2.5 SPG), DeAndre Jordan (2.0 BPG).
Opponent: #1 San Antonio Spurs, 50-16
Record Against Them This Season: 2-1
Writers: D.J. Foster (@fosterdj)
Web Site: ClipperBlog
The Clippers are having quite the historic year. A playoff appearance is already friggin' awesome for them. Then they come back 27 down in Game 1 to beat Memphis. And THEN they win Game 7 on the road to win the series. D.J. Foster of ClipperBlog revisits with me and talks about that great series against the Grizzlies. He also talks to me about what we can expect against San Antonio.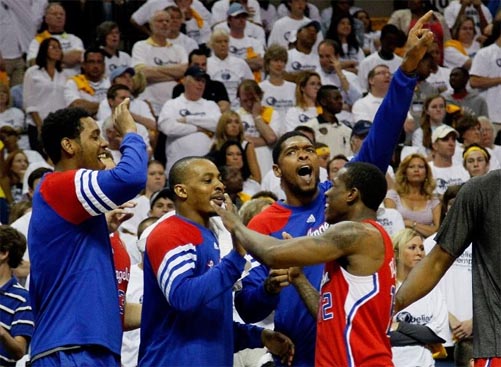 The Clippers did go seven and you were right! But what did this series tell you about the Clippers?
I think we finally found the identifying trait of the Clippers – they're resilient. Down 24 with 8 minutes left, they come back and win. Lose Caron Butler, he comes back and plays huge in Game 5. Blake Griffin hurts his knee, he comes back and battles Zach Randolph in a death match in Game 7. Chris Paul pulls his groin, strains his hip, and he still finds a way to get by one of the best defensive units in the league. It's incredible. These are the Bizarro Clippers. They stole the Grizzlies' superpower (physical, defensive basketball) and took it for their own.
Vinny Del Negro has been much-maligned his entire coaching career. But him sticking with the bench in Game 7 paid off for the Clippers. Do you think he's improving as a coach… and do you believe that the Clippers bench is that good?
I compared Vinny Del Negro to a housetraining puppy the other day, and I stand by that. Hey, it only took you six games and three quarters to realize your starting shooting guard was completely ineffective! At least you got it eventually. At least you didn't pee on the carpet. We're making progress. I think the Clippers' bench has come into its own a bit. They're very versatile. Whereas last series was a Reggie Evans and Eric Bledsoe dominated one, I can totally see Mo Williams and Nick Young coming up big against the Spurs. It's going to be night and day – Memphis was all about defending and grinding out wins. The Spurs can't stop the Clippers pick and roll. The Clippers can't rotate well enough and defend spot up shooters. Get ready for some shootouts.
How worried are you about Blake and CP3's health?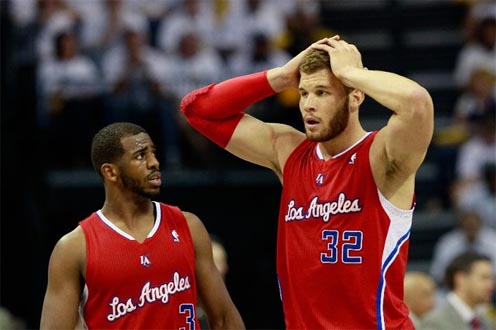 I'm concerned with Paul and his lateral movement. I think he can still go straight line, but anytime he has to slide and stay in front of someone with his hurt groin and hip…it's going to be tough. It doesn't help that he has to stay in front of one of the fastest, shiftiest players in the league in Tony Parker.
There's more being made about Griffin's knee injury, but didn't he do a 360 dunk in warm-ups before Game 7? I'm not saying that means he's fine. I definitely think he's hurting. I just don't think Willis Reed was jumping around all willy-nilly in warm-ups, know what I mean?
The Clippers draw the Spurs. Give me keys for the Clips to pull this series out.
Wizardry? Spells? I don't know. The Spurs are tough. They're deep. They're smart. They have about 7 proficient three-point shooters. They have a clutch scorer in Manu Ginobili, who could very well give the Clippers fits out on the wing. They have the best coach in the league. For the Clippers to pull it out, Blake Griffin has to be the defender and energy guy he was in Game 7 and the elite scorer he was during the regular season. He has the biggest mismatch. Boris Diaw and Matt Bonner shouldn't stop him. They shouldn't even slow him down. Ultimately though, I think the Clippers have to chase the Spurs' shooters off the three-point line, and the Clippers have to shoot lights out on their own end. You have to outscore the Spurs. They're too dynamic in transition with Parker and too stretchy in the halfcourt.
The Spurs are on another level. Can the Clippers do it (series prediction)?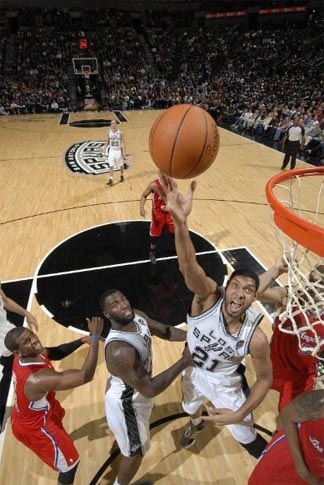 I'll say Spurs in 6. The Clippers have stepped up their defense and they've improved so much over the last few weeks. They have a ton of heart. I think that's enough to push you over the edge against an evenly matched team. I'm not sure it's enough against a team like San Antonio. I'm going mind over heart picking the Spurs here, because I think ultimately, mind will beat heart in this series. The Spurs are just too smart in everything that they do.
PHOTO CREDITS: 1, 2) Kevin C. Cox/Getty Images. 3) D. Clarke Evans/Getty Images.
Follow Rey-Rey on Twitter: @TheNoLookPass. And "LIKE" us on FaceBook. Thank you!