It's a tad late. But I'm not going to suddenly change my mind just because one game already happened. Anyway…
EASTERN CONFERENCE
#4 BOSTON CELTICS vs #8 PHILADELPHIA 76ers
Philly lucked out because of Chicago's disastrous injuries. This series promises to be ugly… but I really don't think the Sixers are that good of a team.
PREDICTION: Boston in 5.
#2 MIAMI HEAT vs #3 INDIANA PACERS
I really don't get the Pacers. Yeah, they're a good team but I really don't think they're on that level. Baby steps for Indiana; this is their next lesson. Miami is that much more talented on the top, in my view.
PREDICTION: Miami in 5.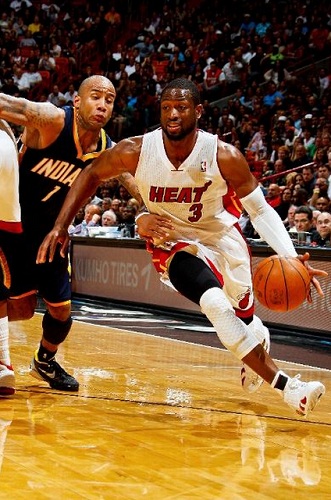 WESTERN CONFERENCE
#1 SAN ANTONIO SPURS vs #5 LOS ANGELES CLIPPERS
San Antonio is just on another level right now. I admire the Clippers for winning a Game 7 on the road earlier today and all but let's be realistic here.
PREDICTION: San Antonio in 5.
#2 OKLAHOMA CITY THUNDER vs #3 LOS ANGELES LAKERS
It's one game at a time for the Lakers but, gosh, their attitude that causes their inconsistency is really going to cost L.A. Oh, and OKC is really, really good. These guys are on a mission despite their youth.
PREDICTION: Oklahoma City in 6.
PHOTO CREDITS: Issac Baldizon/Getty Images.
Follow Rey-Rey on Twitter: @TheNoLookPass. And "LIKE" us on FaceBook. Thank you!