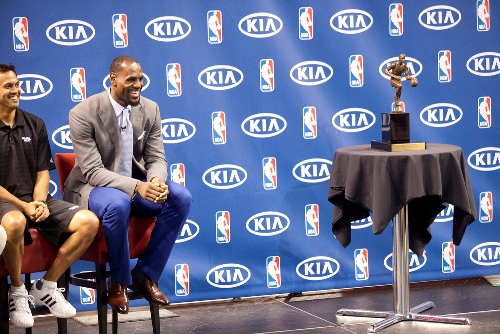 LeBron James has won his third Most Valuable Player award in the last four years.
Wasn't even a contest since basically the season started. LeBron James tore through the 2011-12 campaign to the tune of 27.1 points, 7.9 rebounds, 6.2 assists, and 1.9 steals per game. He also shot a career high 53.1 percent and had a 36.2 percent 3-pt shooting percentage.
It was good to see the voters come out of their senses and put the "hatred" for him out of the way… even though the hate for him has been relatively quiet compared to last season's. And, really, hardly anybody challenged him for the MVP vote this season. Yes, there was talk about Kevin Durant and an early mention about Kobe Bryant. Heck, there was even a whisper about Kevin Love. But make no mistake that this season is LeBron's. And it is very well-deserved.
Now I just want to know who voted for Derrick Rose THIRD. And how the heck Joe Johnson even got a vote.
PHOTO CREDITS: NBA Twitter.
Follow Rey-Rey on Twitter: @TheNoLookPass. And "LIKE" us on FaceBook. Thank you!