We continue our playoff team previews here at The No-Look Pass by talking to some of the best writers/bloggers on the internet!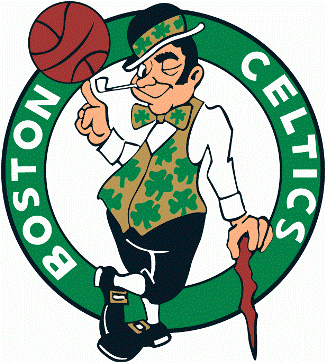 Seed: #4 (East)
Record: 39-27
Stat Leaders: Paul Pierce (19.4 PPG), Kevin Garnett (8.2 RPG), Rajon Rondo (11.7 APG, 1.8 SPG), Greg Stiemsma (1.6 BPG).
Opponent: #5 Atlanta Hawks, 40-26
Record Against Them This Season: 2-1
Writer: John Karalis (@RedsArmy_John)
Web Site: Red's Army
Boston has been a staple at the top of the Eastern Conference for the past few years. This year, this aging core got the Celtics to the 4th seed after a slow start. I talk to John Karalis of Red's Army to see if they got what it takes to get out of the first round.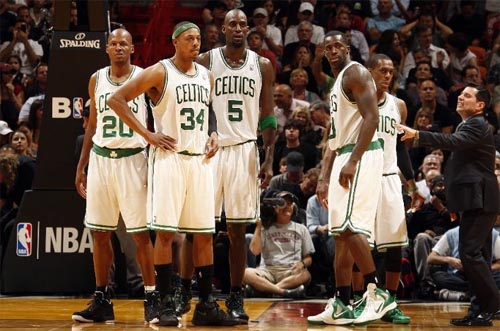 The move to center for Kevin Garnett definitely benefitted the Celtics, right?
It's one of the key moves for the Celtics this season. People will say he doesn't have the bulk to pull it off, but there are only two centers in the playoffs against whom that might be an issue: Andrew Bynum and Roy Hibbert. And Hibbert isn't going to blast through you with a ton of force, so I'm not worried about any of that. Garnett, as we all know, is a tenacious defender, and has done quite well for himself against centers.
Meanwhile, he's still quick enough to be an issue for opposing centers and he plays a style that they're not used to defending. He's become quite a match up problem, and it's revitalizing the end of his career.
What do you think of Avery Bradley starting in favor of Ray Allen?
I was in favor of it. The Celtics actually caught a bit of a break because the move was initially supposed to be Pietrus in the starting line up for Allen, but Pietrus got hurt. Then Bradley slid in and just took over. Key things for Avery: 1) he's a vicious defender. The playoffs might be where people realize what we've learned: Bradley is as good as it gets on the ball defensively. 2) he's been living off back-door cuts. The greatest coaching move for the C's this season was tweaking the offense to get Bradley back-door to get him scoring and up his confidence. 3) That confidence has translated into a killer corner 3. I'm shocked to be saying this, but Bradley has become damn near automatic from the corner. He's 180 degrees from where he started the season. It's amazing.
Now that he's the starter, that give the C's Ray Allen (if he's healthy) and Pietrus off the bench. Bradley benefits greatly from playing with starters, and Peaches contributes with the second unit. It works out quite well.
How do you like the Brandon Bass/Big Baby trade prior to the start of the season?
LOVE IT!!
Oh, you want more? Ok. Bass has done everything we wished Davis would have done. He's one of best mid-range shooting bigs in the league and he'll find his way to the rim where he can finish easily (he led the team in dunks). But where he's been a huge surprise is defensively.
He didn't come in with the best of reputations, and he began the season getting lost… OFTEN… on defensive rotations. But he's vastly improved in that area. Individually, he's been a tremendous defender. According to Synergy Sports, he's giving up 0.68 points per possession, good for 15th in the LEAGUE. In isolations, Bass is giving up 0.44 ppp, 4th in the league. That's a huge, pleasant surprise for the team.
Anyone else stood out to you outside of the Big Four in terms of performing well. I'm pretty sure you'd say Avery Bradley, right?
Sure, but we've already talked about him. How about Greg Stiemsma? He's a 26-year-old rookie but he's shown exactly why he was the D-League's defensive player of the year.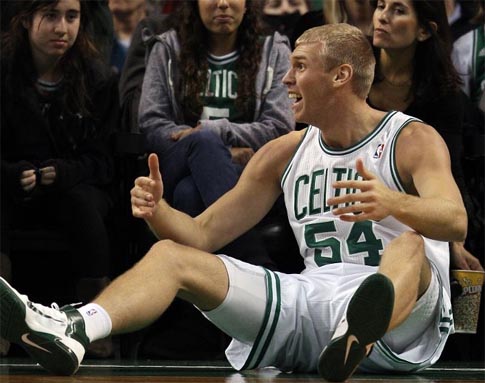 He was second in the league this year in block percentage. He's had a couple of 6-block games and a couple of 5-block games. And over the past month or so, he's shown an increased ability to help and recover to still make a play, as well as an improved rebounding ability.
He was a non-roster invitee and now he's a key part of the Celtics 8-man playoff rotation. Bradley was a late 1st-round pick. So while we're all shocked that Bradley's turnaround was so sudden, I'd say Stiemsma is actually the less likely, thus more surprising, success story for the Celtics this year.
Should Rajon Rondo be in the MVP talks?
He should get some third place votes. It's obviously LeBron and Durant this year, from there you can make a lot of legitimate justifications for 3rd place. Kobe? Sure. Tony Parker? Yup. Rondo? Absolutely.
The man just put up 24 straight double-digit assist games and he had six triple doubles in a season where no one else had more than one. The Celtics had the third-best record after the All Star break and that just so happened to coincide with Rondo's huge explosion of assists. So he deserves a mention in that third place category.
Boston draws Atlanta. Tell me keys for the Celtics to win this series.
Atlanta is shorthanded. They've been playing most of the season without Horford, but they might also be without Zaza Pachulia now too. He'll at least miss some of the series, meaning Jason Collins is going to have to guard either KG or Brandon Bass. That's not going to go well for them. So the C's need to take advantage of that and work the ball around to find one of those two.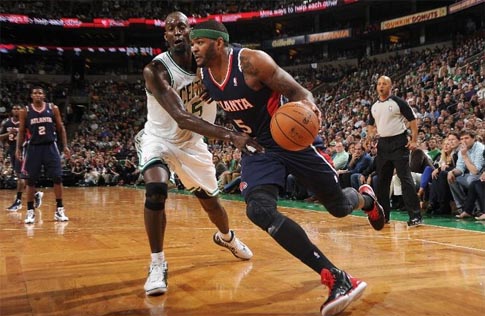 Rajon Rondo needs to abuse Jeff Teague. With Collins pulled out of the paint to worry about a mid-range shooter, there will be extra space for Rondo to operate. He needs to continue this roll he's on.
And if Avery Bradley can disrupt Joe Johnson, then we can call this a wrap. Making Johnson's life hell will make this a swift kill for the C's.
Series prediction?
Celtics in 5. They're playing way too good right now. And have you noticed I haven't even mentioned Paul Pierce yet? That's how well these other guys are playing. Pierce's scoring average and PER are almost exactly what they were during the 2008 championship season, and no one seems to want to talk about him.
Anything else you want to say, BFF?
My apartment smells of rich mahogany. I have many leather-bound books.
PHOTO CREDITS: 1) Issac Baldizon/Getty Images. 2) Elsa/Getty Images. 3) Brian Babineau/Getty Images.
Follow Rey-Rey on Twitter: @TheNoLookPass. And "LIKE" us on FaceBook. Thank you!