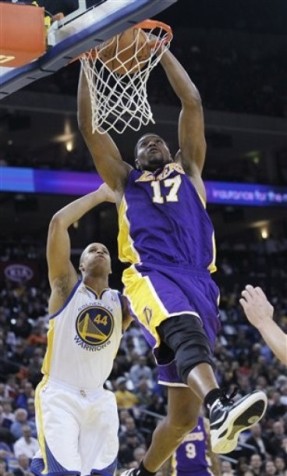 It wouldn't be the Lakers without any sort of issues. Or non-issues.
I think they'll be okay. Yeah, I know. Strangely enough.
Andrew Bynum doing this sort of thing isn't exactly strange to guys like Pau Gasol, Kobe Bryant, Metta World Peace, and Matt Barnes. Bynum is an intelligent kid that will make boneheaded plays from time to time. And last night, Bynum seemed more interested in playing Mass Effect 3 than beating down the Warriors frontline. The recent defiance of Bynum reminded Kobe of his younger days… and he seems to have no problem with it. Pau was more on the book about this whole thing and says that the team will address it.
This was the game after Kobe was curiously sat down during crunchtime minutes while down double digits.
It's been a tough job for Mike Brown. A lot of the fans have been harsh critics of him. And a lot of people around the league just don't think he's a good coach. I can't say I'm a big fan of him, either. But he's done a pretty good job, otherwise. Yes, he can be terrible at putting defensive match-ups (which was a problem for him in Cleveland). Yes, he still doesn't have a set rotation yet (the roster that was tinkered with as recently as two weeks ago). And while his team hasn't performed well on defense as of late, that has been the Lakers' calling card for most of the year. At 31-19 and 3rd in the West, you couldn't ask for more from a guy that's replaced a head coach who was an 11-time champion.
The mission is still clear for the Lakers. They will get Bynum in line (especially Kobe and Pau… even if Derek Fisher is gone) and tell him that it's all about the championship. Again, Kobe is no stranger to this sort of drama. We all knew that Kobe and Shaquille O'Neal weren't the best of friends during the three-peat years. But yet they went on to win those three straight championships.
There are two things to worry about, though. The first is, of course, Bynum. He just hasn't showed much effort in the last few games in terms of defense and rebounding. Bynum is the centerpiece of that defense and if he decides to act up, that Laker defense that has been very good throughout the season gets rattled. He needs to be engaged. But I do think they'll be okay when it comes to that.
The latter is more troublesome. Coach Brown is trying to take control of a team that he hasn't had control in the first place. Brown is not that much of a yeller in general but compared to the seemingly-at-peace Phil Jackson (who, I'm sure, would just have an incredulous look if Bynum took the 3 but wouldn't bench him), he is loud. A drill sergeant, if you will. The veteran guys for the Lakers won't particularly respond well to a young, boisterous (compared to Phil) coach. Maybe the players themselves are testing Coach Brown to see if he is worthy of their respect. And Brown is fighting back and trying to be a disciplinarian towards them. He wasn't like this in Cleveland so maybe he's trying to turn a new leaf in L.A. If Brown and the players come to a happy medium, then it won't be so troublesome in Lakerland. They have about a month left to get it all together. And, honestly, I think they will. The remaining core from the Laker championship years have been through this before.
In the meantime, stay tuned 'til the next episode.
PHOTO CREDIT: AP.
Follow me on Twitter at @TheNoLookPass. Please LIKE us on FaceBook. Thanks!