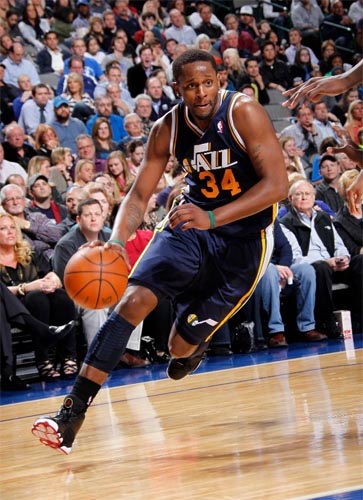 I got to catch up with an old friend of ours, C.J. Miles, swingman for the Utah Jazz. It's been a couple of years since we last talked to him for The No-Look Pass. In this little chat, he talks to us about the shortened season and how he's doing this season in his "contract year." We'd like to thank C.J. for his time. Always a great guy and one of the more honest guys to talk to. By the way, you can follow C.J. on Twitter at @CJMiles34. Don't get him confused with a certain Asian model.
THE NO-LOOK PASS: First off, do you feel more tired due to this compressed schedule?
C.J. MILES: A little bit. But it's pretty much what we train for throughout the summer. The guys have held up pretty well.
TNLP: So Utah is 7th in the West right now. Is this where you guys expected to be?
CJ: We came into the season knowing that we would have a chance to really sneak up on other people and surprise them. We knew what we had and what we were able to do. My biggest thing was to make the playoffs. I don't think we had a place of where we would be but we knew we would be there.
TNLP: Do you feel the Western Conference is that wide open? Or do you even think about that?
CJ: We know it was going to be tough in the West. It's been that way for the last few years… lot of talented teams and players. Our biggest thing is to worry about us. If we win games, then we'll be okay.
TNLP: Do you like coming off the bench? Would you prefer being a starter? Or does it matter to you?
CJ: I guess! It matters to me. Everybody likes to start. You're warm. You start the rhythm… the pace of the game. I've been able to have success doing both. I guess I'd say I like starting more.
TNLP: You're not really shooting great this season (38 percent this year). But you seem to have stayed confident and have shot well the last three games (14/29 shooting, .483). What do you tell yourself or what do you do to stay confident?
CJ: I work too hard not to be confident in what I can do and what I've done in the past years. My biggest thing was to keep working and keep playing. Shots will fall and you'll get a chance to be able to find yourself.
TNLP: You were in trade rumors a couple of weeks ago. Did that bother you?
CJ: It was a little weird. I've heard some before but this was the first time that I really thought that it could happen (I could get traded). Stay focused on what you do. If it happens, it happens. Things will work out for the better if it's not here or somewhere else. The biggest thing is (someone wants you).
TNLP: Your contract is up after this season. Are you thinking about that or just concentrating on this season?
CJ: I'm aware of it. This is the first time that I'm gonna be an unrestricted (free agent) since I've been in the NBA. But I'm just trying to help my team win games. Like I said, you play hard, you play well. Things will take care of themselves.
TNLP: What's the difference between Coach Sloan and Coach Corbin? How differently do they handle you?
CJ: The system's a little bit different this year but that's based off different players. Basically, with Coach Corbin, he hasn't tried to come in and break things up. It was hard for him since he came in midseason… and this year… because of the shortened season… not having a long camp and you can only change so much. I don't think there hasn't been much of a difference. The biggest thing is that we've been able to run up and down… though we ran with Coach Sloan, too, just depending on the game's situation. Coach Sloan had the ball in my hands a little bit more when I was coming off the bench for him.
TNLP: Coach Sloan looks like he could kill somebody with his bare hands!
CJ: He's a tough guy, man. A good guy. Everybody liked him. He's one of the funniest guys… I don't think people really knew. He was a firm believer on doing your job but off the court, he was a funny, well-respected, and laidback guy.
TNLP: I know you're only 25 but ever thought about coaching after your career?
CJ: I really don't know. I thought about coaching. I thought about the analyst thing. But I'll definitely be doing something with basketball, for sure.