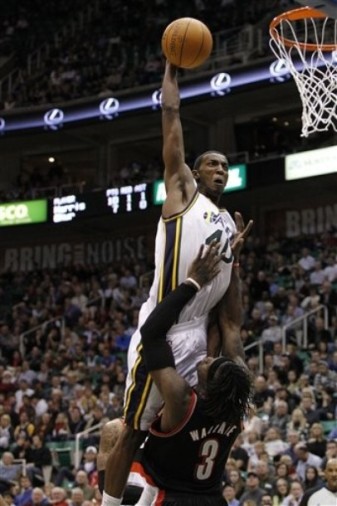 The slam dunk contest is something I always look forward to watching. But somehow, the NBA has made it even more unwatchable for casual fans. It's turned me off as well because of the new rules.
Yes, the NBA is staying with four competitors but they're only having one round and it's only going to be a fan vote (which I've hated in the first place). No need for judges, apparently. Unless someone totally stands out, this could potentially turn into a disaster.
The contest also has a lack of star power. To the hardcore, this is a pretty good field but to the casual, people are going, "Who?"
Jeremy Evans (Jazz)
Chase Budinger (Rockets)
Paul George (Pacers)
Derrick Williams (Wolves)
To me, that's a decent field. But, yes, we would've loved to see Blake Griffin defend his title. And, of course, we'll NEVER see LeBron James compete in the dunk contest even though he teases it basically every season.
Jeremy Evans replaces Iman Shumpert from the Knicks. I thought it was a foregone conclusion that Shumpert was going to win because of the fact that Jeremy Lin was going to help him out (it was confirmed earlier by Shumpert that he was going to jump over Lin and a couch). Heck, if I were one of them, I'd use Lin to help out because he's pretty much the NBA favorite at the moment.
Anyway, since there's no Shumpert, here's what you're missing with him.
By himself (meaning no Jeremy Lin helping out), he would do well. The kid's got bounce. The thing is he does miss game-dunks for some reason.
To the competitors, the Jazz have been campaigning to #LetJeremyDunk (similar to #LetShannonDunk).
The guy can elevate. I like his chances. I hope he's creative enough to come up with something crazy. Oh, and nice pass off the wall, Matt Harpring.
Chase Budinger has pretty good stuff, too. Like the between-the-legs reverse there. A bit disappointed that he doesn't go higher but he has some hangtime.
Paul George is my pick to win if it's judged on points. Love the variety that he showed here. And if he can pull this ace off in the contest...
La Mirada High School product Derrick Williams seems to have the most power out of everybody here. Some people have picked him to win the dunk contest. Gotta love his explosiveness.
At this point, I think the one that can pull off the most innovative dunk (it only takes ONE!) will win the contest. Paul George has that jam (provided in the link above) and if he pulls that off, he should win the fans.
If you're still going to have the dunk contest next season, NBA, give back the power to the judges.
VIDEO CREDITS: 1) BallIsLife.Com 2) breezman6969 3) SportsOnTheSide 4) centralvalleyfb 5) TKOMusicHD.
PHOTO CREDIT: ???
Follow me on Twitter at @TheNoLookPass. Please LIKE us on FaceBook. Thanks!
We're always up late. How about buying us a coffee? Or an energy drink!?