USUALLY every Monday, I will have... compressed thoughts about the NBA in this compressed schedule. But games were going on early yesterday so I decided to write this on a Tuesday. Check out the five nuggets that stuck out to me this week.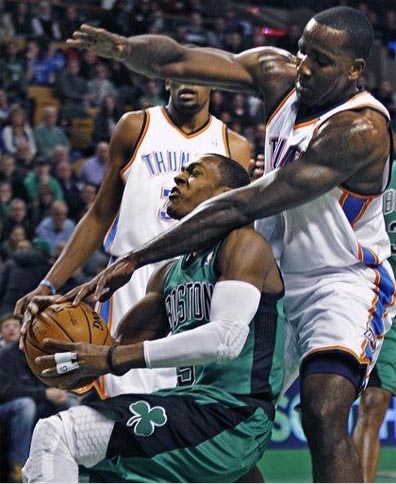 1. End Of The Road For The Boston Celtics?- The Celtics have lost five in a row and are now 4-8. Easily the worst start in the Pierce/Garnett/Allen era. What's going on here?
Granted, we knew that they were on the decline but this one's pretty sharp. They did lose to some good teams during this losing streak but what is it that stands out about them? They're still ninth in points allowed, yes, but they are now tied for 17th in defensive rating (unusually VERY low for them).
Their offense hasn't generated enough points. They are 26th in scoring (below 90 PPG at 89.8!). It's true that they're not known for their scoring but they did average 96.5 points last year even if it's 23rd in the league. Ray Allen is leading the team in scoring at 16.5 points a game. Paul Pierce has missed some games that Sasha Pavlovic had to start. Mickael Pietrus signed with the team late.
The schedule does get a little easier for the rest of January. They have Toronto, Phoenix, and Washington coming up. They have Orlando twice in a row and Indiana in a little tough stretch before ending January with a home-and-home against Cleveland.
A 5-3 record would put them at 9-11 at the end of January before they go on a 5-game home stand. Maybe the Celtics still have some kind of hope to make the playoffs. Unfortunately for Celtic fans, we're supposed to be talking titles, not playoffs.
They just look really, really old right now.
2. Kobe Bryant's 40-Pt Games- I didn't agree with most of Kobe's shot selection but the fact that Kobe went four straight games with 40 points is incredible in itself. His age and mileage make it even more impressive. Again, his legs look better than ever and it makes such a difference when your legs are working in basketball. Kobe now leads the league at 30.8 points per game and I'm sure nobody (but Kobe) expected him to lead the league in scoring since he's supposed to be on the decline and that he is in his 16th year in the NBA.
It's not even impossible for him to win the MVP this year. That's how good Kobe still is.
3. Taking The Clippers Seriously- The Clippers are 7-3 and are certainly challenging the Lakers for that Pacific crown. They have impressive wins over Portland, the Lakers, and Miami. Granted, they were all at home but the first step on becoming a good team is defending your home court against all comers. After that blip against the Bulls, they now have won six straight at home.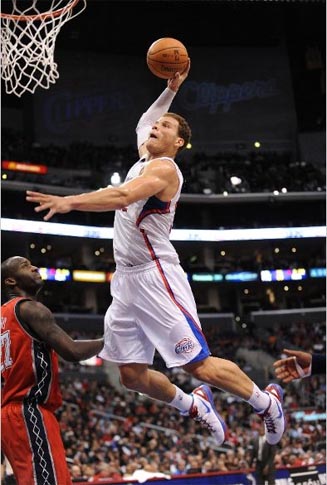 They still have a home-heavy schedule for the rest of January before they go on a long road trip next month. It helps to have veterans like Chauncey Buh-Buh-Buh-Billups and Caron Butler... and it definitely helps to have the point god Chris Paul on your team. These are not yesterday's Clippers, ladies and gentlemen.
Now can they win on the road? Let's find out starting tonight.
4. JaVale McGee Is A Hot Dog- Check the video.
That dunk alone would probably win the 2010 Slam Dunk Contest.
I'm kinda mixed on this. The Wizards are 1-12 and I get that he probably shouldn't be doing that kind of stuff if they're losing. At the same time, the crowd is dead and a play like this can hype up the crowd. I'd say it's a bit of an overreaction but I kinda can't blame Flip Saunders for yanking him out since, after all, they are 1-12.
I think detractors would have more of a case if he did an off-the-backboard, 1440 windmill dunk.
5. And That Compressed Schedule?- Let's remind everyone again...
LOWEST-SCORING TEAM LAST YEAR?- Milwaukee Bucks at 91.9 PPG.
LEAST-ACCURATE SHOOTING TEAM LAST SEASON?- The Bucks at 43 percent shooting.
Nine teams are still below 91.9. Lowest? It's still Detroit but, at least, they went above 85 at 85.4 PPG. Hurray.
Eight teams are below the 43 percent mark. Sacramento is shooting 39.6 percent for the season. Ew.
Let's not lock out any more, guys.
PHOTO CREDITS: 1) Charles Krupa/AP. 2) Noah Graham/Getty Images.
VIDEO CREDIT: Outside The NBA.
Follow me on Twitter at @TheNoLookPass. And go like our FaceBook page. Be one of the cool kids!
We're always up late. How about buying us a coffee? Or an energy drink!?