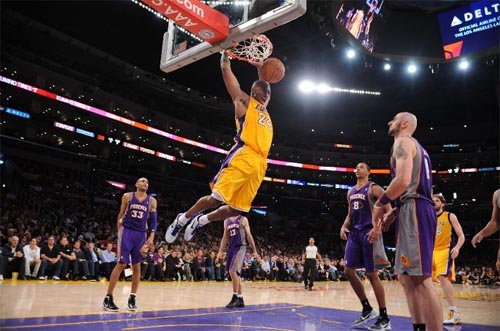 Everyone is buzzing about Kobe Bryant putting out a double dose of his jersey number on the Phoenix Suns last night. He also took a shot at the ESPN rankings when he mentioned that his performance wasn't "bad for the seventh best player in the league."
Keep in mind that these rankings were made before the season started. And I honestly thought that the ranking was justified. He was banged up last year, he was uncharacteristically bad in closing moments of games, and he seemed to have a harder time taking over games. But after what he's been doing this season, we may have to rethink that 7th position. People (L.A.) would argue that he's still the best in the game.
Meanwhile, the Lakers are off to a 7-4 start… but they've gone 7-2 after they lost their first two games of the season.
Yes, we're underrating both Kobe and the Lakers here.
So let's look at the guys that were ranked above Kobe in those ESPN player rankings.
1) LeBron James (MIA): Averages of 29.7 points, 8 boards, 7.6 assists, and 2 steals.
2) Dwight Howard (ORL): 18.6 points, 14.6 rebounds, 2.4 blocks, and 1.4 steals.
3) Dwyane Wade (MIA): 21 points, 5.9 rebounds, 1.9 blocks, and 1.9 steals.
4) Chris Paul (LAC): 14.6 points, 8.4 assists, and 2.7 steals.
5) Dirk Nowitzki (DAL): 18.9 points and 5.4 boards. Yikes.
6) Kevin Durant (OKC): 25.4 points and 6.9 rebounds.
7) Kobe Bryant (LAL): 29.5 points, 5.7 rebounds, and 5.8 assists.
Okay. There's still no disputing LeBron's statline; that's the best in the league. Howard is still putting out some fantastic defensive numbers. But it's pretty easy to make the argument that in the statlines, Kobe could be put in as #2 or #3 in the league. And, hell, people can ACTUALLY make the argument that Kobe is STILL the best player in the league. His legs seem a lot better in years past and he has showed that his takeover ability has returned as it was pretty absent last season. Not bad for a guy who has a lot of NBA mileage, right? I like how Kobe dropped that monster game against Phoenix when LeBron James came up blank against the Warriors last night. Timing is everything. Yes, Kobe is shooting a wrist-killing 23.7 shots (we all know he has torn ligaments on his shooting wrist) per game but Kobe's kind of not from this planet.
In the meantime, the Lakers' record is probably a bit of surprise to some people at 7-4 (7-2 in last nine). They're barely in the top half of the league in terms of scoring but they are third in points allowed and sixth in defensive rating. It's still early in the season and the Lakers have enough guns to be in the Top 10 of scoring. And at some point, their three-pointers will drop. There is no way they will keep that 23 percent shooting (surprisingly, it's NOT last in the league) behind the arc. And with Kobe Bryant seemingly on a mission to prove everyone wrong, I don't see why the Lakers can't be considered contenders to the title (yes, I'm aware they haven't won on the road yet… but they've only played three games and losses include an anomaly against the Kings and Portland, which is always a tough place to play). After all, defense wins championships… and they're doing very good in that department right now.
It's best for us to NOT count out Kobe Bryant and the Lakers (remember that a lot of people have picked Miami, Oklahoma City, and Chicago ahead of the Lakers… and, heck, people were saying that the Clippers were the new L.A. team). If he keeps playing like this (even if we accuse him of shooting too much like in that game against Denver), Kobe has quite a good chance to win that elusive second MVP trophy and, more importantly, that sixth championship ring he so desires.
Let's see what today's game against Utah brings.
PHOTO CREDIT: Noah Graham/Getty Images.
Follow me on Twitter at @TheNoLookPass. And go like our FaceBook page. Thanks, people!