This is the last NBA game of the season played in Dallas. How did the Mavs respond?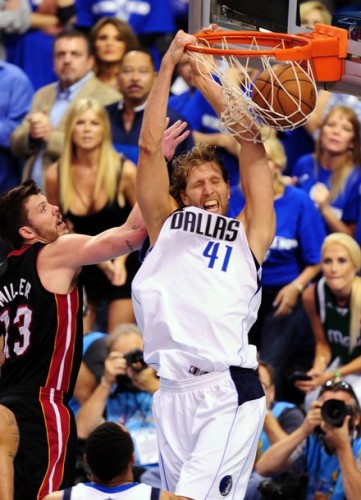 MIAMI HEAT 103 @ DALLAS MAVERICKS 112
2011 NBA FINALS – GAME 5 – (Dallas leads series, 3-2)
If it ain't broke, why fix it? Rick Carlisle stayed with his rotation from Game 4 where he started J.J. Barea and made Brian Cardinal the main back-up frontcourt player.
Dallas raced to a 13-6 start. Then Miami received a huge scare when Dwyane Wade went to the locker room with a hip contusion. He suffered the injury when he ran into Cardinal, who was trying to take a charge.
With Wade out, they got good contributions from fossil Juwan Howard and Mario Chalmers. Chalmers once again hit a halfcourt shot to beat the first quarter buzzer. The Mavs had an offensive flurry in the first… yet the Heat managed to do them one better at the end of 1, 31-30.
Chalmers continued his hot shooting in the second quarter while Wade was out. However, Dirk Nowitzki scored 10 points in the latter half of the second as he helped Dallas to a 60-57 halftime lead. LeBron James, with all eyes on him, was having a relatively quiet game for a player his stature.
Mike Miller started in place of Wade in the second half and he immediately contributed with two straight three-pointers. It was around this time the Dallas guards started waking up. Barea made a couple of threes. Jason Kidd made a three-pointer. Jason Terry made a couple of jumpers. LeBron also curiously didn't go into overdrive when Wade was out for the first 7 1/2 minutes of the third quarter. But with the Mavs being powered by their backcourt, Dallas went up as much as nine points and into the 4th leading, 84-79.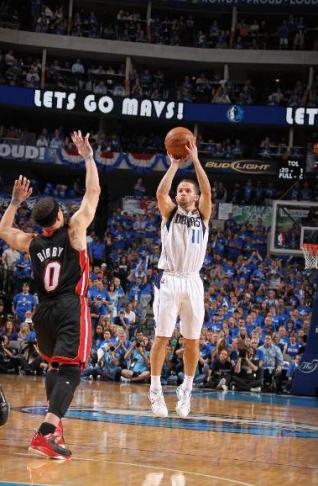 In the middle of the fourth, Wade and James' playmaking got the Heat going. A Wade trey punctuated a 9-0 run that put the Heat up, 99-95. There was no way the Heat was going to blow this one this time, right?
Terry made a three to tie it at 100. Then when LeBron had a chance to keep the Mavs away, he didn't come through. A Dirk dunk gave the lead to the Mavs and after LeBron missed a 3, Kidd made a 3 of his own to put the Mavs up 5. After Chris Bosh split his freethrows, Terry made a 3 in front of LeBron to essentially put the game away. The Mavs finished on a 17-4 spurt to win, 112-103, and are now one win away from getting their first NBA title.
The Heat got killed in turnovers, 16-11. And while the Heat shot well enough to win the game (nearly 53 percent), they let the Mavs shoot the lights out at 56.5 percent (13/19 in threes!). Granted, the Mavs made some tough shots and the shots that were missing in the series earlier were finally falling for them. Sometimes, you gotta tip your hat to him.
For LeBron, it's not fair. He ended up with a triple-double (17-10-10) but for Bron, it's just a passing or a failing grade… and most people are going to give him a failing grade. I thought LeBron had a good game… but a player of his status is given a different standard; he was expected to be dominant. 17-10-10 looked like a dominant line but, once again, there were times when he… played it safe and "stayed within the system." I don't think it's entirely his fault that Miami lost the game. But could he have played better? Sure. He didn't make a three-pointer. He only shot two freethrows. He didn't shine in the third when Wade was out… and didn't exactly do much in the fourth quarter. Sometimes, I even felt sorry that he had gotten so much criticism but then I also think about the time where he opens his mouth and shoots himself in the foot many times. If he can shoot in the Finals as well as he had been shooting himself in the foot then the Heat would have the series won by now. Still, I don't think it's fair that he's getting so much criticism but the majority of the people will certainly disagree with me because of the standards people (and LeBron himself) expect of LeBron James. Oh, and a lot of people don't like LeBron, either, which really skews people's thinking.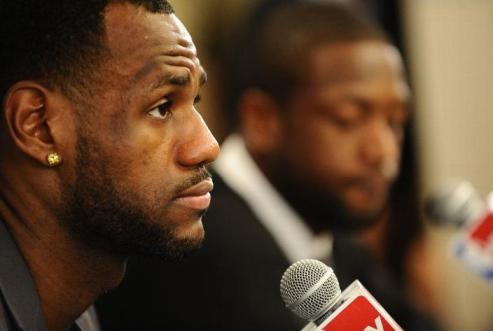 As for the rest of the Heat players? Wade will definitely be less than 100 percent going into the next game (and probably Game 7) but he'll play through it. The "what if card" will be played but Wade probably would've scored more than 23 points if he was able to go full speed and play more than 34 minutes in Game 5. Bosh himself had a very good game at 19 and 10 but like James, he's not going to get much praise from the people. Mario Chalmers has been quite good and this game was no exception. He helped out with 15 points.
But we can't ignore the effort of the Mavericks. The recovering-from-101-degree-fever Dirk was better with 29 points. Terry had his best scoring game this Finals at 21 points. Barea got out of his slump and put in 17. And Kidd was more careful… and definitely clutch (remember that huge 3) in this game. He finished with 13 points.
Dallas, as mentioned, played their best shooting game in the Finals and they've been great with their zone defense sprinkles and giving James different looks (Shawn Marion, DeShawn Stevenson, Dirk, Kidd, and Terry all got chances to defend him).
However, they're going back to Miami for the finale. The finale being Game 6 or Game 7, we don't know. But remember that Boston was in this same situation last year and they lost both games in Los Angeles. Of course, the roles were reversed in 2006 when Game 6 went back to Dallas… and Miami came away with the win.
I just know that we can't wait for Sunday Sunday Sunday. And if the first five games were any indication, it's likely going to be, once again, an instant classic.
I can't get enough of this NBA Finals.
PHOTO CREDITS: 1-3) Getty Images.
Follow me on Twitter. My username is@TheNoLookPass. I promise that I'm a tad entertaining. While you're at it, "LIKE" our FaceBook page.
[phpbay]nba mavericks, 3, "", ""[/phpbay]