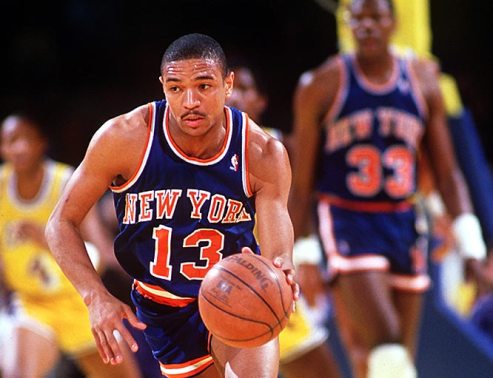 "Mama, there goes that man."
"Hand down… man down."
"Jordin Sparks defense. No air."
Those are some of the catchphrases that I WON'T miss when Mark Jackson takes over the reins as head coach of the Golden State Warriors. I won't miss him on the broadcast booth. Sometimes, his banter with Jeff Van Gundy can be fun; you can't deny their chemistry… but his questionable (when focused) analysis makes you wonder, sometimes, if he IS capable of being a head coach.
Mark Jackson played point guard for a long time. He's third all-time in career assists and while he was never the most athletic guy when he was playing, he got the job done. Jackson was actually the point guard in a rare Clipper playoff appearance so he IS pretty damn good.
Yes, he guaranteed the Warriors a playoff appearance. And you know what? As much as some of us have dismissed his commentary on ABC and ESPN, we can't dismiss this little morsel: Jackson, whether you like his commentary or not, has the respect of everyone in the NBA. LeBron James and Kevin Durant tweeted about this when they heard the news and if you get the blessing from those two guys, you KNOW he's well-respected.
Jackson's never had any head coach experience so it was smart that they hired Mike Malone, New Orleans assistant coach who helped Monty Williams with the Hornets defense. But beyond the X's and O's, the fact here is that players will play hard for him. The players want to impress Mark Jackson. That's something previous coach Keith Smart didn't have in his stint: the respect of the players. That alone should tack on a few more wins on the Warriors, who are on the way up, anyway. Don't think the Warriors get to that promised land next season (ugh, lockout) but they're certainly not far away.
I'll say the Warriors made a good hire. At the very least, they got him away from the broadcast booth.
Follow me on Twitter. My username is@TheNoLookPass. I promise that I'm a tad entertaining. While you're at it, "LIKE" our FaceBook page.
[phpbay]nba warriors, 3, "", ""[/phpbay]