The Mavs pretty much had their backs against the wall. Did they respond?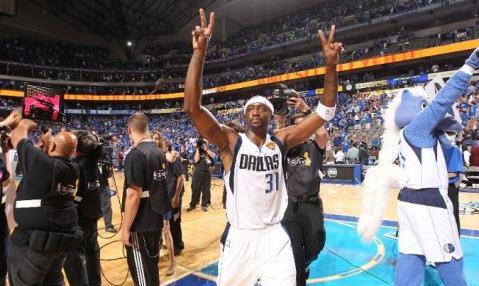 MIAMI HEAT 83 @ DALLAS MAVERICKS 86
2011 NBA FINALS – GAME 4 – (Series is tied, 2-2)
Rick Carlisle made small wrinkles. It was said that he was going to start J.J. Barea instead of DeShawn Stevenson and put Brian Cardinal ahead of Peja Stojakovic in the rotation. Well then…
Early on, Dirk Nowitzki and Chris Bosh scored the first six points for their respective teams. Dallas had a small margin for most of the first quarter but Miami absolutely killed them on the offensive glass. But at least, Jason Terry had it going early, who was called out by Dirk for not coming through in the clutch thus far. Terry scored seven points in that first quarter.
The first half continued to stay close. Again, as easy it is to make fun of Bosh, he's still a very, very good player and every team would kill to have the Heat's third option as a SECOND option (or even as a first). He scored 16 points in the first half as LeBron James stayed silent on the scoring department (MORE on that later). In Dallas' side, the replaced starter, DeShawn Stevenson, poured in 11 points in the second quarter. I suppose one way to get Stevenson motivated is to bench him for a guy who had been shooting less than 25 percent in the Finals, right?
In the second half, we learned from Doris Burke that Dirk had actually been playing with a 100+-degree fever this game so we watched him more closely. He did looked gassed for the most part. Dirk even missed a freethrow after making 39 straight in the playoffs (first miss of the Finals). Still, sprinkles of the zone defense continued to keep Dallas in the game as well as some timely baskets from Shawn Marion. Miami led after three, 69-65.
A short burst from the Heat at the start of the fourth built the Heat lead to nine points as people started hailing the series over and Dwyane Wade as MVP. But Jason Terry and Dirk would have none of that as they stormed back with a run of their own. Terry's breakaway lay-up after Bosh lost the ball (he must have fumbled the ball, at least, four times in this contest) took the lead back for Dallas at 79-78 with 5:11 left in the game.
NOBODY SCORED A FIELD GOAL FOR NEARLY FIVE MINUTES AFTER THAT. Wade missed a game-tying freethrow with 30 seconds left before Dirk (I guess this is the part where we remind you that he had triple-digit temperatures, right?) made a clutch lay-up with 14 seconds left.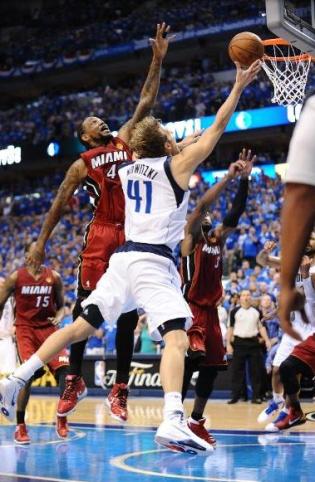 Wade got a quick concession dunk before Terry converted two freethrows to put the lead to 86-83. Miami had a chance to tie. On the inbounds pass, Wade nearly lost the ball before saving it to Mike Miller. Miller was draped and contested on his desperate 30-foot shot and Dallas tied the series in yet another comeback that has been a signature for these Mavericks in these playoffs.
There is no doubt that the Heat have a Big Three… but LeBron played the worst scoring game of his playoff career with eight points as he seemed tentative and never got into a rhythm in this game. He still did the other things (9 rebounds, 7 assists) but he seemed content to defer to Wade (32 points) and Bosh (24 points). That doesn't excuse him from having such a poor scoring game. It seemed like he folded after being challenged by a reporter and Terry's trashtalk (not saying THOSE are the main reasons… but LeBron can't disappear like that in moments like these). I do think LeBron will bounce back from this, though, because he's way way way too good of a player to be held down like that.
As for Dallas? Let's forget all the Jordan flu game comparisons. Dirk had a courageous performance on his own and we were questioning on whether the Mavericks can step up and help him out when Dirk needed them the most. Dirk had 21 points of his own but four other players had double figures as well (Terry had 17, Marion had 16, Tyson Chandler had a huge 13-16 game, and Stevenson had those 11 points in the 2nd). After getting killed earlier on in the glass, they cleaned it up the rest of the game and the Heat only had a 44-41 edge on the boards. And, obviously, that Brian Cardinal switch-up worked wonders for the Mavericks.
Dallas will play their last home game of the season on Thursday. As Terry mentioned in his postgame interview, they wanna end that game with a bang.
They're gonna have to. They don't want to have win twice in Miami.
And once again, I'll say this: what a Finals it has been so far.
PHOTO CREDITS: 1) Nathaniel Butler/NBAE via Getty Images. 2) Garrett Ellwood/NBAE via Getty Images.
Follow me on Twitter. My username is@TheNoLookPass. I promise that I'm a tad entertaining. While you're at it, "LIKE" our FaceBook page.
[phpbay]nba mavericks, 3, "", ""[/phpbay]