We continue our team previews here in The No-Look Pass as I talk to some of the best NBA bloggers from the internets.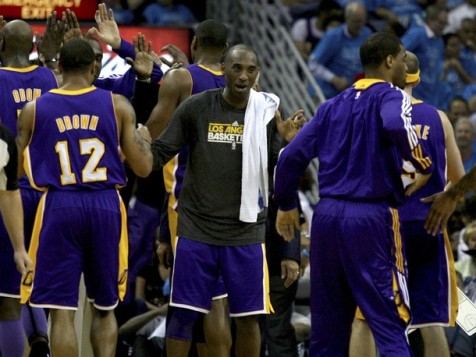 Once again, I saved the best for last! (Kidding. Sorta.) But the Los Angeles Lakers are in the second round after having SOME trouble with the New Orleans Hornets. They took care of 'em in six games. Now they face the Dallas Mavericks in the second round.
I bring back the usual suspects. Instead of Andy, Brian Kamenetzky of the Land O' Lakers blog from ESPN L.A. answers questions. Jason Riley and Chris Manning from LakerNation.Com (newly renamed) also return to answer questions. Once again, follow ALL of them on Twitter for your Laker fix: Brian shares his account with his brother at @ESPNLandOLakers, Jason's account is at @Jason_Riley, and Chris is at @LD2k.
Their answers are, of course, in purple. Twelve more games until the threepeat!
This took a while for the Lakers to take care of the Hornets. Is that more on the Lakers or the superb play of Chris Paul?
BRIAN: A little from column A, a little from column B. The Lakers clearly didn't have quite enough respect for the Hornets when the series opened up, but they got the hang of it pretty fast. CP3, though, was at points too good to contain. There are some players around the league capable of owning games, even when his teammates aren't quite as good. That was Pau in Games 1 and 4. That said, particularly in Game 1, the Lakers did make his life a lot easier. Pau Gasol particularly was a train wreck defensively on the screen and roll. As a team, help was slow, rotations slower.
Credit Paul and the Hornets for putting up a better fight than most figured they would, but once the Lakers invested themselves fully, the incredible disparity in talent became clear.
JASON: A little bit of both.
Paul masterfully exploited the Lakers decade long inability to defend the pick-and-roll, and despite his irritating fondness for turning a bump into a gunshot wound, was unquestionably the best player in the series.
However, the Lakers never lost control of the series:
Game 1 – Lakers are comfortable.
Game 2/3 – Lakers get serious.
Game 4 – Lakers get comfortable.
Game 5/6 – Lakers get serious.
At the end of the day, it's almost always the Lakers vs. the Lakers.
CHRIS: A mixture of both. I think the Hornets front line gave the Lakers some problems – most notably Gasol. Thinking back to what Landry did to Gasol back in that Houston series in '09, it was clear Gasol struggled against an undersized PF. Chris Paul was absolutely brilliant. There is not a better PG in the league that can isolate himself, embarrass you, make your ankles a bit sore, and break you down he he pleases. I love Rose, but CP3, at his best, is unlike anyone else in the league. On top of that, the entire Hornets squad played with heart reflective of Paul's determination and will. New Orleans played tough, props to them.
Kobe Bryant's ankle is always going to be a concern but he should just be fine, right?
BRIAN: Well…
It really depends on what you mean by "fine." He'll play, no question, but the ankle and foot are going to be a looming threat not just in this series, but however long the Lakers go in the postseason. He was still limping around at practice Saturday, and via ESPNLA.com's Dave McMenamin, this is what Phil Jackson said about him Saturday afternoon. "It still affects him a lot," he said. "This is not going to go away anytime soon. We're just going to have to be very close to what he's doing, monitor it a lot. I think that he'll have limited amount of practice time, so it's going to be something that he's going to have to do in games that puts him on beam and the right position to help us out."
The lack of practice for Bryant won't throw the team- they're used to it- but the Lakers are going to have to be ready to see a different version of Kobe every game, depending on his heath. With games every other day, there just won't be enough time for him to heal up properly.
JASON: That depends on your definition of fine. I think there are a couple of options here:
If fine just means that Kobe will play through it…
Absolutely, Kobe will be just fine. Do you remember the Saw movie where Jigsaw put some sort of bear trap helmet on one of his victims' heads?
I truthfully believe that Kobe would play with one of those on his head… and drop 35… and dunk on Okafor…and do a postgame interview with Cheryl Miller.
If fine means that Kobe will be at 100%…
Well, that remains to be seen.
CHRIS: Kobe Bryant isn't human. As someone once said "Is Kobe a cyborg? Or some type of inter-dimensional or extra terrestrial entity?" On a serious note, the guy changed the entire playoffs for the Lakers when he facialized Okafor in game 5 last series. The guy is unreal. He'll be fine.
Well, I brought up Bynum before the first round started. How impressed are you with him?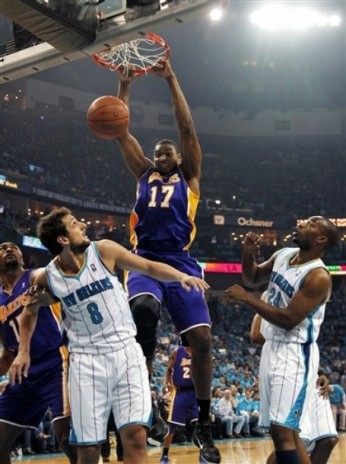 BRIAN: Very. Bynum has been a passenger- a very tall passenger- through L.A.'s title runs. Yes, he was on the floor in both years, but didn't really have a significant impact. Mostly, he was out there to be big. This year, as it was down the stretch he's central to the team's success. In the first round, the Lakers were significantly better defensively with Bynum on the floor. He's embracing his role as a defender and rebounder, and at the same time has added a little more aggressiveness to his offensive game.
He was, for example, much more confident using his face up jumper in the first round than I've ever seen.
JASON: In a word: thoroughly. His numbers have been solid (15/10/2), but it's his efficiency that has impressed me the most.
7, 11, 13, 8, 11, 13.
Those are Drew's FGA's in the first round, meaning that he's doing an outstanding job at taking advantage of his opportunities (55% FG's) and finding a rhythm without the ball.
On the defensive end, he's rotating faster (11 blocks) and forcing opponents to take tougher shots, rather than letting them get to the rim for layups and dunks. He had an awful lot to do with Chris Paul's 4/9, 5 turnover performance in Game 6.
The question with Drew, as it has always been, is…
You know what; I'm not going to jinx it. Let's just leave it at that.
CHRIS: First time in his career he's averaged 15/10 in a playoff series. He was also extremely efficient with his outside jumpers (shot 55% I believe). Drew is the key. And like New Orleans, Mavs don't really have an answer for him. I'm very excited to see him in this upcoming series!
Lakers get the Mavericks. Give me keys for the Lakers to win.
BRIAN: Here are a couple:
Pau Gasol makes Dirk Nowitzki work defensively. It'll be hard for Gasol (in combination with Lamar Odom, and probably Ron Artest from time to time) to shut Dirk down- nobody really can- but given the very high level Nowitzki wil need to maintain for the Mavs to have a chance, it's hard to believe he could do it carrying a load on both ends.
Play the zone properly. If the Lakers get sucked into jumpshooting when the Mavs use their zone, they'll find more trouble. L.A. isn't a great shooting team, but as a group are far to willing to shoot them anyway. Move the ball, move themselves, and they'll create easy buckets in the post.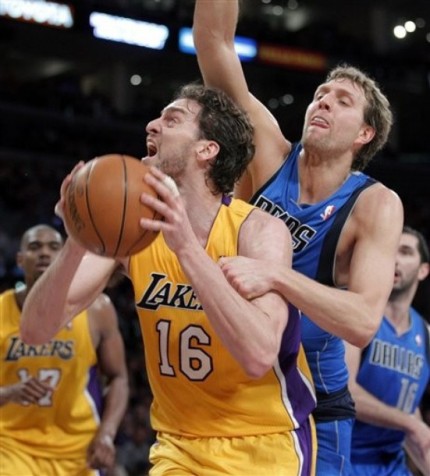 JASON: I think the obvious keys in this series are surrounding the Lakers focus, the strength of Kobe's ankle and figuring out the mismatch Dirk presents the Lakers with. In addition to those…
Controlling the Pace. The Mavs are at their best when they're able to outlet into transition, where Kidd/Terry/Barea become playmakers – either by passing the ball (Kidd is one of the all-time greats at this) or by finding open shooters (Kidd/Terry/Dirk/Peja combined to shoot over 40% from 3 in Round 1). The Lakers can't afford to get involved in that type of game.
Bynum/Gasol vs. Chandler/Haywood. These are the guys who will ultimately control the game. The Lakers need Gasol to be the All-Star he was this season (not the guy we saw in Round 1) and Bynum to continue doing what he did to the Mavs this year (16/11 in 3 meetings).
CHRIS: Contain the outside shooting. I really think if they can run out on the three point shooters they will have a great chance at winning this series. Dirk is Dirk and will get his, but make sure you make it tough for the other guys. The Lakers have a clear strength in their bigs inside. Make sure to keep pounding the ball inside like they did in the later stages of the New Orleans series. Mavs are also very deep. Lakers bench needs to come ready to play and match the Mavs' bench play.
On the defensive end, the Lakers are clamping down. During the Lakers' regular season, their season average was 95 ppg surrendered. During the Hornets series they held the Hornets to 76 ppg in the last 5 games. There is no question the Lakers solid defense will make the difference in this series. I'm excited to watch it!
Series prediction?
BRIAN: Lakers in six. In the end, they're too good for the Mavs, and talent wins out over a seven-game series in the NBA.
JASON: Lakers in 6. I like the Mavs to win a game in L.A., and the Lakers to return the favor a couple times in Dallas.
The Lakers will roll on to play… Memphis (?)… in the Western Conference Finals.
CHRIS: Lakers in 6. I believe this will be a stressful and exciting series. These two teams dislike each other and the more Jason Terry talks trash in the media, the more it excites me as a fan! That being said, this will be a chippy series. Going to be a fun one.
Anything else you wanna say?
BRIAN: Just that you're a swell guy.
JASON: I love this quote from Tyson Chandler this morning (via ESPN):
"When you're in the backyard and you're putting up shots and you're doing the countdown, some players would imagine themselves being other players. I would imagine I was killing the Lakers, so hopefully my dreams come true. I guess that I didn't think I could be one, so the next-best thing was beating them."
This is going to be a great series…
(PS – Follow me on Twitter.)
CHRIS: How exciting will this series be? Remember the 27 point comeback in 2002? Kobe's 62 to Dallas' 61 at the end of 3 quarters in 2006? Terry/Blake altercation from a little over a month ago? This will be a damn fun series. Go Lakeshow!!!!
Thanks to everyone that participated. Brian Kamenetzky, along with his brother, Andy, can be found at the Land O' Lakers Blog in ESPN Los Angeles. And you can find Jason and Chris at Laker Nation. Should be an awesome series to watch!
PHOTO CREDIT: 1) Reuters. 2-3) AP.
Follow me on Twitter for some supposedly-exhilarating NBA commentary at @TheNoLookPass. And please "LIKE" our FaceBook page.