(ED's NOTE: Our boy, Daniel Artest, was able to get an interview with D-League MVP, Curtis Stinson. Check it out.)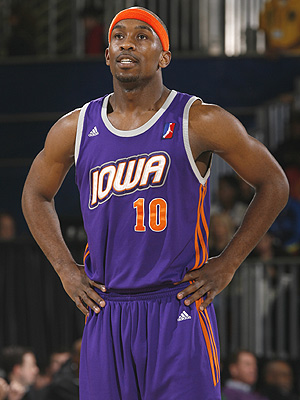 Curtis Stinson
Height: 6'3"
Weight: 215lbs
College: Iowa St.
I've known Curt for a few years now. We both played on the same streetball team at Rucker Park. Curt is one of the toughest guards I've ever seen play. His game has really grown over the years and he just keeps coming after you.
A lot of people aren't familiar with the name Curtis Stinson; hopefully, some NBA team will give him a call-up. He's an all-star point guard for the Iowa Energy of the NBA Developmental League. He averaged 19.3 points, 5.7 rebounds, and 9.8 assists in the regular season. He also won the D-League MVP. And in the D-League playoffs, he's even better (averages of 27.7 points, 7.2 rebounds, and 9 assists). Curt is definitely putting in... "Hard Work."
TNLP: What's good, Curtis? Long time no hear. How's things been for you?
CURTIS: What's good, Danny? I'm chilling, bro. Just trying to win this championship in the D-League. This year has been a blessing and I accomplished a lot this year and I'm still pushing. How you doing? Hope all is well.. Get at me whenever you want bro. I'm around.
No one really knows about you outside of NYC streetball, which you're well-respected. To those people that don't know Curtis Stinson, how would you describe your game?
I would describe myself as an emotional, intense, passionate basketball player. I'm very humble and well-mannered person who will respect everyone. But I think i have a Chauncey Billups game without the 3-point shot. I'm an all-around player that likes to fill up the stat sheet.
How do you feel about the players being called up ahead of you, knowing that you were more consistent throughout the season?
I feel that the NBA teams want something different than what I bring to the table. It's a tough thing because everyone's goal is to make it to the league. I just try to keep doing my thing. I think I deserve that call-up and I know my numbers are always consistent. I'm happy with that. The league can see and knows what I can do. I don't have a problem with the other guys getting call-ups because we all in the same situation.
I know an NBA call-up is in your future. When you're called up, what can you bring to a team?
I think I can bring a winner, leader, and a point guard that can run a team. Whatever a coach asks me to do, I will bring that to the team because I'm a winner who wants to win no matter what. Teams don't need me to score but I can hit the open shot and get the team in sets.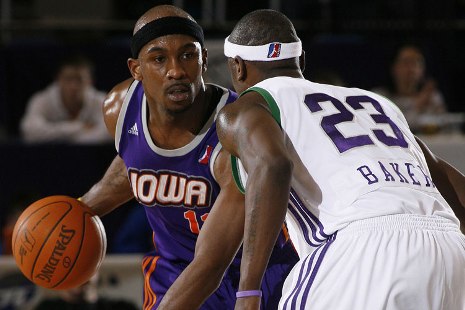 Who was your influence on the court growing up in the Bronx?
My influence on the court watching was Jamaal Tinsley. I was just like him in ways; he was a guy that was a well-known street ball player that was going the wrong way in life by messing up in school. But he still made it by going through the hurdles. He didn't play high school ball in NYC but got a (Division 1) scholarship out of (junior college) and he made it to the pros. I went to prep school and didn't play high school ball in NYC, either... and got a D1 scholarship but haven't made it to the league yet. Much respect to Jamaal.
As far as street ball, who were the best players you went up against?
In streetball, the hardest player I went up against was your brother, Ron Artest, because he played hard all the time and is a competitor. Plus he got game. He makes you work on both ends of the court.
How did you earn the name "Hard Working Curt"?
I earned that name "Hard Work" from playing hard and competing in all games and trying to do whatever it takes to win.
What you think of the NBA playoffs so far?
The NBA playoffs is very interesting because some teams are not consistent and anyone can lose because the teams are getting a lot better in the league. I love it, though; playoff basketball is great.
You won the MVP this season. Tell us how much that means to you.
It means a lot because there are plenty of players in this league that deserved to win that award. I am blessed and grateful. I never got an NBA call up but I accomplished something that a lot of people can't say they have.
If you don't make the NBA one last time, would you have done anything different in your career?
Nah, I wouldn't change nothing because I learned a lot and I matured a lot as a ball player and as a person. I think I am making the way for guys who don't get that call-up but can do something special in their career.
(ED's NOTE: Thanks to Daniel for conducting this interview with Curtis. **Rey-Rey**)
Daniel Artest is a San Antonio Spurs fan and baller that is trying to live the dream like his brother, Ron. You can catch his very honest Twitterfeed at @TheRealDMArtest and his weekly blog here on Mondays in The No-Look Pass.
We're always up late. How about buying us a coffee? Or an energy drink!?