We continue our team previews here in The No-Look Pass as I talk to some of the best NBA bloggers from the internets. For more of the team previews, go to the sidebar to the right.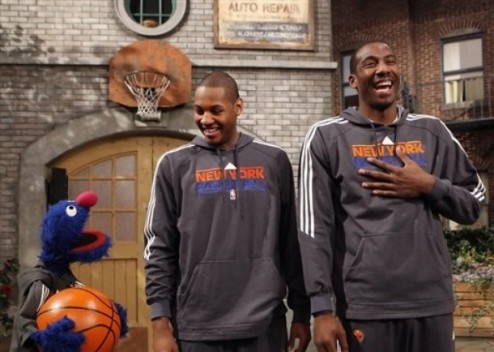 That felt funny typing the title of this column.
There were some expectations for the Knicks to get back to the postseason. While they didn't get LeBron James, they did get Amar'e Stoudemire. When Carmelo Anthony made himself available to the Knicks, New York got him before the trade deadline. They went through a very up-and-down season and eventually settled into the 6th seed in the East.
I talk to a very excited Seth Rosenthal of Posting And Toasting as he is a very good authority of Knicks basketball. Follow his hilarious Twitterfeed at @seth_rosenthal. Just hope he's not old enough to remember Charles Smith, though.
His answers are in dark orange. BEGIN.
How does the city of New York feel about this? How do YOU feel? About time, right?
I'm not a good authority on how New York City feels about anything, but I can definitely sense a great deal of excitement from Knick fans. It's hard to tell how much of it is pleasure over finally returning to the postseason and how much is genuine belief that the Knicks have a shot against the Celtics. Me? Yeah. It's about time. I am thrilled and terrified of returning to the playoffs. I'm 22, so the Knicks haven't played meaningful postseason ball since I've been (more or less) an adult. No matter the outcome, I'm trying not to take the mere qualification for the playoffs for granted.
Most people have said that the Knicks gave up too much to get Carmelo Anthony. Do you think so? Or do you even care?
Well worded! Who knows whether Denver would have ended up settling for less of a return package, but if I was in charge of things...yeah, I probably would've balked at giving up that much for Melo at the time. After watching him for a month or two, I'm still not really sure. These playoffs will probably say something about the merits of that trade. Most of all, though, I don't care anymore. Some fans are still pretty hung up on the trade. Some of my favorite Knicks departed in that deal, but I'm past it. I worry now about how the team fares at present and how they can get better in the future.
Amar'e better than you expected?
That's kinda tough. I guess I had some worries in the offseason that he'd prove helpless without Steve Nash feeding him. (Said worries were beaten into my head all throughout the summer. It was impossible to ignore.) On that front, he gets the highest of marks. He's been an offensive virtuoso, and hasn't done a bad job at all of creating for himself and scoring in isolation. When Raymond Felton was here, the two developed some pretty nice chemistry, and we're getting glimpses of the same progress with Chauncey Billups as well. Defensively, he's been about as streaky as expected. No matter my expectations, I love the guy and am thrilled to have him as a Knick centerpiece.
And Landry Fields also better than you expected?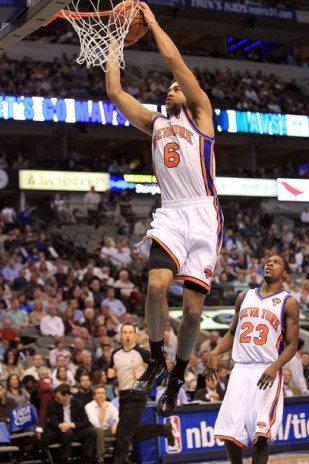 Ohhhh yeah, although my expectations were kind of moot in this scenario. I knew nothing about that guy, and being an ignorant bum, was furious when I heard the pick on draft night. Though he's stumbled a bit in the season's latter half (and since the trade), the guy has been sensational to watch. If he was contributing minimally, I'd still be under the impression that he has the smarts and physical gifts to become a really solid professional ballplayer. He's not, though. He's a starter for a playoff team, and will finish this season as pretty much the best rebounding guard in the NBA (not to mention the league's Landriest player). I feel like a fool for ever doubting the guy.
The Knicks face the Celtics in the first round. Keys for the Knicks to win this, please.
A few that come to mind:
1. Communicating and exerting energy on defense. Pick-and-rolls need to be attended to much more diligently than they have been in the regular season. Shooters need to be closed out. Rebounders need to be boxed out. Just those elementary feats of effort and cohesion need to be a priority. I'm not counting on it, but it could make all the difference.
2. Really, rebounding should be its own key. The Celtics are not a good rebounding team, and an especially poor offensive rebounding team. New York's perfectly capable of making them look like a bunch of Rodmans, though. They mustn't let that happen.
3. Drawing fouls. The Knicks are going to make some big runs by the grace of their three-point shooting alone, but the C's are super foul-prone and must be attacked. Driving on a big, but not especially nimble Celtics front line should generate free throws and foul trouble, which are crucial in a best-of-seven series (or so they tell me. It's been a while).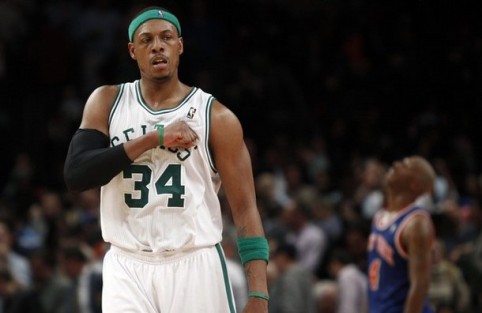 The Celtics seem to be reeling. Can the Knicks really pull off the upset? Would this even BE an upset?
Oh, it'd be an upset. I really don't know. I just don't have a valid prediction here, because I can't tell whether these reeling Celtics are here to stay or if it's just them playing possum again. The proverbial switch-flip, ya know? The Knicks have the individual talent to beat 'em, but the Celtics have a huge edge in chemistry and effort. I don't know. I don't know. I'm just really nervous.
Anything else you wanna say.
Watch out for Bill Walker, Anthony Carter, and Shawne Williams. One of those three is going to win a game by himself, I think. But also don't, because I'm probably wrong.
Our thanks to Seth for providing us some good knowledge about the Knickerbockers. Once again, go to Posting And Toasting to see his excellent work.
PHOTO CREDIT: 1) AP. 2) Getty Images. 3) Reuters.
Follow me on Twitter for some supposedly-exhilirating NBA commentary at @TheNoLookPass. And please "LIKE" our FaceBook page.
We're always up late. How about buying us a coffee? Or an energy drink!?