We continue our team previews here in The No-Look Pass as I talk to some of the best NBA bloggers from the internets. For more of the team previews, go to the sidebar to the right.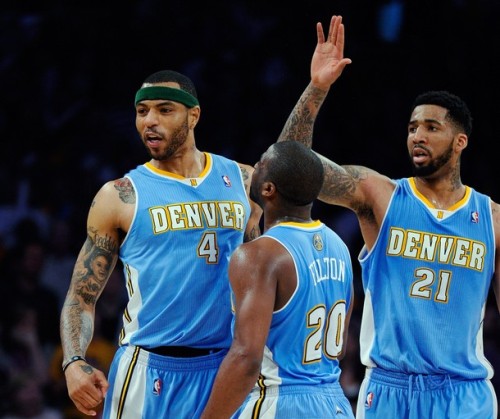 In probably the most annoying drama in the NBA this season, Carmelo Anthony was under watch for a long, long time as long as he was in a Nuggets time. When he was gone (in which Denver got A LOT in return), Denver surged to the 5th seed in the Western Conference. Not a lot of people expected that.
Denver is a fun team to watch and Jonathan Maness from NuggLove.Com was pretty eager to share that with me. Follow his love for the Nuggets on Twitter at @NuggetsLove. And, yes, go to his website at NuggLove.Com.
His answers are in dark blue. Tap the rockies!
For a long while in the season, all you heard is Carmelo this and Carmelo that. But once he got traded, the Nuggets had some kind of surge, finishing with 50 wins for the season. Did that surprise you?
Yes and no. People overlooked the players the Nuggets still had after the trade (not to mention the players they were getting from the Knicks). Afflalo, Ty Lawson, Martin, Nene, Al Harrington and to some extent even JR Smith are talented, competitive players who weren't going to lay down because Carmelo was traded. Because of that I thought the Nuggets were going to be alright after the trade, but I didn't expect them to go 18-7 down the stretch.
Did Carmelo really affect the team that much on defense? Or is it more a sigh of a relief for the whole squad that they just seemed more energized?
I don't know if it was Carmelo's defense or more along the line his attitude. When Melo put his mind to it he was arguably the best player in the League (see 2009 playoff run), but when he didn't, like this season, he was just a good player. So I think it was a sigh of relief for the squad and especially George Karl to be done with the drama and not be handcuffed by Melo anymore. Karl is enjoying coaching again, and outside of one or two players that still give him headaches, he really likes this team.
Tell me what you like about the new guys (Gallinari, Chandler, Mozgov, Felton).
Gallinari – I love his attitude and his ability to either draw a foul or pull up for a 3-pointer. He has deceptive athleticism and still has room to grow.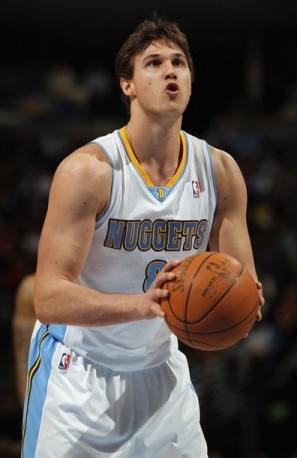 Chandler – Chandler has been the one that really impressed me of the group. He is a poor man's Shawn Marion, the ultimate team player, and has played 2, 3 and 4 for the Nuggets. He can score from anywhere on the floor, grab rebounds, block shots, and has done a good job defending Tony Parker, Kobe Bryant and even Kevin Durant down the stretch of games.
Mozgov – First thing is his size, you have to love that. But he isn't a stiff and he isn't going to back down from anybody. He proved that in the Lakers game and went toe to toe against Andrew Bynum. He has a very bright future.
Felton – Felton has been the key to making it work. He is a Top 10 point guard who has accepted a backup position and ran with it. He does make careless turnovers once in a while, but it is his heart and leadership that has been key for Denver late in games.
I don't think Nene gets enough pub. Don't ya think?
I agree completely, he is overlooked because he is an unselfish big man that is playing out of position at center. He isn't going to be a consistent 20 and 10 big man and isn't going to be a great shot blocker. However, he has great post moves, unselfish to a fault and does the little things that is overlooked through the course of the game (the extra pass, taking a charge, key block, key rebound or getting a steal). Fans hate him because he isn't aggressive enough, but coaches love him because he does the little things.
Meet the Thunder. I know the Nuggets just saw them recently. Point out keys to victory for Denver.
-First off, be the more aggressive team. Make them stop you, make them play your game – instead of vice versa.
-Get the ball out of Westbrook's hands. Trap him and make him go areas on the court he doesn't like to go. He isn't a stranger to turnovers (3.9 a game) or making mistakes.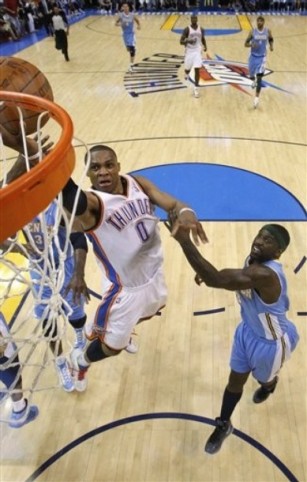 -Play physical with Durant and Westbrook. Let them know that nothing is going to be easy.
-Win with the second unit. The Thunder have a good second unit, but the Nuggets have a dangerous second unit that can take over the game. However, it also tends to disappear at the worst times. The Nuggets need that extra spark.
-Don't be intimidated. Kendrick Perkins is like the Thunder version of Kenyon Martin. He is going to try to intimidate you, don't let it get to you.
So do you believe Denver can actually be a bracket-buster and beat OKC in this series?
I don't think so, I just don't think the Nuggets match up well with the Thunder. They are quick, athletic, and play a similar style as the Nuggets – but better. However, I do believe if the Nuggets do find a way to beat Oklahoma City they can beat the Lakers or Mavericks, and even have a competitive series with the Spurs.
Anything else you want to say.
Even if Denver gets knocked out in the first round it isn't the end of the world. This team has a very bright future, with an exciting young nucleus and if they can resign the right guys (Afflalo, Nene and Chandler) and add a piece or two this team could be dangerous in years to come.
We'd like to thank Mr. Maness for his contributions. Again, go to his site if you love the Denver Nuggets at… NuggLove.Com
PHOTO CREDIT: 1-2) Getty Images. 3) AP.
Follow me on Twitter for some supposedly-exhilirating NBA commentary at @TheNoLookPass. And please "LIKE" our FaceBook page.
[phpbay]nba nuggets, 3, "", ""[/phpbay]