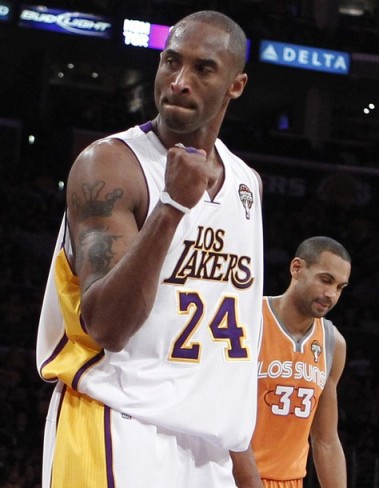 It's been a while since I did a regular recap of a Laker game but…
…if you hated this game, no matter the loyalties… then you absolutely hate basketball.
Yes, the 139-137 final may indicate that the defense was porous in this contest. But you know what? Isn't this what basketball is all about? Awesome shooting from both sides. Great plays by both teams. And there are even some defensive gems that can be found in this triple-overtime thriller. Sure, there are bonehead plays from time to time but put this all in one nice little package and it was the best game that I have watched this season.
Let me break it down into different topics.
THE NUMBERS: Laker shooting? 53/120 (44.2 percent). 120 FIELD GOAL ATTEMPTS. Phoenix shot 51/106 (48.1 percent).
Both teams combined to shoot 68 3-pointers! Suns were 17/41 (41.5 percent) while the Lakers (who are not a good 3-point shooting team) shot 11/27 (40.7 percent). But Vince Carter (who missed two key three-pointers down the loooong stretch) went 2 for 13. Ouch.
12 players scored in double figures (7 for the Suns and 5 for the Lakers).
6 players had a 20-10 (of some sort). 3 for each team. 5 got them in the conventional manner while Steve Nash got 20 assists and 19 points.
Marcin Gortat came off the bench to play 53 minutes.
What's even more incredible? The Lakers only had six turnovers in 63 minutes of play.
CHECK OUT THE WHOLE BOX SCORE FROM ESPN FOR A COMPLETE LOOK AT THE NUMBERS.
THE HEAD-SCRATCHERS: It's just really hard to trust Vince Carter in late game situations with the ball in his hands. Again, he missed key three-pointers that would've either won or got the game within reach.
I have NEVER been a big fan of fouling before the opposing team can put up a shot. To me, it's dangerous (putting the game in the referees' hands is living on the edge) and can very well lose the game for them (Antoine Wright on Carmelo Anthony on a playoff game). Just play defense. Lamar Odom fouled right when Channing Frye put up that 3-pointer.
The criticism of Kobe Bryant is that during clutch situations, it becomes a Kobe-on-five affair. Get a better shot. Run a play. Everyone knows the ball is going to him; why make it so predictable? He's made tons of shots in the clutch and that's awesome. But when Kobe knows the defense is going to converge on him, make a better play. Or have the whole team set screens while Kobe plays off the ball. MUCH, much easier that way.
The last 25 seconds of that game was definitely bizarre. After Carter missed a 3, the Suns didn't elect to foul when the shotclock and the game clock coincided with each other. Even more bizarre was that Kobe elected to shoot (and make the easy shot) when he could've easily ran out the clock for the victory.
With the Lakers up 4 and 14 seconds left, the ball went to Gortat… and he held on to it for a LONG time. The Laker perimeter D was great and the other Suns couldn't help him out but Gortat should've made a move to the basket instead of killing time. That essentially doomed the Suns as the Lakers went on to win that game.
THE CLUTCH PLAY: If you haven't watched any Suns games as of late, then you probably didn't know that Channing Frye has been hitting some game-winners. So I really wasn't that surprised when he hit some big shots for the Suns. He had a 3-pointer that cut the lead down to 3 in regulation before Grant Hill tied it with a 3 of his own that sent the game to OT (memories of Hill hitting a game-tying 3 against the Lakers when he was with the Pistons in 1997 came flooding back).
Derek Fisher making freethrows to put the lead up 3 in the first OT was ice cold. But after that bonehead Lamar Odom foul, Frye was even cooler. He sank three freethrows that tied the game. I would've been happy enough with the game if Odom redeemed himself with that jumper with one second left but I wasn't going to complain about more free basketball.
Steve Nash had an unbelievable behind-the-back pass to Gortat when he was about to stumble out of bounds. Gortat drove down the lane before passing it to guess who?! Frye made yet another 3-pointer in the second OT to put the Suns up two. Then Pau Gasol got fouled with two seconds left. Again, you gotta give credit where credit is due when the player makes freethrows with the game on the line. Pau did just that to send it to a THIRD OT.
Ron Artest was big in crucial moments, particularly in the third OT. After Kobe made a 3 to put the Lakers up 1, Ron made a big steal and dunk (I know, unbelievable). Then he proceeded to kiss his biceps (which reminds me that I have to work on those arms later today). And then Ron made an off-balance one-legged leaning jumper that put the Lakers up 5. He must have been really irritated because he had a music video to shoot after the game.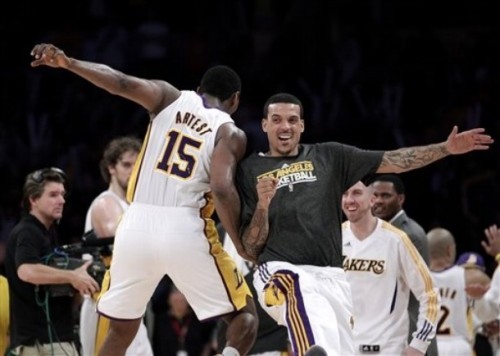 Frye did his best to bring the Suns back yet again before the game ended with that bizarre 25-second sequence.
I did MY best to recap what went on but my words would not be enough to do this game justice. Believe me when I say this, though; the high level of offensive play in this game and the circumstances made this the best game that I have watched this season. You're sure to see this game on ESPN Classic very soon. With the Suns losing, they are now three games out of the 8th spot… and this triple-OT heartbreaker may have sealed their fate. Meanwhile, the Lakers are as hot as ever. They are 13-1 since the All-Star break. The Lakers are likely going to keep the second seed at this point but they are looking like the champions that we expected them to be. And with the Lakers winning games whether it's a blowout, a grinder, or a track meet… it's bad news for the rest of the league.
PHOTO CREDITS: 1) Reuters. 2) AP.
Follow my NBA blurbs on Twitter. I am @TheNoLookPass.
Check out our FaceBook page.