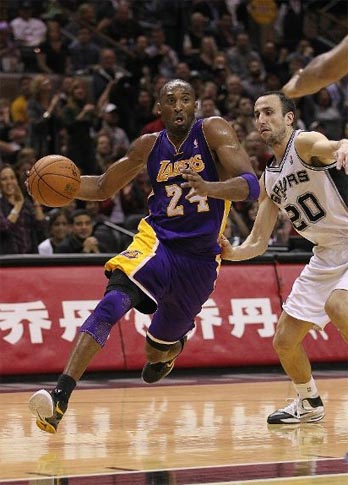 It's been some season for both the Spurs and the Lakers. The Spurs are still the beat team in the league, record-wise, at 40-8. And just yesterday, the Lakers ran into some drama. Marc Stein tried to get a scoop by saying Ron Artest wanted to get out of L.A. but it proved to be a false alarm as Ron and his agent refuted the trade report. Nevertheless, the Lakers are still on some shaky ground despite having a 34-15 record.
These powerhouse teams face each other on what looks to be a huge game for both teams. San Antonio winning would establish even more of a stranglehold on the Western Conference while the Lakers need this win for a huge confidence-booster as they are only 1-4 against the four best teams, record-wise. And, yes, we all remember that the Lakers lost to the Spurs earlier this season.
My buddy, Jeff Garcia from Project Spurs, was so eager to do a second Q&A with me about the Spurs/Lakers match-up. I don't blame him. If my team had the best record in the league, I'd be eager, too. Anyway, check out Jeff's work at Project Spurs and follow his hilarious Twitter feed at @sa2ny2004 as he talks about how Olivia Newton-John was soooo hot back in the day.
Questions are in bold and Jeff's answers are in dark blue. Go get it, ladies and fellas.
Even with that loss against Portland, the Spurs are a scorching 40-8. Still can't believe it?
No, I can't and I'm not the only one. I recently covered the Spurs vs. Rockets games and when DeJuan Blair was asked the same question, even he was stunned. The Spurs are getting it done on both ends of the court and still manage to do it all with Duncan taking a lesser role. Many give credit to the players but the true hero is Spurs coach Gregg Popovich. What he has done to this team has been amazing.
It must be nice to have the same starting line-up for all 48 games, right?
It is but I often wonder if fatigue will set in for the older players like Manu Ginobili and Tony Parker. Duncan is not getting much run which is great for his old legs but, if truth be told, the Spurs guard combo of Parker and Ginobili are the catalyst in the offense. If they go down, then we got problems in San Antonio.
Ginobili and Parker have a good chance at being All-Stars. But what about Tim Duncan, who is having his worst year, stats-wise, in his career? Does he deserve to be in the All-Star game?
My fellow co-founder at Project Spurs, Mike De Leon said it best, in his article about this topic: After all, Duncan cares more about the postseason, anyway, and a fifth championship ring is the only hardware he really needs.
I know it's only February but, right now, how confident are you that this team can go all the way? I would assume it's way different from how you felt this same time last time or even when we talked last summer.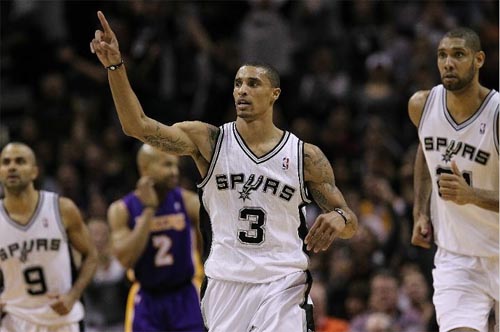 Extremely confident. They showed they can slay the defending champs (LA) and did so without Tony Parker. However, there are concerns. Dallas Mavericks are slowly resurging, the Trail Blazers could pose a problem if they somehow matchup in the first round, and, of course, health of the Spurs. When Duncan went down with that knee injury against the Warriors… well, needless to say, that was a scary moment for any title hopes for Spurs fandom. But, all-in-all, I'm saying Lakers vs. Spurs in the Conference Finals with the Spurs moving on to the NBA Finals.
Which teams are your biggest worry right now? Or are you just worried for your own?
Lakers, Mavericks, Hornets, Blazers, Celtics. All pose problems because they got the size to expose the Spurs biggest weakness: lack of size.
We know what the Spurs did to the Lakers the last time. Let's get your point of view here, what do you think could happen to the Lakers if they lose to your boys… ESPECIALLY if it's a blowout?
If LA loses to the Spurs then all it would do is verify the Spurs win against LA in December was not a fluke. LA would have it in their heads this Spurs team is a substantial threat to their title defense. LA would know the road to the NBA Finals is through San Antonio. That LA has serious issues to work on against the best in the NBA. And Lakers fandom presses the panic button and will jump off bridges. Will the Lakers pull a trade in desperation remains to be seen but a blowout loss would spur (pun intended) them on to look at deals.
We'd like to thank Jeff for this Q&A. Once again, go see his work at Project Spurs and check his Twitter feed at @sa2ny2004.
Check out Project Spurs as we reverse roles over there and I answer questions about the Lakers.
PHOTO CREDITS: Ronald Martinez/Getty Images.
Follow my NBA "commentary" on Twitter. I am @TheNoLookPass. I myself prefer old-school Phoebe Cates.
By the way, PLEASE check out our FaceBook page.