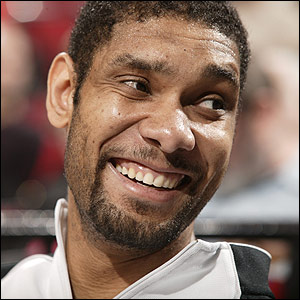 Let's remind everyone of the starters here.
EASTERN CONFERENCE
(F) Amar'e Stoudemire (Knicks)
(F) LeBron James (Heat)
(C) Dwight Howard (Magic)
(G) Derrick Rose (Bulls)
(G) Dwyane Wade (Heat)
WESTERN CONFERENCE
(F) Kevin Durant (Thunder)
(F) Carmelo Anthony (Nuggets)
(C) Yao Ming (Rockets)
(G) Chris Paul (Hornets)
(G) Kobe Bryant (Lakers)
And now… the All-Star reserves have been named. Ready?
EASTERN CONFERENCE
(F) Kevin Garnett (Celtics)
(F) Paul Pierce (Celtics)
(F) Chris Bosh (Heat)
(C) Al Horford (Hawks)
(G) Joe Johnson (Hawks)
(G) Rajon Rondo (Celtics)
(G) Ray Allen (Celtics)
People are like, "Why are there four Celtics?!" It's really hard to argue against them. MAYBE Raymond Felton had a case. I might've picked Carlos Boozer but I understood why he's not in (not enough number of games). Some people are also arguing for Andrew Bogut. Josh Smith also has a case… but all these Celtics have been on fire, really. Garnett is a game-changer on defense. Pierce and Allen are having career highs in shooting and we know what Rondo can do. Anyway, next…
WESTERN CONFERENCE
(F) Dirk Nowitzki (Mavs)
(F) Blake Griffin (Clippers)
(F) Tim Duncan (Spurs)
(F/C) Pau Gasol (Lakers)
(G) Russell Westbrook (Thunder)
(G) Deron Williams (Jazz)
(G) Manu Ginobili (Spurs)
Not too big of a fan of having Tim Duncan on the team. If I were to argue for two Spurs on the team, I'd have Ginobili and Tony Parker. I do understand having the two best players from the best team in the league but I'm iffy on Duncan.
The obvious snub is Kevin Love. His team may only have 10 wins but the guy's destroying the league at 21.4 points and 15.5 boards. Someone can score 20 points on a bad team but 15.5 REBOUNDS A GAME?! Pure hustle. LaMarcus Aldridge is another one that probably deserved to be there as well as Lamar Odom, David West, Zach Randolph, and Rudy Gay. But, man, this conference is way more competitive than the East. Can't forget Steve Nash, either (HOLLAND'S NOTE: "WHAT ABOUT MONTA ELLIS?"). Maybe Jason Kidd (Peter would also argue for Eric Gordon). Anyway, Yao Ming STILL needs a replacement so it's anyone's guess on who will be in it. A real center? Tyson Chandler? Nene?
I really think Love deserves it. This one's the most maddening snub (maybe in years) even if the Wolves have a bad record.
I also have conflicting reports here…
Chris Tomasson from NBA Fanhouse says the last spot may go to Aldridge or Love.
Adrian Wojranowski from Yahoo Sports has sources telling him that Steve Nash may be the replacement.
Either way, we all have love for Love. Those numbers are too hard to ignore.
PHOTO CREDITS: NBA.Com
Follow my NBA "commentary" on Twitter. I am @TheNoLookPass. Also, check out our FaceBook page.
[phpbay]nba jersey, 3, "", ""[/phpbay]