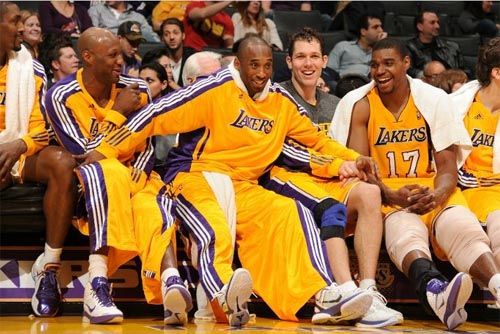 (UPDATE AT 11:04 A.M.: There is a report that Ron Artest wants out of L.A. Well, it's not like he can publically say anything to begin with. Rumors are rumors. Supposedly Rajon Rondo wanted out of Boston last year and Ray Allen was on the trading block. They're still here. Until then, Ron is a Laker and I'll look at it like this.)
(UPDATE AT 11:41 A.M.: Ron's agent refutes the ESPN report, according to the L.A. Times. We all know that the Lakers are frustrated right now, including Ron. Hopefully, that squelches all the rumors… maybe not.)
The Lakers are 34-15 but that record doesn't seem to matter to most Laker fans. They are very, very close to pushing that panic button because the Lakers have been terrible against the cream of the crop (Boston, San Antonio, Miami, etc.). Coupled with the fact that General Manager Mitch Kupchak came out of the open to say he "may make a trade"… and the fans are in hysterics. Maybe they're a little calmer now after that win against Houston… but I'm sure the fans are looking at the "big picture."
Well, in their current state, it's not the best of times for the Lakers.
Pau Gasol isn't playing his best ball, though his numbers are pretty much the same all across the board as previous seasons. He looks fatigued and doesn't seem to have his head in the game. But at the beginning of the season, he was arguably the best player in the ENTIRE league. All the pounding and heavy minutes have taken a toll but I do believe he'll catch a second wind down the line. The All-Star break may do him well. (By the way, at least he had a great game against Houston. I don't understand why people would want to trade Gasol when he puts up numbers like 26 points, 16 boards, and 4 blocks. Eh, I won't think about that…)
Ron Artest's numbers and performance are down on all facets as well. He'll have the occasional defensive gem but, for the most part, he's suffered on both ends of the court. I also think he will be fine as he was counted out several times last year before he came up big when the Lakers needed it.
Andrew Bynum is nicked up yet again as he sat out last night's win over Houston. I can understand that fans are sick of him being hurt but, while he's not helping himself with his lack of work ethic, it's not like he's going out there and getting hurt. Skilled centers that are big, punishing, physical, and good defenders are hard to find in this league… which makes Bynum such a commodity despite the injury. Will he ever stay healthy an entire season? Who knows? But the Lakers are definitely a better team with him on it than without. Unless he can be traded for another big that has the same (or better) tools, I doubt he goes anywhere.
Kobe is being Kobe, the point guards are pretty underwhelming right now, and their performance on both sides of the court aren't up to par. So I guess I can see why the Laker fans are tearing their hairs out.
But take a look at the Lakers' situation: haven't we seen this before?
Yes. Of course, we have.
And here's the thing. The Lakers know what it takes to get back to the championship round. And let's bring the Celtics in here for a minute. These Celtics also know what it takes to get back to the championship round. That's why I don't worry about these teams. Until they're eliminated from the postseason, you can never count these guys out. They've gone through the battles. They've gone through the wars. They have gone on to win the chip. The Celtics did it in 2008. And the Lakers did it in the last two seasons. Hell, when Miami came in as the #4 seed in the East in the 2007 Playoffs, they were still feared. Why? Because they were the defending champions and everyone knew that they were the top dogs until they were beaten. Same thing for the 2003 Lakers… and, hell, the 2004 Lakers. Those teams knew what it took to get back. Everybody feared them. So if I turn a blind eye to their supposed troubles, excuse me. Concerned for them? Sure. (I'll admit to being a tad worried about the San Antonio Spurs at the moment.) But to think they're in HUGE trouble? Give me a break.
The Lakers came into the postseason last year having only won 4 out of their last 11 games. But when they got into the postseason, their confidence grew as they beat the Thunder, the Jazz, and the Suns before they went into an exhausting seven-game series with the Celtics. The Celtics last year also went into the postseason reeling. They only won 50 games that season and even got defeated by the New Jersey Nets (a 12-win team last season). Everybody declared them done. But what happened at the end? The Lakers and Celtics faced each other in the Finals. Sure, being dinged up and not playing consistently well isn't the best way to go into the postseason… but the Lakers and Celtics had the best squads and the most experience out of everybody. So to me, they will get the benefit of the doubt until their current runs end.
As far as Kupchak goes? It seems more like a motivational tool than anything. But he's also doing his job. As he mentioned on the local telecast last night, he's ALWAYS looking for ways for the team to get better. Throw away those stupid, unbelievable trades of Luke Walton for Chris Paul and think realistically for a minute here (which is really a lot to ask for from some Laker fans). It's very unlikely a trade will be made. The Lakers will not risk breaking up their core. And a lot of teams are not willing to take back huge contracts. As is, the Lakers are still one of the deepest teams in the league. They've got the right mix of talent; it's just a matter of putting it all together. And ONCE AGAIN, we saw this situation last year. Pau Gasol was called soft last year (again) after the Lakers lost twice to Cleveland. Kobe was chucking up 35 shots a game. Fisher was shooting at his worst. Bynum was hurt. And Ron was getting tons of questions about him fitting into the team. In many ways, the current crisis is no different. And also remember that Matt Barnes, a key cog to this team, is inactive.
I'm not making excuses for this team; they do need to play better. But the good news is that they have until April to put it together. And if you know Phil Jackson and company, you know they will. Phil Jackson didn't win 11 rings by eating Chee-tos all day, ya know.
PHOTO CREDIT: Andrew D. Bernstein/Getty Images.
Follow my NBA "commentary" on Twitter. I am @TheNoLookPass. Also, check out our FaceBook page.
[phpbay]nba lakers, 3, "", ""[/phpbay]