What it do?
Hope everyone had a great week. I sure did. Watched some basketball and chilled with family. Before I go into this blog, I just want to ask everyone to pray for Egypt. I don't know in detail what's going on there but from what I've been seeing on Youtube and CNN, it's looking crazy. CNN showed video of an unarmed man being gunned down by Egyptian police. That bugged me out. Yea, he held a rock in his hand but don't kill the guy. Shoot him in the leg or use rubber bullets. I hope they get it together out there soon.
As for me? My basketball career has another chapter. I'm going to join another team this week. The Indiana Diesels. In case y'all didn't read last week's entry, I left the Indy Drive. This new team is more stable and that's all I'm asking for. Once I get league approval, I'll be ready to get it in. Still chasing the dream. Hopefully, something comes out of this. Mentally, this is starting to wear on me. As bad as I want to play sometimes, I question myself, "Am I doing the right thing?" But I love hooping and though, I'm in my late 20's, I'm going to keep playing. I should write a book on my career. I played in so many cities. So many teams.
Louisville, KY. Hempstead, NY. Athens, Greece. Saarlouis, Germany. Rockford, IL. Gallup, NM. Atlanta, GA. Rockville, MD. Yakima, WA. And many more.
I have so many stories. I even paid my own room and board in ATL and Maryland. In ATL, I only got paid once. But I love basketball so much. It's in my blood. Will I ever stop playing? Who knows. I still play at a high level, producing double doubles. I just want to play on a bigger, better stage.
So LA got an ass-kicking from Boston. I was kind of mad they lost because this game is a big deal. If anything, beating Boston was going to give them the boost they needed but it didn't happen and, as usual, after every laker loss, I'm hearing it from Twitter. "Trade Ron." "Ron sucks." Blah blah. But it's a damn shame that these are the same fans that Ron invite to play sandball with. I understand the Laker frenzy is crazy and y'all want to win. But from my point of view, Laker "fans" are really Kobe fans. It makes me sick. Yes. Laker fans make me sick. Sometimes, I wish Ron was on another team because he works so hard on his game. On LA, he's never in rhythm and it bothers me that he can't get featured on offense more (see Ron work against Melo last week). In my eyes, Ron would benefit better on a different team but, of course, I'm no GM. Besides, winning is more important than anything. Now I'm not saying Ron had a great game. No! He shot 1/10 and that guy on Boston got his offensively. (I won't say his name.) Ron only played 22 minutes and Phil didn't let him try to finish off strong. That's coach's decision. Let Ron redeem himself. My thing to Laker fans is to stand by your team, win or lose. You stick by your team. Fans forgot that Ron is a hero in that city. Let's be honest. NO CHAMPIONSHIP IN LA WITHOUT RON!!!! From limiting Durant, Game 5 in Phoenix, limiting that guy from Boston, and of course, Game 7. Sooner or later, Laker fans will be sucking the "teet" again.
Well, that's all for now. I have to get ready for me and the beautiful wife's first wedding anniversary trip. Yea! Warm weather, a beach, snorkeling, jet skis, wind surfing, partying, and unlimited food and cocktails. Love it!!!!
PS: Kudos to Kevin Durant on what he said about Chris Bosh. Called him a "fake tough guy." That made my day. Chris Bosh is softer than flaccid on the court and if he's in the NBA, then I'm petitioning for Brittany Griner to get drafted, too. But kudos to the NBA for not discriminating in letting women in the work place though. Haha. #LikeABosh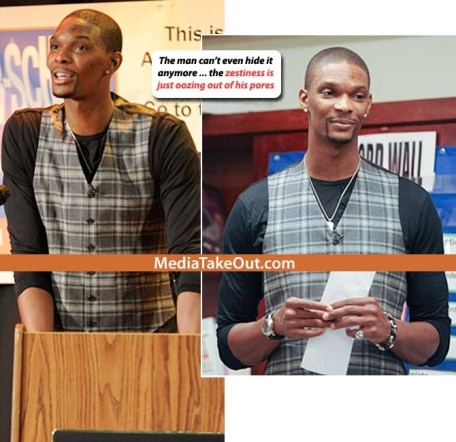 Catch Bosh at your local "pride" parade.
Follow Daniel Artest on Twitter: @DMArtest. Keep it locked here in TNLP as he updates here every Monday morning.
[phpbay]nba lakers, 3, "", ""[/phpbay]