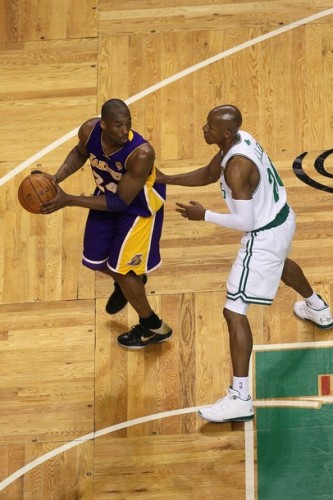 You saw the header. This doesn't really need an intro. But it is the first meeting between the Lakers and the Celtics. On a Sunday afternoon. Lakers are #2 in the West and the Celtics are the best in the East, record-wise.
So to preview this battle, I got my very best friend in the whole wide world (not really), John Karalis from Red's Army, to help me out here. They've got one of the best Boston Celtics sites around but seeing you're visiting an L.A.-based site, why would you wanna go there, right? Anyway, follow him on Twitter (@RedsArmy) and give him hell!
It's pretty safe to say that you've waited a long time for this game, right?
Why would you say that? Last I remember, the League amazingly called for a lockout after Game 6 of the NBA finals.
What?
Ok, Ok, fine… this is a big one for us fans. We want a little measure of revenge… even though winning this game doesn't change a damn thing. Actually, when you step back and look at how everything was affected… losing to your rival only serves to heat up the rivalry. I saw how much Lakers fans wanted the C's after 2008. It's no different here.
Trap games for both Lakers and Celtics?
Seemed to be… although the Celtics were probably going to suck miserably in Phoenix in that situation. They're not great on back-to-back nights. Ok, they flat out blow on back-to-back nights. And when you add the cross-country game against Portland, losing an hour afterwards and getting into Phoenix at 4:30 am… it's just too many easy excuses for an older team.
So… what was the Lakers' excuse?
Hey… great teams will have horrible nights. Both teams had one on the same night, 2 days before they play each other. It's really not that surprising and it shows that they both probably can't wait to get at each other.
Well, Celtics are 35-11. Your boys have been hit with a rash of injuries. Garnett has missed time. Rondo has missed time. Yet, the Celtics have the best record in the league. Surprised?
Not really. The Celtics are a really deep team and most of these guys haven't missed time together. So the combination of fairly spaced out injuries and very capable back ups… plus some easy opponents in a couple of those injury stretches… helped the C's muddle through and keep winning. Some of the wins were really ugly, but they were wins nonetheless.
I know we're only halfway through the season… but is this the deepest Celtics team yet since the Modern Big Three era started?
Yeah, it's amazingly deep and it's going to get deeper when Delonte West comes back. Perkins will get his starting role back, which means Shaq will head to the bench. Jermaine O'Neal will be back for the playoffs (we hope, anyway). I'd say Jermaine is a pretty good 3rd string center. Glen Davis backing up KG. Then you have Delonte, and Nate off the bench in the guard spots and Marquis Daniels at the 3. That's 6 guys off the bench that have been starters in the past… and a few of them have been damn good starters. And Semih Erden hasn't been bad either.
How is Kendrick Perkins looking to you? And I bet he came back early just to face the Lakers, right?
That wouldn't be shocking. Perk looks like Perk out there. His leg looks strong and he's still got that mean streak. He still needs to get his conditioning up, but he'll get there in time. I'm sure Perk will let LA know how good he feels.
Does Kevin Garnett's health worry you? He's missed some time the last three seasons (including this).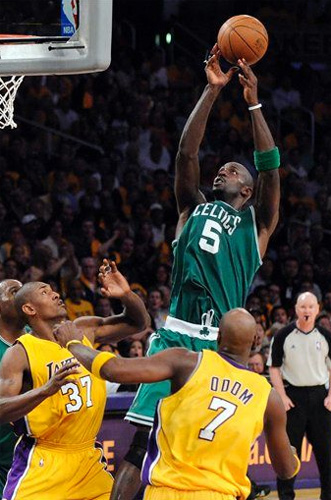 No, I'm not worried at all. The calf strain could happen to anyone and it was relatively minor. So I'm not afraid that he's any more susceptible to an injury now than he was before. He looks strong and I think last year was a residual from the previous year's knee injury. That won't stop me from soiling myself the instant KG even looks remotely injured, though.
Outside of the Big Three and Rondo, which one of the Celtics stand out to you the most?
Glen Davis has done a great job this season. When he comes off the bench, he plays extremely well. He's tailed off a little and he admitted that starting in KG's absence messed with his head because he put too much pressure on himself. But that experience helped him, actually, and I think he's getting back to where he was earlier in the season.
All right. Lakers are 33-14 and winners of 10 of their last 13. I'm sure this is where you expected them to be. Give me a few keys on how the Celtics can stop the Lakers.
I don't think the formula has changed. Keep Pau Gasol in check and let Kobe take all the jumpers he wants and you're well on your way to beating the Lakers. Kobe's not the Kobe he used to be. That's not to say he's not damn good, but he's starting to show that he's been in the league a decade and a half. Happens to the best of 'em.
So if you let Kobe just gun, he'll knock the rest of the team out of sync and Lakers offense will suffer. Get physical with Gasol and keep him off balance and now you've taken really the most versatile player on the team out of it too. He's a hell of a passer, so if you let the offense flow through him unchecked, you're in for a long night.
I'm not even going to ask for your prediction… but the Celtics are playing their third game out of four days…
Yeah, but they really didn't play last night. So that doesn't count. I think this will be a fun one on Sunday.
But this one DEFINITELY counts. Thanks to John again for this preview. Like I said, check out their stuff at Red's Army and get him on Twitter: @RedsArmy.
PHOTO CREDITS: 1) Getty Images. 2) Mark J. Terrill/AP. 3) Ronald Martinez/Getty Images.
Follow my NBA "commentary" on Twitter. I am @TheNoLookPass. Definitely ready for more Lakers/Celtics battles.
Also, check out our FaceBook page.
[phpbay]lakers celtics, 3, "", ""[/phpbay]