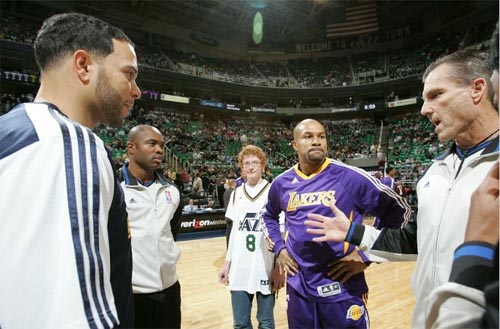 The Utah Jazz are on a little slump… and in the loaded West, you can't afford to go on little slumps. The Jazz have lost four straight games and some of those games were considered gimmies. But don't tell that to the NBA and its players.
Still, the Jazz sit at 27-17 and sixth in the West… and the third seed is only two games above them. So they need to stop this losing streak now.
This will be a tough task. They face Deron Williams' favorite team, the Lakers. It's one thing if they're facing them in the confines of the old Delta Center (I refuse to call it Energy Solutions Arena) but they're going to SoCal for this little contest. The Jazz haven't won at Staples in about five years. But the good news is that the last time the Jazz faced the Lakers, they won. So they can be comforted by that fact.
To help me preview this match-up, I got my old buddy, Amar, from SLC Dunk. He helps me clear up on what I don't know about the Jazz and schools me with some B-Ball knowledge while he was at it. And he's a great follow on Twitter as well, catch him at @AllThatAmar.
Enjoy the Q&A. He's in dark blue font under my questions that are on bold font.
Once again, it's a crapshoot in the West on the middle Playoff seeds. Utah stands at 27-17 and at #6. Is this where you expected them to be halfway through the season?
No, I did not expect the Jazz to be where they are now at this point of the year. This season has been difficult for Jazz fans because the eternal optimists that we are prevent us from recognizing that after bringing in six new players, we're closer to a team in transition than a real contender. I had reasonable expectations for this team though; or at least, what I thought were reasonable expectations: win the division and get home court in the first round of the playoffs for the first time since Stockton was wearing those short-shorts. I don't think that is out of the question right now, nor do I think I expected the Jazz to lead the division wire-to-wire from Game 1 through to Game 82. The #6 seed is a bit low for my liking, but the West is always tight. On the other hand, the 27-17 record isn't a bad mark at all, and still projects to be a 50 win team. The previous five years the Jazz average out to have 25 wins after 44 games (and that was with all the consistency and player cohesion that this year's roster lacks). This year the Jazz have two more wins at this point. I should be happy about it; however, recently poor play has made the Jazz fan base quite dour. I'm both surprised and disappointed by where the Jazz are halfway through the season.
Utah is on a four-game losing streak… and three of those are from sub-.500 teams. What happened there?
It's never good to lose four games in a row. It's even worse to lose four games during the sequence of one road trip. Further shaming the franchise is to lose each game by a significant margin of defeat. But the absolute worst is to get housed by the Wizards, Nets, and Sixers. The Jazz were absolutely outplayed in each of the games during this trip. The main problems stem from defensive breakdowns. John Wall, Devin Harris, Rajon Rondo, Andre Iguodala, and Louis Williams all faced less resistance to their attempts at penetration than _________ (insert your own lewd punch line here). After that, the rest of the team defense collapsed like a house of cards. While I do not wish to repeat myself here (I broke down this road trip in obsessive detail recently at SLCDUNK.COM), it behooves me to say that you will lose every game you play, when you let the other team shoot about 50 fg% and 44 3pt%, no matter who you are playing against. That said, if you told me that the Jazz would go 4-4 after their first two East road trips (against the likes of Boston, Miami, Orlando, Atlanta, Charlotte, Philly, New Jersey and Washington), trips filled with back-to-back games and third games in four nights, I would have gladly taken it. Perhaps how down you want to get on your team really depends on if you want to focus on the small stuff, or the big picture?
Deron Williams isn't particularly shooting well this month. Not much to be worried about, right?
All is not right in Jazzland when Williams isn't performing. When Deron is playing well and/or the team is winning, he's easy to root for. When he feels slighted, and is on the warpath, he's hard to stop. When the team isn't doing so well, and he reverts into this 'pouty Deron' it's very easy to get worried as a Jazz fan. This may not be fully focused on just his shooting woes this month; but we're significantly worried about his overall play and demeanor right now. He's not pushing the ball up the floor, and appears to be taking fewer shots that are either a) the set play, or b) transition opportunities. With 5 seconds on the clock, and the ball in your hand, if you go one-on-one to whittle the clock down and create your own step back jumper off of the wrong foot from 20 feet out you are not using your teammates to their full potential. Oh, yes, we are worried.
Is Paul Millsap's play something you expected? Career-high 17.1 points per contest this year.
I think most Jazz fans and overall hardcore NBA fans knew that Paul Millsap was capable of being more than just Carlos Boozer's understudy. Previous to this season Millsap's numbers in starts (over 50 games, again, due mostly to Boozer injuries) were 16 / 10 / 2 / 1 / 1 in 35 mpg. Seeing him average 17 / 8 / 2 / 1 /1 in less time as a full time starter this season was not surprising at all. His play is more than just the numbers he puts up though. He was an excellent garbage man who hustled, put his body on the line, and filled that niche quite well. Promoting him to the 'Boozer' role made a huge hole in the depth chart for that hustle guy. Sloan even said as much earlier this season. I think the Jazz fans (and maybe the Jazz brass as well) expected Millsap to maintain his bottled up tenacity over the course of longer periods on the floor. Of late, his effort on defense seems to have waned and his boardmanship is less than adequate from what we've seen him do. I suppose there is a floor spacing issue with Al Jefferson on the team now that previously did not exist when Millsap was on the floor with the more face-up oriented Carlos Boozer and Mehmet Okur in previous seasons. Millsap has become much more adept at facing up himself this year, but there are some concerns with his recent production – season averages of 17 ppg notwithstanding.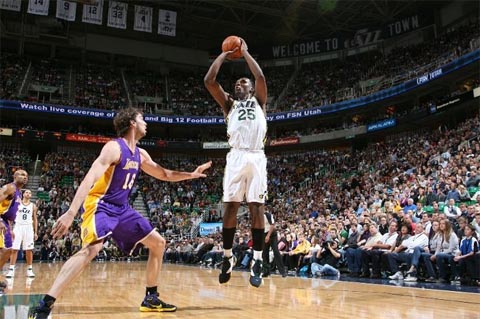 Al Jefferson is putting up some decent numbers as well. How has he been for your team?
Jazz fans fell in love with Al Jefferson early on this off-season with his 'aw shucks' diction and overall personable self. (He made a lot of fans when he said he hates the Lakers, by the way.) Alas, there's more to the game than being a fan favorite. The sets that are run in Utah are nothing like the stuff he was used to in Minnesota. A great deal of work is done trying to un-teach all of his poor habits. He's not an efficient scorer (Points per shot), and this significantly distinguishes himself from the likes of Boozer, Millsap, Malone, and Dantley — all high-ish scoring members of the modified Dick Motta forward oriented offense that Sloan runs. He's also not used to passing the ball – but he is willing to do so, even if he's not yet aware of when he's supposed to do it. It is an up-hill battle for Jefferson to be molded into what his team mates (and coaches) need him to be in this offense. As a result, the Jazz haven't looked that great this season in the one area where the Jazz were quite capable: offensive execution. He has been surprisingly better on defense, though, and leads the team in blocks per game (2) – which is something you'd never see written about Carlos Boozer. As the season progresses we hope that he can recognize what's happening on the court a little faster than he does now. He will be much better next year with another training camp under his belt. As of right now, the coaches have taught him a little more than the bare minimum of the plays and variations. I think he's more of a throwback style post player – something the Jazz have missed for a long time; though his shot selection can be frustrating at times. He needs to dunk it more frequently, cute little jump hooks can rim out. Dunks rarely do.
How far is Memo Okur from being 100 percent?
I don't have any inside information on this, but from what I can deduce from observation alone — Okur is physically +70% back. The only things lacking are conditioning and muscle memory (for his legs / footwork on defense and box outs). His operation and apparently successful recovery would have made him a medical marvel if this happened 10-15 years ago. Today, we should expect him to make a near complete recovery in 18 to 26 months. Memo is back only a handful of months from his injury – so that's pretty hardcore. But he's not going to be physically over 80% for another year though. (That's why people say it's a 2-year injury) That said, an Okur at 73% is going to be much more than the Jazz have had in the playoffs the last few seasons; and should help the team out significantly. Or he would, pending the presumed recovery on the basketball side of things as well. Right now, his ability is that of a guy who is in the off-season before they start training hard before pre-season camps start. It's January and his basketball clock is currently in August. That's the bigger problem I see. He's not very useful right now but hopefully by being in the Rasheed Wallace basketball time zone, he'll be fresher and in his peak during the final push for playoff seeding. Time can only tell.
And do you like the move of C.J. Miles to the bench?
I think it was necessary to move him to the bench with how weak the bench got with the massive wing migration this off-season (Wesley Matthews, Kyle Korver, etc). For the Jazz the 6th Man is usually more capable on offense than the 4th or 5th starter. Heck, even when the Jazz got to the NBA Finals the first time, Sloan had Adam Keefe and Greg Ostertag as starters. Plugging in Raja Bell to be a catch and shoot guy works better when he's on the floor with better team mates as well. Miles, off the bench, gets more touches and is expected to do more with the ball as well. It has worked out for him as he gets to be 'the man' against second units. If he gets hot, he'll stay in the game. If not, Sloan will finish with the starters. It's not a bad plan in that regard. And for a streaky guy like C.J., it's easier to get hot when you're scoring on Dante Cunningham, instead of Nic Batum. That said, Miles may be put into the starting line-up as the Jazz coaches look for answers to stop the bleeding. Utah has developed the bad habit of being down, and down big, after the first quarter in the vast majority of the 44 games played this season. I expect a number of changes to occur.
Your boys beat the Lakers in an outstanding comeback on Black Friday. The Jazz also haven't won at Staples Center in about five years. So give me some keys for the Jazz to beat the Lakers.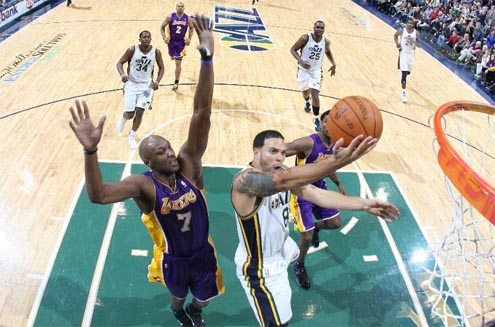 The win against the Lakers seems like ages ago now, and was attributed to SLCDUNK / S*B Network member Gleb Dok who had that sign in the VIP section behind the Lakers bench about Kobe's ego. I don't think he's going to be at Staples so I fully expect another loss. Superstition aside, the Lakers have a psychological edge over the Jazz and are just bigger. I don't mean bigger inside (that's obvious), but I also mean longer. The Lakers' length hurts the Jazz more horizontally than vertically as the precise passing that the Jazz offense requires then becomes predicated upon making increasingly difficult passes through small openings in LA's defense. It's easier to make sharp crisp passes against Jason Kidd, Jason Terry and Shawn Marion than it is to make those same passes past the long arms of Kobe, Ron, and Lamar. The Jazz aren't going to beat the Lakers with a series of predictable half court sets. For the Jazz to 'beat' the Lakers, they will have to do two things on offense: run more isos / two man games; and get easy baskets. The Jazz are having trouble with passing the ball right now against bad defensive teams. Fewer passes in the half court mean less chances at giving the other team a fastbreak. Deron needs to iso more, get more screens, and have players move to an overflow position on one side of the court. He has to do his work against Fisher/Blake and create the offense — the playbook should be an after thought. (After all, your guys know it better than half of this new Jazz team know it right now) Easy buckets are found through good, solid defense and defensive rebounding. Sloan may be forced to play a little 'bigger' than he's used to right now. I'm not fond of the Jazz small ball experiment. Bigger guys should mean being able to hold our ground on the defensive glass. Which means more potential transition baskets / baskets that are products of non-halfcourt play.
Lastly, gotta hope that the Lakers forget that Gasol eats the Jazz up inside, and settle for outside jumpers.
Care to give a prediction for this game?
Lakers fans in attendance get Tacos, while Jazz fly back to SLC to face the Spurs on a horrible back to back. Ronnie Price and/or Earl Watson will have the highlight of the night for Jazz fans with a late 4th quarter technical foul.
Thanks again, and best of luck for the rest of the season!
What a nice guy!
Once again, thanks for Amar for taking the time to do this. Once again, catch his work on SLC Dunk.
PHOTO CREDIT: 1-3) Melissa Majchrzak/NBAE via Getty Images.
Follow my NBA "commentary" on Twitter. I am @TheNoLookPass. Also, check out our FaceBook page.
[phpbay]nba jersey, 3, "", ""[/phpbay]