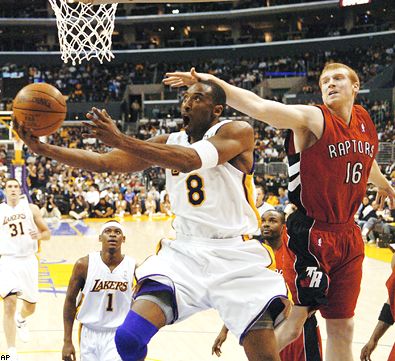 Exactly five years ago, I saw the greatest offensive display I have ever seen in an NBA game. And the reason why I remember the exact day is because January 22 is my sister's B-Day. Happy B-Day by the way, sis. Anyway…
81 points. 28 of 46 shooting. 7 of 13 from behind the arc. 18 of 20 from the foul line.
Kobe Bryant and the Lakers were 21-19 at the time. Kobe had guys like Smush Parker, Kwame Brown, and Chris Mihm starting alongside him and he was asked by Phil Jackson to carry the offensive load as much as he could.
Boy, did he carry this one against the Raptors.
The Lakers were down 63-49 at the half. Kobe was brilliant in those first two quarters but no one else in his team was. He had 26 points then.
My buddy, Nelson, and I were chatting (no Twitter yet!) and we both agreed that the Lakers should just give the ball to Kobe the entire game. I mean, who else was scoring for them? Smush?
Kobe started off the second half with a multitude of jumpers. When he made three straight three-pointers, Nelson and I knew we were going to witness history.
NELSON: "The one-man show."
REY: "41."
NELSON: "He made like 3 or 4 triples in a row. He'll get his 60 because they're TRAILING in this game."
REY: "60? What about 70?"
The Lakers knew what to do. They kept giving the ball to Bryant. And his shooting display from the perimeter was just indescribable other than he was in a zone. Hell, that was probably an understatement. Even with guys in his face, he still was able to make some difficult shots. On some points in the game, the Raptors seemed content to let Bryant go to the hole. The Raptors' 18-point lead in the 3rd quarter? Completely obliterated by Employee #8.
We knew we were watching something. Nelson half-jokingly said later on, "Kobe's mad. He'll get 80." Michael Jordan's career high was 69 points. David Robinson's was at 71. Kobe wasn't going to break those, right?
Kobe just kept making basket after basket after basket. He made sure the Raptors weren't going to come back in this game. I did wonder, however, why the Raptors kept fouling Kobe at the end of the game. It definitely helped him get to that 81-point mark as the last seven points were off freethrows.
The final score was 122-104, with the Lakers winning. But, seriously, we may never see anything like this again in our lifetimes. 81 points. There are some games where teams can't even score 81. And Kobe Bryant did it by himself. In case you were wondering, the second leading scorer for the Lakers in this historic game was Smush Parker with 13. Oh, and no disrespect to Bill MacDonald (who was subbing in for Joel Meyers) but how I wish Chick Hearn called this game
My words do not do this game justice. I should've just shut up the entire time and let you guys watch his work in about 3 minutes.
Where were you when this happened?
PHOTO CREDIT: AP.
Follow my NBA "commentary" on Twitter. I am @TheNoLookPass. Also, check out our FaceBook page.
[phpbay]nba kobe, 3, "", ""[/phpbay]