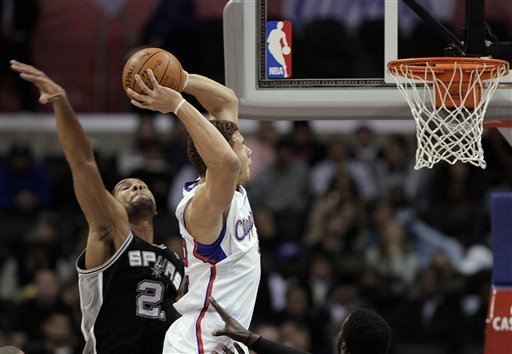 Blake Griffin is making me feel something that I hardly feel for an NBA player. Total, total, total excitement. Using the word "total" once wasn't enough; I had to use it three times.
I am not a fan of using the term "man-crush". Or maybe I just don't like using it to describe how I feel. Nevertheless, Blake Griffin excites me more than any other NBA player right now. I'm pretty sure I'll get this excited, too, when the playoffs come around but as for an individual NBA player? Blake does it to me. If I were a decent, let alone an accomplished, songwriter, I'd write a song for Blake (people that know me very well would charge that I would write a pop song for Blake but whatever, let's move on...).
I watch a lot of Clipper basketball myself (they're my second most-watched and second favorite team in the league). Of course, being the Clippers, I don't expect them to do very well as they are a perennial lottery team. But in this case, I expect a lot more flash than substance off of this squad. And I especially expect a lot from #32.
As a basketball player, he's far from a polished product. Griffin mentioned that he liked Amar'e Stoudemire growing up. Well, you can tell Blake liked Amar'e; neither of these guys play the greatest D. But young players' weakness is usually defense so we hope Griff gets better at that as his career goes on. As far as his offense goes, Griffin's post game is also a bit raw and his jumper isn't the greatest. Also, his freethrow shooting is atrocious. But, just like his defense, they can all be fixed in the years to come.
While I do appreciate the fundamentals of basketball, I also like stylin' and profilin' in the sport. It's kind of like how, sometimes, we need a break from being enthralled by movies with outstanding plotlines; we want to watch a flick where we don't care about storyline holes and view something where people just blow shit up everywhere.
Blake Griffin blows shit up.
I anticipate that next explosion by Griffin just like how a teenage boy is eagerly expecting a kiss from his date at the Sadie Hawkins Dance. The basketball fan in us wants to be thrilled and Blake gives that to us. We go out of our way to watch Clipper games... CLIPPER GAMES... just to have that one moment where we can shout, "OH, MY GOD...," or "DID YOU SEE THAT?" It's like he's having a slam dunk contest with himself in every game.
Right now, I don't care if his 20-footer needs work; I just want to see him bang on the likes of Timofey Mozgov. Or Anthony Tolliver. Or Danilo Gallinari. And then I want to relive them on YouTube 435 times a day. Obviously, we don't care (except for Clipper fans) that the Clippers are 4-17; we care if Blake Griffin violated the rim and an opposing player at the same time or not. I can't remember the last time an NBA player made me feel this way; I know it sounds like I'm searching for the last girl that I fell in love with... but there's usually a rule where we don't talk about ex-lovers so I'll enjoy the current love affair here and now. Let Griffin continue to excite me and the rest of the basketball community.
In a few years, we want Blake Griffin to fulfill his potential and become one of the best all-around players in basketball. But we know, eventually, that the explosions will lessen in time so, for now, let's watch Blake let his inner monster loose. Let's watch Blake blow shit up.
I know I speak for a lot of people and we all can't believe what we're saying here: I can't wait for the next Los Angeles Clipper game. That's what Blake Griffin does.
PHOTO CREDITS: Jae C. Hong/AP.
Follow my NBA "commentary" on Twitter. I am @TheNoLookPass. Also, check out our FaceBook page.
We're always up late. How about buying us a coffee? Or an energy drink!?