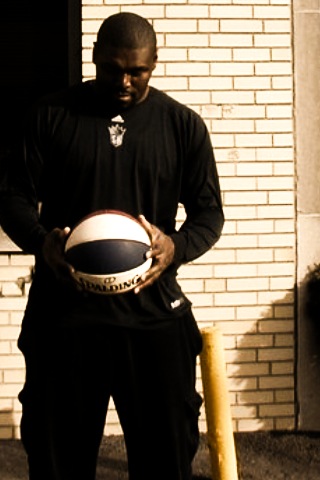 First off, I wanna thank TNLP for the love on letting me write this column. I thought it would be a good idea (since I'm starting my season this week) to write a column on what goes on in minor league basketball so a big shoutout to Rey M.
Well, in case you don't know, I'm Daniel Artest. Yea. I'm Ron's younger brother who happens to play ball, too. I'll give y'all the run down on me.
Basically, I'm hooping to get back to Europe again. I played in Germany and got hurt after I came so now it's like I'm back to the drawing board. I signed with this team here in Indianapolis called the Indianapolis Drive. Follow them on Twitter. (@theindydrive)
I love basketball so much and, at the age of 28, I'm still chasing the dream: the dream to be a pro basketball player. I was close in '07 but a hairline fracture in my spine derailed my dreams for a second. As of June 3rd 2010, I was weighing 338 lbs. Today, I weighed in at 284 lbs. So, yes, I'm working harder than ever to get back across the water. I've been doing P90X like it's a religion.
One thing y'all going to realize is that I'm very persistent. Maybe it's to a fault but why give up on something while the hourglass is in your favor, right? That's my mindset right now. I have the support from my family. That's all I need, really.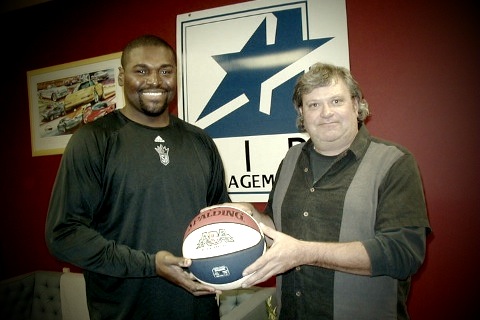 Me with team owner Tim Hicks.
I'm feeling great about the upcoming season. Our first game is Dec. 3rd against the "Seattle Mountaineers". I know absolutely nothing about this team. I just know that we are ready to play. Practice has been intense. We lack size (I'm gonna play PF/Center despite my 6'5 height) but we are really quick and we play great defense.
Well, I don't wanna hold y'all longer. I know it's still thanksgiving weekend. Thanks for reading. Peace.
Follow Daniel Artest on Twitter: @DMArtest. Keep it locked here in TNLP as he will update on here every Monday.
By the way, I have no idea who "Ron" is. **Rey-Rey**
[phpbay]nba lakers, 3, "", ""[/phpbay]