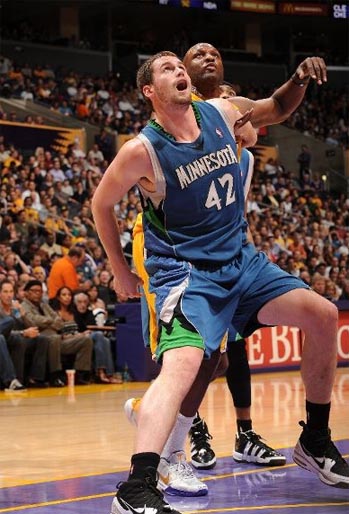 It's time for another Laker GameDay Q&A. They meet the Minnesota Timberwolves tonight at Staples Center. As y'all know, the Lakers are 7-0 while the T-Wolves are struggling (understatement) at 1-6.
To get to know the Timberwolves better and to preview this game, I enlisted the help of Zach Harper. He was actually our guest in our last podcast so you should probably take a listen to that. Anyway, for more of Zach Harper, check out his work at TalkHoops.Net, Cowbell Kingdom, Raptors Republic, A Wolf Among Wolves, and Hardwood Paroxysm. He also writes for the main TrueHoop site in ESPN and also leads the ESPN Daily Dime Chat. Yes, he's everywhere. Let's preview. I'm in bold lettering while Zach's answers are in dark blue font.
It's hard to stay positive on a 1-6 record. As a Wolves fan, can you find any silver lining out of this?
I mentioned on A Wolf Among Wolves Monday that the only silver lining out of the Rockets blowing the Wolves out of the water was Michael Beasley taking ownership of the team and getting pissed at Nikola Pekovic when he tied his shoe instead of getting back on defense. This is where the Wolves and the fans basically are right now. Every game is a hope for a moral victory or a glimpse at the light at the end of the tunnel. The problem with that potential light at the end of the tunnel though is it's probably a David Kahn conducted locomotive ready to barrel into our hearts and leave nothing but carnage in its passing through. We look for Kevin Love to look good or Wesley Johnson to finally make a move off the dribble or Michael Beasley to look like a potential star. But ultimately, you're looking for silver linings in games in which you know you don't have a shot of winning.
For all intents and purposes, Minnesota should probably be 1-6 with that rough schedule. However, the Wolves have lost by an average of 26 points in their last five losses. Is the talent really that bad? Is the coaching bad? Is the Triangle Offense a bad fit for the roster?
In short, yes. Yes to all of that.
For more of an actual answer, everything is a problem. The Triangle Offense has actually worked two times in NBA history. When the Bulls had Michael Jordan and when the Lakers had Kobe Bryant are the only two times the triangle has truly been successful in this league. It's a weird system based on trust, execution and sharing the wealthy. But that doesn't always work in the NBA. You can't just throw five nice guys out there who have some basketball skill and expect them to shine in the triangle. You need the transcendent guy on the floor to help facilitate it and give the team some direction when it's just not quite working. Kobe and MJ were able to adjust the play or break it off completely in order to score. That guy on the Wolves is Michael Beasley. Would you trust Beasley to be that guy? Didn't think so.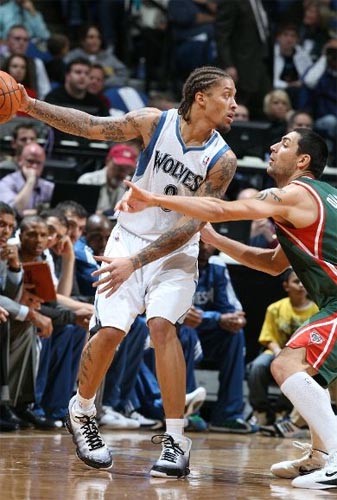 As far as the talent and coaching go, this team is completely overmatched in all facets of the game. Their interior defense is an actual punch line. There isn't a single defensive-minded big man on this roster. Kahn supporters will feed you some BS about Darko being a good defender but he was horrendous outside of a few blocked shots last year. They've acquired roughly 7 point guards over the past year and a half and yet have a hole at the point guard position right now due to injuries with Jonny Flynn and Luke Ridnour. HOW DOES THAT HAPPEN? And then on top of that, they don't have a single guy who can break his man down to score except for Beasley and he's too busy settling for long jumpers off the dribble.
On top of all that, Kurt Rambis is stuck being David Kahn's puppet in order to give himself some long-term security and allow Kahn to weave his tales of necessary moves on the court. So yes, it is that bad.
Ouch.
You weren't too thrilled with the Wesley Johnson pick, either. You wanted DeMarcus Cousins. Can you tell us your impression of him thus far besides that fact that you pointed out that you're waiting for him to create something off the dribble? And pretend Cousins was ACTUALLY taken by Kahn? Do you feel anything would be different with this franchise?
My big issue with the Wes Johnson over Cousins pick was because I knew Al Jefferson was on his way out. It was pretty obvious after Kahn shopped him so hard around the draft. Well, if you're going to deal your best low post threat then why not replace him with the nearly sure thing inside that is DeMarcus Cousins. Instead, they grab Wes Johnson who is sort of superfluous to what Corey Brewer gives you (only Wes has a jumper) and deal Al Jefferson, leaving a gigantic hole in the paint.
Wes is a good player. He can defend well already, his jumper looks extremely smooth and consistent with its motion and mechanics and he can give you plenty of fun highlights around the rim. But he's not a guy I'd ever want taking the ball at the end of a game and trying to create a basket. He simply can't do it. He's the nicest kid in the world and finds a way to make watching basketball a lot of fun. But he's not a franchise guy. The Wolves allegedly had one in Al and when they decided he was not in the long-term plans, they passed on grabbing the next franchise guy available.
If Cousins was taken by the team, there would be much more direction. You'd essentially have two of the three assets you need in creating the 'Sota version of a Big 3. You'd have Rubio ready to take the captains ship, you'd have Cousins ready to bully people in the post and you'd be awaiting that dynamic wing scorer (Harrison Barnes, anyone?) to complete the trifecta. Instead, the Wolves are still waiting on Rubio to give a damn about this team and hoping Wes Johnson becomes something he's incapable of becoming.
It's no secret Kevin Love is frustrated with the direction of this team. He's only playing 27… TWENTY-SEVEN… minutes per game and his per 36 minutes, which I would think he would get if he was on a competent franchise, reads 22.5 points and 15.6 rebounds. Do you think his role will actually grow larger for this team or do you see him gone before the trading deadline? And… really… who are they going to get for Kevin Love? You don't have to answer the last part…
If Kevin Love is still on this team in July, I'd be shocked. David Kahn has an ego. This is not news but just a reminder. Since he's so egotistical, there's no way he's going to let his team become a winner with players Kevin McHale brought in. So I think you're starting to see a character assassination against Love. He's going to be labeled as a malcontent and difficult over the next few months. Eventually, he'll be dealt because he's a "detriment" to the team. And he'll go somewhere that gives him the opportunity to be the best rebounder in the NBA.
Kahn will probably acquire pieces to the team that don't make any sense. So that means Boris Diaw or Brandon Bass will probably be the main guy targeted. And he'll go on making his befuddling roster choices. Kevin Love isn't a star in this league but he can be the best role player in the NBA. The only thing keeping him from leading this league in rebounding is the crap Rambis and Kahn are pulling with him. He will have no role. He will be dealt and he will flourish.
I'm surprised it's not another point guard. Like Jason Williams or something.
As if it can't get any worse for the T-Wolves, they face the Lakers, who are absolutely rolling at 7-0. However, can this be considered a trap game for the Lakers after they smashed Portland by 25 last Sunday?
It's hard for me to truly consider this game a trap for the Lakers because their second unit could probably get it down to a last possession game against this Wolves team. The Wolves only won five road games last year so it seems unlikely a slightly but not really all that better version of that team could come into Staples Center and pull off the shocker. However, the Wolves did win games in Utah, Denver, Dallas and Miami last season. None of those teams should have walked away with a loss there.
Considering the fact that the Lakers should be looking past the Wolves and Minnesota needs to avenge their embarrassing stretch of current losses, I'd like to consider the Wolves capable of upsetting the Lakers. But there is no way in hell Minnesota can win this game. If it's not a 30-point game early in the third quarter, I'll consider it one of those bittersweet moral victories Wolves fans love to tally.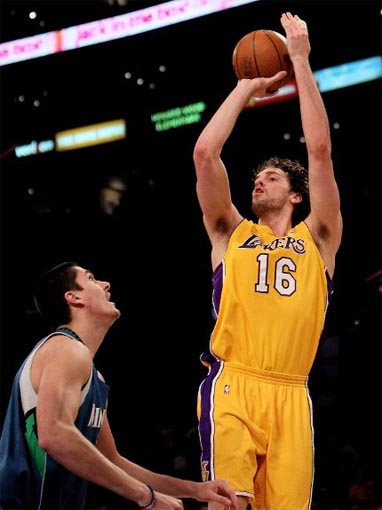 Just to make it a formality, make your prediction for this game even if everybody already knows. Don't worry; this time around, I'll buy you a drink no matter what the result is since you're already doing me a favor by doing this Q&A. I'll even waive the karaoke songs you were supposed to sing from the last Q&A with the Kings.
The Wolves are giving up 122.5 points per game in their last four losses. They've lost by a combined 110 points in those four games. I'll say Lakers 119, Wolves 96 and start drinking heavily now to ease the blowout pain.
Bartender!
Thanks again to Zach Harper for doing this. You can follow his hilarious Twitter feed at @talkhoops.
PHOTO CREDIT: 1) Andrew D. Bernstein/NBAE via Getty Images. 2) David Sherman/NBAE via Getty Images. 3) Stephen Dunn/Getty Images.
Follow my NBA "commentary" on Twitter. I am @TheNoLookPass. Also, check out our FaceBook page.
[phpbay]nba lakers, 3, "", ""[/phpbay]