I noticed that we still get (lots of) traffic for this baby right here. That's probably because Matt Barnes went to the Lakers and since THIS is an L.A.-based NBA website, it's no surprise lots of Laker fans still go here.
The biggest complaint I have heard so far from Laker fans is that there is NO purple and gold version of the ol' Matt Barnes Will Kill You tee. Well, our friends from Orlando, Mother Falcon Clothing (who specializes on Orlando Magic shirts… if you're a fan of the team, check those out), did make one. They didn't have to but I suppose because they have much love for Mr. Barnes wherever he goes, there is now a Matt Barnes Will Kill You tee in purple and gold.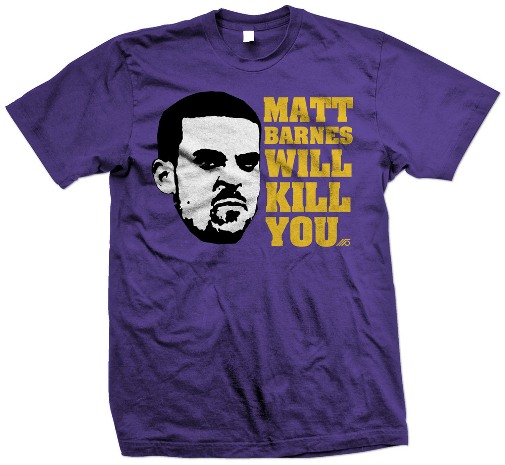 Cop the shirt right here. And thank Mother Falcon.
Follow my NBA "commentary" on Twitter. I am @TheNoLookPass. Also, check out our FaceBook page.
[phpbay]nba lakers, 3, "", ""[/phpbay]