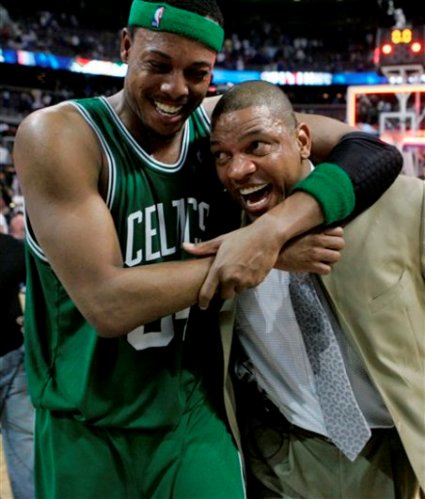 We must be getting closer to Opening Day!
Doc Rivers, coach of the Boston Celtics said…
"Of course, paper doesn't play, people play. And on paper, we're the NBA Champions. Now we have to do it on the floor. So that's the next step."
I'm trying to make sense out of all of this. They haven't been champs since 2008. And as much as they're a great team, people have picked the Lakers and the Heat as the title favorites. We all know the Lakers won the last two NBA titles. So why would Doc say that at the team's annual Shamrock Gala?
I suppose Doc felt they never lost the championship. In 2009, they had no Kevin Garnett in the playoffs. In 2010, they had no Kendrick Perkins for Game 7 (and he kept harping on how his starting line-up never lost a playoff series). I get it; they weren't in full strength. But which team is by the time June gets here? The wear and tear eventually catch up to ALL teams. Andrew Bynum was hardly at full strength in those title years. Kobe Bryant was playing on one bad leg in the postseason. Doc just keeps playing the "what if" card. Yeah, what if Kendrick Perkins played in Game 7? What if Kevin Garnett played in 2009? But that can apply to anyone. What if Kobe Bryant played a brilliant Game 7? What if Andrew Bynum was in full strength? What if Dwyane Wade and LeBron James had better teammates? What if the Clippers got Kobe? You know what? What happened happened and even when we DO look on paper, it reads 2010 NBA CHAMPIONS: LOS ANGELES LAKERS.
It gets quite old to use that sort of reasoning. The Celtics haven't been champions in two years. Coach Rivers is right that games aren't played on paper but don't act like 2009 and 2010 never happened.
But I guess he's using whatever he can to motivate his team.
Hat tip to The Lakers Nation… as well as to the original source, NECN.Com.
Follow my NBA "commentary" on Twitter. I am @TheNoLookPass. Also, check out our FaceBook page.