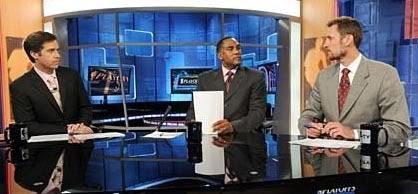 This was actually a bit overdue but we finally got a chance to talk to Brent Barry from NBA TV (that would be him on the right of the picture above). Brent had a very good 14-year-career in the league. He was actually drafted by Denver before he was traded to the Clippers in the Antonio McDyess deal. Barry then went on to play for five other teams, most notably the old Seattle Supersonics and the San Antonio Spurs, where he won some jewelry in 2005 and 2007.
Barry became an analyst for NBA TV starting last season. We actually ran into him at Las Vegas and, to our surprise, he called us the "crazy L.A. guys." We didn't get a chance to interview him in Sin City but we got a hold of him by phone yesterday. We talked about various NBA topics, including his career. He was a very fun and humorous guy to talk to. Hope you guys have fun reading this.
TNLP: Basically, you've been around the NBA forever… 'cause your dad played…
BRENT BARRY: Well said, well said…
TNLP: We've never had a summer like this, did we?
BB: I can't remember. Obviously, you, me, most people reading have not been around for every season. For the last 15 years, we've never had this kind of buzz generated of an upcoming NBA season ever. So it's going to be very, very exciting and I'm looking forward to the year.
TNLP: Lot of people were so negative about the Decision by LeBron James. I personally don't know what you thought of it. So I'd like to get your thoughts about that.
BB: I'm actually getting tired of hearing of what everybody thought about it. But I'll give you my two cents' worth. Obviously, the production of it was a little bit too much. I'm still wondering if I'm more upset about the production of the decision part or the post-production in Miami and the show they put in the arena that was a little bit tough to swallow, too. But I don't fault LeBron for doing what it is that he did and wanting to go someplace else and having the opportunity to play with great players. What you kind of play for is to try to win championships and nobody wins them alone. Every year at the end of the season, we talk about great teams and how players step up as role players. Usually the teams in the past 10-15 years it's always been a collection of three or four star players. That's certainly what they have in Miami and they're going to have that for many years to come. We'll see how quickly they can assemble themselves and if they can actually do it in their first year.
TNLP: We all know that Miami was the biggest winner in this free agency period. But which other team did you think was the other big winner?
BB: I think Portland, as much as it was scrutinized for the amount of money they committed to Wes Matthews, might have found a hidden gem up there… in terms of taking some pressure off of Brandon Roy and making the team a little bit more dangerous. Certainly, they have other issues to address; they need to find a center up there. I don't think I'd go there even for a pick-up game at this point 'cause I'd be worried about getting hurt if I was a center.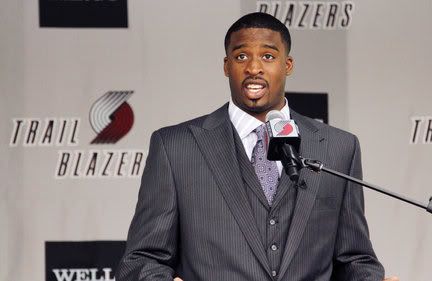 I think the Wes Matthews signing is pretty good. Obviously, Chicago picking up Carlos Boozer is going to enhance their chances in the East. I'm not totally sold on the Amare Stoudemire-to-New York deal. There's just too many other things that has to happen in New York to compete with the likes of the elite teams in that conference.
And you didn't even mention (the Heat) getting Chris Bosh so Miami goes 2 for 2 in the offseason.
TNLP: Do you think Seattle will get a franchise soon? And what do you think of the current state of the Kings?
BB: Who knows what's really gonna happen? But certainly, (Seattle) deserved a team and still does. It tears the heart out of me that there's no basketball in the Pacific Northwest other than Portland. Hopefully, there will be another opportunity for David Stern to look at what's going on economically and when the league decides to maybe move another team or add a franchise that Seattle will be up there in their list.
Sacramento… boy, the last I heard is that they're still working hard on trying to get themselves a new arena and it sounded like things were not good. They even have one of their own, the Mayor there in Kevin Johnson. Hopefully, he can continue to work at that so Joe and Gavin (Maloof) can put together a building and have the type of atmosphere that Arco had many years ago with (Chris Webber) and (Vlade Divac) and those great teams that Rick Adelman coached. They do have some young talent in Tyreke (Evans) and DeMarcus Cousins, by all accounts, has been showing some great signs for them so they're on the rise. It'd be nice to have some people in that building filling it up and something new in Sacramento, the state capital.
TNLP: Let's go through award predictions. Who do you think will win Rookie of the Year? That John Wall guy looks pretty good out there.
BB: I really don't know if there's anybody that's going to compete with John Wall. He got a tremendous situation to step into. Ernie Grunfeld and Flip Saunders are going to take their time with him to communicate exactly what they want to see in terms of his progress but he's an electric player that does some amazing things on a nightly basis. The more freedom Flip gives him, the more you're going to see that natural talent come out of John Wall. And I think everybody's talked about, in terms of his play, how unselfish he is and how multifaceted he is. So it's not one of these situations where the guy is going to have to be forcefed scoring opportunities and is told to shoot a bunch of shots. It's just not John Wall's nature. They have an exciting player there in Washington. And I think John Wall is certainly at the front of the line when you're talking about who could possibly win Rookie of the Year. But we still got 82 games to go so we'll see.
TNLP: My buddies will be upset because you didn't mention Blake Griffin…
BB: Can he still be in consideration? I'm not 100 percent certain.
TNLP: Supposedly, he is. Because I remember Greg Oden was considered…
BB: Then there's a shot. It's amazing that we went through all of last season without Blake and he's sort of this forgotten commodity because there was so much attention on the draft and then when you see a guy who's out for the season you just kind of forget that he's even playing basketball anymore but, certainly in Los Angeles and the Clipper organization, they have not. I know how explosive he is and it seems like, health-wise, he feels as good as he's ever felt. So that remains to be seen whether or not he can get himself back physically and how soon he can get himself acclimated. But that's a good call. It'll be a good race between the two of them.
TNLP: Kevin Durant has been mentioned as a player most likely to win MVP by a survey of general managers around the league. Do you agree with them or do you think LeBron will win a third straight MVP?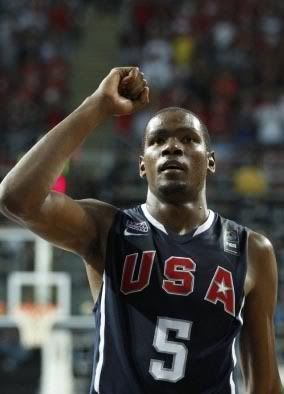 BB: Those are the two guys that are going to be discussed about most of this year. Kevin Durant… his past 12 months have been remarkable. I've never seen a player explode… not only in terms of his talent and his game and his potential but in terms of the way a player is perceived. He seems to be the poster child for so much more that's going on in the game of basketball than just his talents on the court. The social networking thing and him being accessible to the media and his fans… playing in a small market and embracing Oklahoma City. I mean, there's gotta be something wrong with him. Don't you think, Rey?
TNLP: *laughs*
BB: Honestly, I think we need to have an NBA psychologist. Maybe Ron Artest's psychologist. Sit down with Kevin Durant and find out if he has some kind of aggravation buried deep inside of somewhere. Nobody's that perfect. Nobody.
TNLP: He should take a lie detector test!
BB: We gotta put him in a Rorschach test. We gotta put him some kind of Myers-Briggs and find out personality-wise where he's going. 'Cause this guy… nobody is that good, are they?
I think Scott Brooks knows he is and that's the scary thing about it.
TNLP: Yeah, and he's only going to get better, too.
BB: Yeah, that's what's crazy! Think about four or five years from now where this kid is going to be. Again, the way he communicates into the public, into the media, and into his teammates in terms of, "Look, man. I'm in the gym. I just wanna get better." "What do you think of this and that?" He's open to opinion… he's open to discussion. Just a remarkable story thus far and hope it continues to all stay positive about Kevin Durant.
TNLP: You think the Lakers are still the team to beat?
BB: I'll give the cliche line that until the champions are dethroned, they're still the champions. I really feel they got that much better. Their additions of Matt Barnes and Steve Blake make them very formidable. You guys were out in Vegas, too; you guys saw Devin Ebanks and you saw (Derrick) Caracter… those guys are going to get some minutes. Phil's going to find some ways to get those guys into the line-up and into the Triangle. They were very effective in the summer and seamlessly fit into what's going on. People don't understand how unbelievably improved they are with their bench and solidifying some key positions that they needed to, especially addressing the back-up point guard position. Steve Blake could be a starter on many teams in this league and will be better defensively against some teams in the playoffs, which was a struggle at times with Derek Fisher.
TNLP: Underhanded freethrows. What do you think of it? Do you think some big men should use them today?
BB: I don't know whether it's that or shooting them left-handed or shooting them with your eyes closed. Do whatever you need to do to become the best freethrow shooter you can be. So why not explore all the options? There are many different ways to shoot them. I would explore and practice every which way until I became really successful and efficient in whatever style it was.
TNLP: Memories of the Clipper playoff team you were in. I believe it was '97… with Bo Outlaw and Loy Vaught…
BB: Who doesn't remember it, Rey?
TNLP: *laughs*
BB: We played against the Jazz, played 'em very tough. But with our squad, how do you expect to beat John Stockton, Karl Malone, Jeff Hornacek, and Jerry Sloan. No chance. But we did make it (in the playoffs). So that's an accomplishment.
When you say Clippers and playoffs, that's saying something, Rey. Those words do not go together often.
TNLP: Toughest guy you ever guarded.
BB: I would say, probably, Mitch Richmond in Sacramento. They ran him around like Reggie Miller but if you remember, Reggie Miller was a skinny, whiny guy. Mitch Richmond was nicknamed The Rock. So when you got a 2-guard that they ran off 16-18 picks every possession and then once he gets the ball… he's about 40 pounds heavier than you and much stronger than you and a pretty potent shooter, you've got some problems. So Mitch Richmond was a real difficult cover. And that was mostly the early part of my career.
TNLP: Best teammate you ever played with. Tim Duncan? Gary Payton? Terry Dehere?
BB: The first guy you named. Tim Duncan, by far, was the best teammate I ever had the opportunity to lace 'em up with. Just an absolutely… amazingly consistent, perfect teammate. He just cared about team success above everything else. One of the most selfless guys you would ever know.
TNLP: Lastly, why are we the crazy L.A. guys now? I don't think you even have Twitter to begin with!
BB: You guys are out of your mind! I do have it. I just have a little private account. I follow all kinds of people. I think there are some great guys out there in the social networks that are throwing out stuff that's really creative and real funny. There's a couple of reasons. Are guys doing it because they love the league? Certainly. I get that feeling from TNLP that you guys are doing that. Secondly, are guys doing it to have a little bit of fun with their friends? Absolutely. I can get that, too. Thirdly, are guys auditioning to work on the Conan O'Brien Show? I think so! I think guys want to actually be comedic writers so they're throwing up their best stuff. Maybe they can get some kind of script out there.
But (Twitter) has some good information so I follow some people that I respect in terms of their journalistic integrity and I follow guys 'cause I really enjoy it. So you guys are on my follow list.
TNLP: Appreciate that, thanks! And thank you for your time.
BB: All right, Rey. Take care and have a good season!
We'd like to thank Brent Barry for doing this interview. We hope to have him back sometime during the season.
We'd also like to thank Tareia Williams from Turner Sports for making this happen!
PHOTO CREDITS: 1) Erik Lesser from Fanhouse. 2) AP. 3) Jeff Haynes/Reuters. 4) ???
Follow my NBA "commentary" on Twitter. I am @TheNoLookPass. Also, check out our FaceBook page.
[phpbay]san antonio spurs, 3, "", ""[/phpbay]