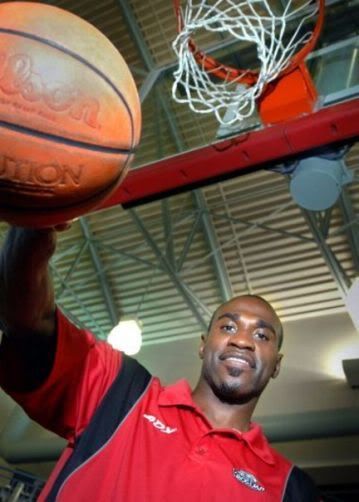 There were a few headlines about this in Los Angeles. People were saying that "he was back." And to my personal shock, I saw Jordan, clad in his #23 LAKER jersey, pour in 28 points against the Utah Jazz. I blinked to make sure I wasn't dreaming.
I wasn't. Jordan was INDEED on the Lakers.
Except his first name wasn't Michael. It was Reggie Jordan, a CBA pick-up by the Lakers and was playing under a 10-day contract. After that 28-point outburst, he would only score 10 more times in double digits for the rest of his NBA career. His NBA career consisted of six teams, 186 games, and exactly 500 points. Reggie Jordan averaged a career high 5.4 points and 2.9 rebounds with that Laker team in 23 games. He played a career high 57 games with the Minnesota Timberwolves in the 1997-98 campaign.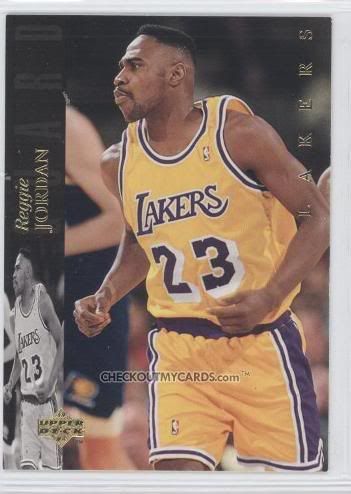 "
Reggie Jordan was actually still playing ball until a few months ago. He was playing at the Liga Nacional de Baloncesto Profesional in Mexico, where he won the Most Valuable Player award three times. He is now coaching in Mexico. But he said that he would like to coach high school basketball and maybe be a teacher as well. Reggie has lamented the loss of the CBA as it was his path to make it to the NBA.
We do hope he achieves that goal of becoming a high school basketball coach. We're pretty sure it's soon, though, as he was able to make it to the NBA by taking the hard route by way of junior college and the Continental Basketball Association. And we'll definitely never forget that Jordan-esque performance as a Laker. Hey, it may not have been Michael but we'll take it as the next best thing.
PHOTO CREDIT: 1) Katy Batdorff from the Grand Rapids Press. 2) CheckOutMyCards.Com
HAT TIP: Grand Rapids Sports from MLive.Com.
Follow my NBA "commentary" on Twitter. I am @TheNoLookPass. Also, check out our FaceBook page.
[phpbay]lakers jersey, 3, "", ""[/phpbay]