This is a video of Dwight Howard working with 2-time champion and 2-time Finals MVP Hakeem Olajuwon, one of the best centers ever.
It looks like Hakeem can still play in the league the way he was teaching Dwight all that outstanding footwork (some of the stuff that I'm sure Kobe Bryant added last year to his repertoire). Dwight has a pretty limited game on the offensive end and his offensive post game has been called to question many times throughout his career. Imagine if he added all those steps and spin moves to his game and uses them on a regular basis. It could be scary for the rest of the league.
Now John Schuhmann from NBA Dot Com mentioned that Dwight doesn't have a high release on his shot and thought that he should change his form to use the fadeaway as his weapon. And he's right; Dwight doesn't have the greatest shooting form. But Magic fans HAVE to be encouraged that he's working on his post game. Hell, he seemed to be making those jumpers with relative ease.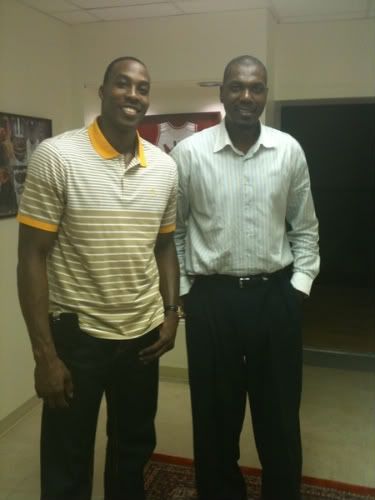 Howard showed off his midrange bank shot a few times last season (I remember those against the Lakers) and, apparently, he did it again last night. If Dwight gets more touches in the offensive end, he could increase his offensive output from past years (he averaged a career high 20.7 PPG in 2007-08… last season, he scored 18.3 PPG). Imagine if Dwight was a regular 25 point per game scorer. Frightening.
Watch that video as "Master Splinter" teaches this Orlando Ninja Turtle the fundamentals of a post game.
HAT TIP: Eddy Rivera from Magic Basketball.
Follow my NBA "commentary" on Twitter. I am @TheNoLookPass. Also, check out our FaceBook page.
[phpbay]orlando magic, 3, "", ""[/phpbay]