It was eight years ago today (August 5, 2002) that the legendary late, great play-by-play announcer of the Los Angeles Lakers, Chick Hearn, passed away.
In many ways, Chick Hearn was the Los Angeles Lakers. For a long time, it was him that completed your Laker games and he was the constant for many years of that franchise. If you weren't at the Great Western Forum or the Staples Center, Chick made you feel like you were there yourself. His non-stop play-by-play is incredible. He can convey what's going on during a game, whether it's television or radio, and never made you feel lost. And he does it in remarkable rapid-fire delivery that only he can. Chick Hearn never seemed to run out of ways to illustrate a current situation and, even at his advanced age, you wonder how he did it. He was the best at debscribing what was going on in a ballgame with his endless basketball jargon. (Listen to his awesome play-by-play over here.)
Some of his basketball terminology has become staples of the game. Slam dunk was coined by Chick himself. So was triple-double. And even give and go. His other phrases, such as "The mustard is off the hot dog", are very familiar "Chick-isms" as well.
He had an amazing gift. Chick Hearn brought tremendous emotion to each basketball contest. During a game, he made you excited for the Lakers. He made you sad for the team. He was frustrated along with you. And he was happy with the Laker faithful. He was the Lakers' biggest fan. Everyone knew he rooted for L.A. but he'll criticize the team, too, when the situation called for it. That's why he was so good at his job. He would have so much fun calling games for this current Laker team and be proud of them. And we would have fun listening to him talk about Kobe Bryant's evolution and Pau Gasol's incredible post game. Chick was great at balancing his homerism and professionalism of calling the game.
Chick is an example of how I want myself to be like. He loved his job. He had a passion for his work. He called 3,338 straight games for 36 years! That's a man that loved and honed his craft. Even when he had laryngitis, he still (albeit a bit humorously) called the game. But that's how much he loved it. As a person, I never knew anyone that disliked him. He was the consummate professional and everyone just seemed to love him. Chick Hearn just seemed to put a smile on everyone's face. On the pre-game shows or even post-game commentary, you can tell by his voice on how he seemed to LOVE not only the game of basketball but life itself. He and Stu Lantz formed a marvelous tandem and had great chemistry that is almost unmatched between two-man announcing teams these days. And not only was he loyal to the sport but he was also loyal to his wife, Marge. They were a few days short of celebrating their 64th wedding anniversary before he passed away.
I never had a chance to meet the man himself but it seemed like I knew him forever because I grew up listening to him and because we shared that one common ground of basketball. Chick Hearn brought people together with his infectious enthusiasm of the game... and his enthusiasm of life itself. While there are great play-by-play men today such as Marv Albert and Kevin Harlan, Chick Hearn has no equal when it comes to calling a basketball game. Current Laker play-by-play man, Joel Meyers, said it himself: Chick Hearn is irreplaceable. His announcing is always missed. More importantly, his presence in this world is always missed.
But his legacy will live on forever. We miss you, Chick Hearn.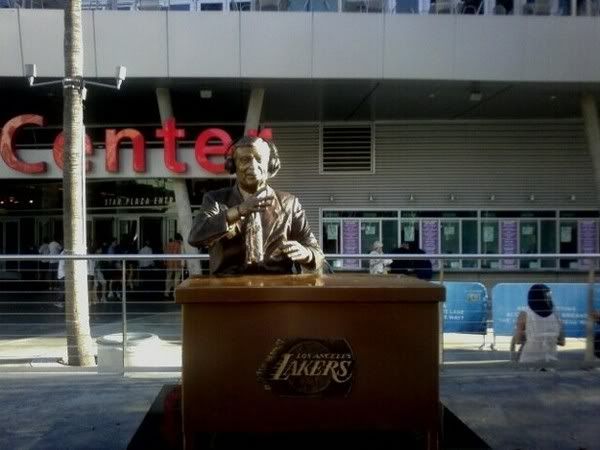 Follow my NBA "commentary" on Twitter. I am @TheNoLookPass. Also, check out our FaceBook page.
We're always up late. How about buying us a coffee? Or an energy drink!?