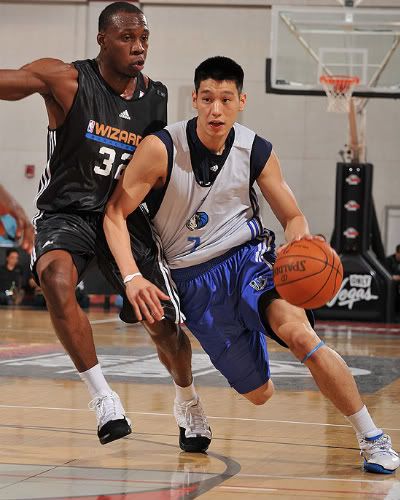 "How do you feel about being the token Asian on the team?"
"What?"
"It's obvious to everyone that the only reason you're on the team is for cosmetic ones."
"That's bullshit. I bust my ass to be on this team."
"But you never get to play."
"So what? I'm still on the team."

The above lines are taken from the 2002 motion picture Better Luck Tomorrow, which tells the story of a group of overachieving Asian kids who grow bored of living within the trappings of being the model minority. The film, independently financed by the filmmakers themselves, would become an official selection at the Sundance Film Festival, where it went on to win the Grand Jury Prize.  Subsequently, it would become the first film ever picked up for distribution by MTV Films.
Some would tell you that the film earned its distribution based off its own merits. Others might say that the film was picked up during a time that the Viacom subsidiary was desperately looking to tap a growing Asian-American market.
Jeremy Lin is a basketball player. Without a resume which featured time at a major NCAA Division I Basketball program, the 6' 3" combo guard did not become one of the names called on the night of the 2010 NBA Draft. Lin would later receive an invite to play on the Dallas Mavericks Summer League roster, where he became a fan favorite during his time on the team. In the following days, he would fulfill his dream of joining the NBA by reaching an agreement to join the Golden State Warriors.
Some would tell you that the Ivy League standout earned his spot on an NBA roster based off his inspired play at this year's Summer League. Others might say that his partially-guaranteed contract was given at a time when new Warriors ownership was looking to make a splash, adding him to the roster to tap the San Francisco Bay Area's large Asian-American community.
It is a story of parents who dared to dream that one of their children might grow up to play in the NBA – a story of persistent determination after going unnoticed, even by schools in Lin's home state of California.  And yet, the story continues to be one about Taiwanese-immigrant parents that dreamed their son would someday play in the National Basketball Association – a story of how an Asian-American basketball player didn't give up on his belief that he could play the sport professionally. Considering how much of an underdog story it is for any undrafted player to make an NBA roster, a significant amount of focus is being made on what Jeremy Lin is rather than who Jeremy Lin is. Ask Eduardo Najera if he got the same exposure for being only the second Mexican-born player in the NBA, or if Jamario Moon was given the same amount of press for his 7-year journey into the league.
Why is it then that so much attention has been given on Lin's ethnic background? There are a handful of Asians in professional sports across America, as well as a number of Asian-American athletes, either past or present.  Short-term memory may be a likely cause. An issue here that most would like to avoid publicly discussing, though, is the notion that more than any other race, Asians and Asian-Americans are defined by their ethnicity.
"I feel like, at least from my own opinion of myself, I'm first and foremost a Christian and also a basketball player, and all anyone really wants to focus on is me being Asian-American," he says in an interview on Bay Area radio station KNBR.
Stories have circulated of the racial slurs that Jeremy Lin had to endure while playing at Harvard, stories that mention that the slurs persisted throughout his entire college career. In a transcript from San Jose Mercury News columnist Tim Kawakami, Lin mentions: "It was bad the first couple times. But I just learned to block it out. It taught me a lot. It just made me a better player, just mentally stronger."
Even more disheartening is Lin's  belief that he expects the slurs to follow him into the NBA.
In the case of sports, it is widely accepted and believed that strength and toughness are needed to compete at an elite level. In the case of Asians and Asian-Americans – especially when it comes to males – the stereotype that follows them is that they are weak and timid. Put the two together and it becomes easy to see why Asians in general are stereotyped as being poor athletes.
Perhaps that is why most colleges were apprehensive about offering Jeremy Lin a scholarship, preferring him to walk-on to the program with no guarantees of making a team. Perhaps that is why he wasn't selected on the night of the 2010 NBA Draft. Perhaps that is why some are still questioning whether or not his contract with the Golden State Warriors was given for basketball reasons.
It must have been quite the surprise then when Lin held his ground against number one pick John Wall, eventually usurping the Cox Pavilion crowd. And whatever scouts and basketball fans alike were saying before the Summer League? Well, there are definitely less of them saying those things now.
Does this make Jeremy Lin a role-model? To some, perhaps. Does this make Jeremy Lin a pioneer? Not so much in the basketball sense, where Wang Zhizhi was the first Chinese player and Wataru Misaka the first Asian-American. Lin's journey to the NBA isn't a story about how he is different. Instead, Jeremy Lin's story is about how Asian-Americans don't have to be perceived as different. It's not a story of an Asian-American basketball player making a roster. It's a story of a player joining the team he rooted for as a child.
Perceptions aren't going to change overnight. Nonetheless, with his arrival in the league, Lin is showing the world he is ready to play. He may have yet to log a single minute of time in the regular season, but the longer he stays on the team and in the league, the less people will think of him as an Asian-American basketball player, and more will see him the way he views himself – as just a basketball player.
Find me on Twitter as: @dingyu
The No-Look Pass on Twitter: @TheNoLookPass
Join our Facebook Page!
(Photo courtesy of Garett Elwood/NBA Entertainment/Getty Images)
Podcast: Play in new window | Download