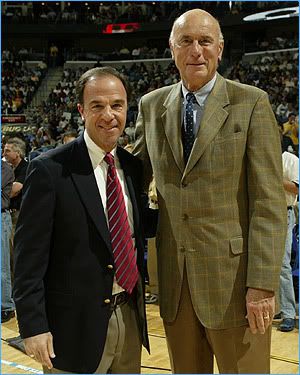 Joel Meyers (left, with Bob Pettit on the right) has been announcing games for the Lakers since 2003.
Being the play-by-play man of arguably the most storied franchise in the NBA is one of the best jobs in the league. For many years, the legendary Chick Hearn filled that position. Now the spot is owned by Joel Meyers, who has been in that position since 2005, two years after he joined the Lakers as the radio play-by-play man. I caught up with Mr. Meyers at Summer League, where he was working for NBA TV.
TNLP: I'm right here with Joel Meyers, L.A. Lakers play-by-play man! How's it going? What are you doing here in Summer League? Do you do this every year?
JOEL MEYERS: Two games a day. Seven consecutive years in Las Vegas (before that, Long Beach), get a head start on the season, and get to see all the young guys.
TNLP: You are working overtime, sir. Lakers… they added Steve Blake. They kept Derek Fisher. They might re-sign Shannon Brown. How do you like the outlook of the Lakers this season?
JM: Well, Steve Blake was an exceptional addition. Great to see Derek Fisher back: a glue guy, a stabilizer, a leader in the locker room (and also brings great chemistry). Don't forget Derek Fisher is also President of the Players' Association. Everything's great with the Lakers. If Bynum gets healthy… it could be a third consecutive title.
TNLP: What do you think about the second-rounders: Devin Ebanks and Derrick Caracter.
JM: Both guys could eventually be in the rotation before the end of the year. Ebanks: very similar (kinda scary) look like Trevor Ariza but a little bit longer. He's defensively going to be a real help for the Lakers down the road. And Caracter's a nice rebounder. He looks like he could be a double-double guy eventually.
TNLP: And everyone's been asking, I'm sure, around the NBA about LeBron, Wade, and Bosh. What do you think of this personally?
JM: Well, it's one thing to have dinner with the guy and it's another thing to live with the guy. We'll find out what their chemistry is, who gets what they want at the end of games, and if everybody gets along. I hope for the best because they're in the Eastern Conference so Lakers wouldn't even see them until the NBA Finals, anyway. My best to Miami.
TNLP: And one more thing, it's really hard to fill in the man… the late, great Chick Hearn's shoes. Do you feel any pressure of doing that?
JM: No, no. The Lakers have made me feel very welcome but nobody will ever replace the voice of the Lakers… and that is Chick Hearn.
TNLP: Thank you, sir.
JM: My pleasure.
We'd like to thank Joel Meyers for kindly giving us a few minutes of his very busy schedule.
Follow my NBA blurbs on Twitter. I am @TheNoLookPass. And check out our FaceBook page.