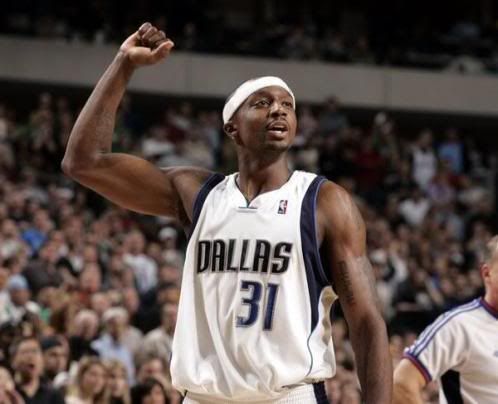 While we were at Summer League, Jason Terry from the Dallas Mavericks was kind enough to stop by and answer a few questions.
TNLP: What brings you here in Summer League? We're surprised you're here!
JASON TERRY: Well, I'm just here watching Roddy Beaubois and (first-round pick) Dominique Jones. These are two young players that can help our team next year.
TNLP: Rodrigue Beaubois? How good can he be?
JT: He can be great! He's a player that reminds me a lot of myself. He can score with the best of them. Defensively, he's long and active like Rajon Rondo.
TNLP: You just re-signed Dirk Nowitzki and Brendan Haywood. How good is this Dallas Mavericks team? Can you go all the way?
JT: That's our goal. Our goal every year is to win a championship every year and, right now, we signed Dirk... we signed Brendan Haywood... we add a couple more pieces and we're right back as contenders next year.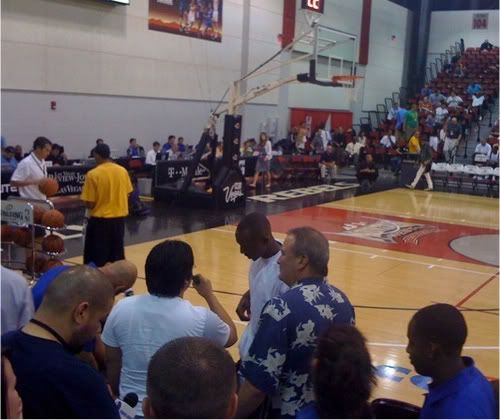 (NOTE: Yes, that is me interviewing Mr. Jason Terry. I need a haircut.)
TNLP: Everybody's asking about this. LeBron. Wade. Bosh. All together. What do you think of that team?
JT: They gotta come through Texas first. We'll see what happens. I'm still mad about the '06 Finals. LeBron just walked into a fire he doesn't know about.
TNLP: Oh, I see how it is!
JT: Yeah.
TNLP: You're in your early 30's. How long can you keep this going? You don't seem like you're declining at all.
JT: Not at all. I think I can keep it going for 6 or 7 more years, God willing. The goal is to win a championship. I'm not gonna stop until I get it done.
TNLP: Do you have a broadcasting career ahead of you?
JT: Hopefully, in the future. Coaching and analyst.
TNLP: Coaching in the NBA? College? High school?
JT: University of Arizona. And then into the broadcast booth.
TNLP: Thank you, sir.
JT: Okay, thanks a lot.
Follow my NBA blurbs on Twitter. I am @TheNoLookPass. And check out our FaceBook page.
We're always up late. How about buying us a coffee? Or an energy drink!?