There have been a number of memorable draft picks in the last 30 years or so but there have also been a number of questionable picks. The No-Look Pass has put together a list of some of our favorite obscure players from picks 1-10 in honor of today's draft.
1. Pervis Ellison – Sacramento Kings 1st pick 1989 NBA Draft
Nicknamed "Never Nervous Pervis" in college, Ellison found himself on the sidelines with injuries during his rookie season and quickly earned the nickname, "Out of Service Pervis". He was dealt to the Washington Bullets the following season and came off the bench. The following season, he was moved into the starting lineup and averaged 20.0 points and 11.2 rebounds and earned Most Improved Player honors. Unfortunately, knee injuries kept him from maintaining that same level of output. Ellison played another 9 injury plagued years in the NBA before calling it quits 9 games into the 2000-2001 season with the Seattle Supersonics.
2. Steve Stipanovich – Indiana Pacers 2nd pick 1983 NBA Draft
It didn't seem too bad getting a 7-foot center who was a star in college at Missouri along with Jon Sundvold. Stipanovich would go on to have solid career averages of 13.2 points and 7.8 rebounds per game, but a mysterious knee condition forced him to retire in 1989.
3. Chris Washburn – Golden State Warriors 3rd pick 1986 NBA Draft
The 6'11 Washburn appeared in 35 games during his rookie season with the Warriors and only started in 2 of them. It seems as though he saved his best for the LA teams as he would go on to score 17 points on 8-13 shooting against both the Los Angeles Lakers and Clippers. However, knee tendinitis led to anti-inflammatories which led to a kidney infection which eventually led to his admittance into a drug rehabilitation facility in Van Nuys, CA. Washburn was never able to get it together and lasted only 37 games the next season and was done with his NBA career after 2 seasons.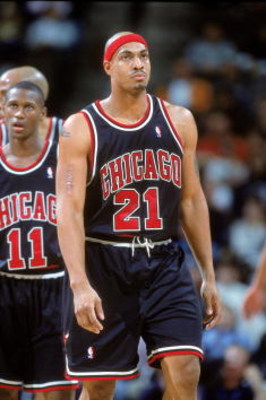 4. Marcus Fizer – Chicago Bulls 4th pick 2000 NBA Draft
Fizer was a high draft pick but unlike most high draft picks, was never a consistent starter and only started in 35 of his 289 total games. He was productive in his second season with the Bulls averaging 12.3 points and 5.6 rebounds per game but a torn ACL in 2003 led to his decline. He moved on to the Bucks and played with them for a season before being named the 2005-06 D-League MVP and signing a 10-day contract with the New Orleans Hornets at the end of the season. His NBA career was finished after his stint with the Hornets and unfortunately for Fizer, he would be more remembered for his 31 tattoos than his play on the court.
5. Nikoloz Tskitishvili – Denver Nuggets 5th pick 2002 NBA Draft
Tskitishvili won a championship in Italy with Benetton Treviso under Mike D'antoni and seemed poised to make an impact in the NBA. Unfortunately, that was not the case as he went on to average 2.9 points and 1.8 rebounds per game during his 4-year NBA career. He was reunited with D'antoni in Phoenix but was waived in July of 2006. Tskitishvili was listed as number 30 on ESPN's "The 100 Worst Draft Picks Ever".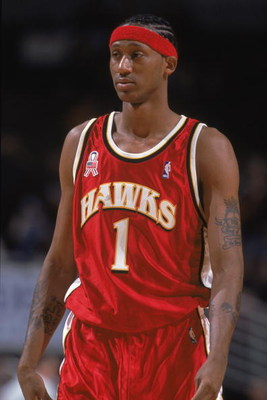 6. DerMarr Johnson – Atlanta Hawks 6th pick 2000 NBA Draft
Johnson didn't see much playing time even on a struggling Atlanta Hawks team. His best season was his second season where he upped his averages to 8.4 points and 3.4 rebounds per game. Unfortunately, before the start of his 3rd season, Johnson crashed his car into a tree and severely injured his neck and sat out the entire season. He made a comeback with the Knicks in 2004 before playing for the Nuggets for 3 seasons. He bounced around the D-League before landing on the Spurs for 5 games before getting into trouble with the law.
7. Bobby Hurley – Sacramento Kings 7th pick 1993 NBA Draft
Hurley had an outstanding NCAA career at Duke University before heading to the NBA in '93. Things changed drastically in December of that year as Hurley, who was not wearing his seatbelt, was involved in a major car accident. Luckily, teammate Mike Peplowski was following close behind him and was able to stay by his side until help arrived. Hurley recovered and returned to the Kings the following season but never lived up to expectations with career averages of 3.8 points and 3.3 assists per game.
8. Lancaster Gordon – Los Angeles Clippers 8th pick 1984 NBA Draft
The Clippers selected Lancaster Gordon with the 8th pick in 1984 when Hakeem Olajuwon, Michael Jordan and Charles Barkley were already selected. Otis Thorpe and Kevin Willis, who had extended careers in the NBA were still on the board and even John Stockton was available when the Clippers selected again at number 13. Unfortunately for the Clippers, Gordon never really developed even on teams that finished with 12 and 17 wins. He retired as a Clipper in '88 with career averages of 5.6 points and 1.5 assists per game.
9. Samaki Walker – Dallas Mavericks 9th pick 1996 NBA Draft
There were big names in the 1996 NBA draft: Kobe Bryant, Allen Iverson, and Ray Allen just to name a few, but none of them were as stylish as Samaki Walker. He did not have a spectacular career, but played solid minutes on successful teams early in his career, playing with the Mavericks, Spurs and won a championship with the Lakers in 2002. He bounced around from team to team until 2006 when he was waived by the Indiana Pacers.
10. Luke Jackson – Cleveland Cavaliers 10th pick 2004 NBA Draft
The Cavaliers went from drafting LeBron James in 2003, to drafting Luke Jackson in '04. He was the 10th pick and only played in 10 games during his rookie season. He would play in another 36 the following season before being traded and eventually waived by the Boston Celtics. From there Jackson would bounce around the D-League and teams such as the Clippers, Raptors and Heat before his NBA playing days ended in 2008. He had career averages of 3.5 points and 1.2 rebounds per game–
That's our list and while there is a great deal of uncertainty of which player will go to which team in the 2010 NBA Draft, these 10 players will be remembered forever for one reason or another. The No-Look Pass salutes these obscure NBA draft picks.
Questions? Comments? Feel free to leave a comment below or:
Hit up the Bolo Box – Peter@thenolookpass.com
Follow me on Twitter: @Yungbolo Also, join our Facebook page!