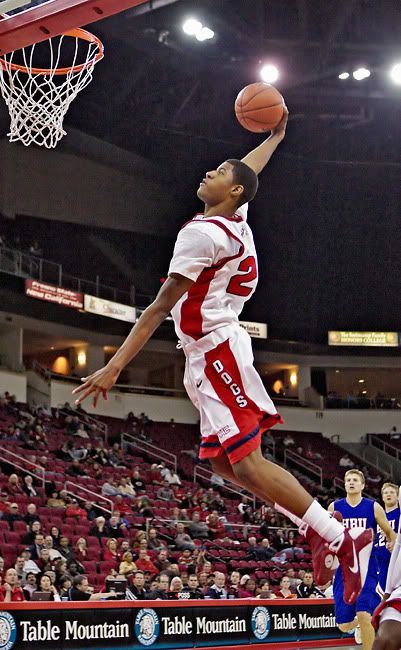 Imagine this – a kid growing up in Southern California, loved the Clippers, and then ends up in the NBA, possibly playing for said team. Well, that kid's name is Paul George.
At first glance, the thing that stands out about George is his quick release. It looks so effortless when he lets it fly and when it goes in, it's a thing of beauty. He has NBA range indeed, but must improve on his shooting percentages (42.4% FG, 35.3 3PT in sophomore campaign). He's also a very good rebounder for a wingman.
Of course there are glaring weaknesses such as a tendency to turn the ball over and an inability to pull up for a shot off the dribble with enough effectiveness. However, he's shown a desire to learn and compete in his workouts and that's always a positive. Because of this, it possibly might've helped himself jump a couple of spots on the board.
What he would mean for the Clippers? Well, he can play SF although he stated he preferred SG. Will his lanky frame be strong enough to cover the LeBron's and Melo's of the league? For the Clips, his knack for scoring and shooting ability would come in handy more than a guy like Aminu. Blake Griffin and Chris Kaman will see many double teams and it would be nice to have a guy like George on the perimeter spotting up. He's been compared to a Trevor Ariza/Danny Granger type which isn't bad at all. But the Clips might have better options at #8. Nonetheless, I would welcome him with open arms if he were selected by them.
George Bulldoggin' it.
Follow me on Twitter @illastrate
Follow The No-Look Pass @TheNoLookPass
Also, please join our Facebook page!