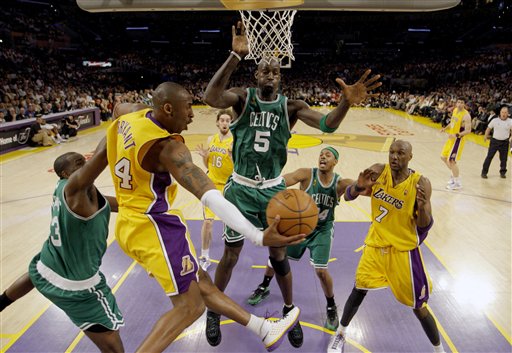 Well, here we are. Game 7 of the NBA Finals. I should pinch myself and repeat what I just said. It's Game 7 of the NBA Finals. What? It's Game 7 of the NBA Finals.
It all comes down to this game. 80+ hours of total basketball time each for the Los Angeles Lakers and the Boston Celtics in the past seven months come down to one final match-up. It's Game 7 of the NBA Finals. For all of us that are fans of the league, it cannot get any better than this. Two of the most storied franchises in NBA history are fighting it out for all the marbles in a Game 7.
One final game in a winner-take-all. Someone can potentially be a hero. Someone can potentially be a goat. This game could be remembered for a long, long time. It could be an instant classic. You've got two teams that have been pretty much on top for the last three seasons. One team is led by someone who's entering the final chapter of a storied career. One team could be making one last stand. It almost seems destined. It's the Los Angeles Lakers against the Boston Celtics in Game 7 of the NBA Finals. It just seems fitting. It just feels right.
There are all these statistics. Boston is 34-1 in best-of-seven series where they led the opponents, 3-2. The home team is 13-3 in Game 7 of NBA Finals history. The Lakers are only 2-9 against the Celtics in the NBA Finals. The Celtics are the only team to beat the Lakers at Staples Center in the postseason. Since the 2-3-2 Finals format was created in 1985 (which, by the way, has to go… but that's another story), there have only been three Game 7's… and the home team was 3-0. Kendrick Perkins is hurt (and out for Game 7). Andrew Bynum is hurt.
Does all of that really matter? I guess if you want them to matter, sure. But there is always a first time for everything. There are exceptions to the supposed rules. There is always something that stands out. There is always the 6 percent that don't agree with the other 94 percent. The only supposed edge here is of home court where the Lakers have ruled the majority of the year. Let's face it, though; in the end, it does not matter. Both of these teams will play their butts off and will do everything in their power to get that one final win in Game 7.
It's inevitable that people will get ahead of themselves and talk about the legacies of players and coaches instead of talking about the potential greatness of Game 7 itself. As far as "legacies" are concerned, that's just something the rest of the media will chew on. In my mind, they are just all adding to their resume. Phil Jackson would get an 11th ring. Kobe Bryant would add a fifth ring to his awesome hall-of-fame career if he and the Lakers win Game 7. Forget his comparisons to Michael Jordan, Magic Johnson, or Jerry West; five rings is five rings. Even if he lost twice in the NBA Finals, so what? Magic lost four times in the Finals and his legacy is not "tarnished." It's not often a player goes to the NBA Finals for half of his career when some players don't even get to sniff the NBA Finals once. While everyone will compare Kobe to every great player out there, Kobe Bryant (win or lose) will be recognized as one of the all-time greats in NBA history and is possibly the greatest player in this generation.
As far as the team in green is concerned, this team will be recognized for having one of the more improbable championship runs ever. The Celtics limped into the postseason before finding their mojo in mid-April. They blasted through the Miami Heat, even though some people picked the Heat to upset Boston. The Celtics embarrassed Cleveland, the team with the best record this season. And they plowed through Orlando, the Eastern Conference Champions of last year. Not a lot of people (including me) gave them much of a shot to get to the Finals… and yet they're at the cusp of another NBA title. Paul Pierce, Ray Allen, Kevin Garnett, and Rajon Rondo would add a second ring to their great careers and would be mentioned among the all-time Celtic greats who have multiple rings.
I'm sure these "legacies" are on the back of their minds. But all that really matters to them right now is Game 7. They just want to win. They'll let the media talk about legacies, the "what ifs", the "what-could-have-beens", etc. At the end of the day, it's all about winning that elusive championship. Again, not many even get to the championship round. The players and coaches can talk about legacies later on when they're on their rocking chairs talking to their children and their children's children. Game 7 of the NBA Finals is the only thing that matters.
Whether you're a Lakers fan, a Celtics fan, or just a basketball fan in general, I can't emphasize on how great this is. I can't possibly describe in a thousand words the magnitude of this game. You have to love this. Whatever happens in this game will be remembered for a long time. Some of the things that will be said after this game will be unfair because of what happened. As I mentioned earlier, someone can potentially be a hero and someone can potentially be a goat. Someone from the winning team might get a lifetime pass from the team's fan base. Someone from the losing team might need to hide from that team's fan base.
I mentioned a couple of weeks ago that we should enjoy this final round (it has been a great Finals!). Well, I'm telling you all now that we, as NBA fans, should not miss this game. I'm not going to take this for granted; it's Game 7 of the NBA Finals for crying out loud! There is nothing better, there is nothing more at stake, and it may be years before we see another Game 7 in the NBA Finals (the last one being at 2005). The fact that it's the Lakers and the Celtics that are duking it out for the title is just the icing on one sweet, delicious cake.
Buckle up, ladies and gentlemen. By the time Thursday at 9 P.M. gets here and we're all watching this magnificent match-up, you're going to wish that Game 7 of the NBA Finals will go on forever.
Follow my NBA blurbs on Twitter. I am @TheNoLookPass. And check out our FaceBook page.