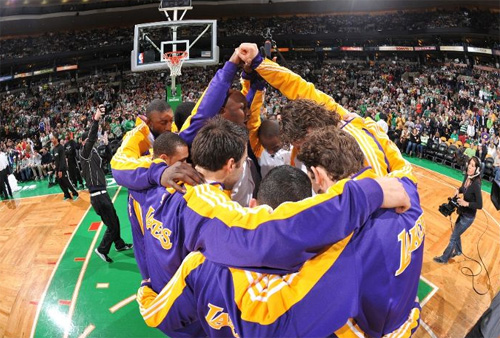 Guess who's back? The Lakers are back in the Finals. Third straight year. And guess who's in the way? Those pesky Boston Celtics.
Well, I'm not even going to delay this any further. Let's talk Lakers with the guys from The Lakers Nation, Jason Riley and Chris Manning. Shoutout to Brian Kamenetzky from ESPN Land O'Lakers as he already had enough on his plate. Thanks to him for participating in the rest of the previews, though.
Let's do this. Their answers are in purple.
Tell me the truth. You didn't expect Boston in the Finals, did you? I know some of you rooted for 'em (what a sin) but you didn't EXPECT them to be there.
JASON RILEY: I admit, I got caught up in the whole Celtics are reeling extravaganza at the end of the regular season. In my defense, the C's had the same pulse a Kristen Stewart Oscar campaign might have. I remember them losing to the Nets… at the TD Garden… in April… after building a 20-point lead. I was a guest on a Midwest radio show around that time and boldly declared the Boston Celtics to be done. .
I picked Miami in 6 games. I picked Cleveland in 6 games. I picked Orlando in 7 games.
Every time I get a call from my boss I'm expecting him to say, "Look, Jason, you've had a good run, but you just don't know what the hell you're talking about. Maybe start watching basketball every once in a while and then come talk to us in a few years. Good luck in whatever non-basketball related career you choose to pursue."
I was 100% wrong about Boston – but to redeem just a shred of credibility, I did pick every non-Boston series in the playoffs correctly. (Pats myself on the back)
Lastly, Rey, for the record, I did not, at any point, root for the Boston Celtics. As much as I loved the idea of a shot at redemption for '08, I simply could not bring myself to wish good fortune on them. I understand the we want Boston movement from Lakers fans, but I was certainly not part of that crowd.
CHRIS MANNING: Honestly, I was one of the rare people that predicted Boston would make it back to the finals assuming they're healthy. I openly rooted for them because I selfishly wanted revenge on Boston. I mean, who wouldn't? Still, I am not shocked that they made it but I'm certainly shocked at how well they came together, like the Lakers, despite what their records say. Beating Cleveland and Orlando is impressive, but I never thought either of those two teams would make it if the C's were healthy. People laughed and said they were old, but they showed championship poise and veteran leadership, much like the Lakers, to pull through the series.
Every time I see green, there is a bitter-blood taste in my mouth when thinking about 2008. Lakers and Celtics is a storied rivalry that ranks among the top echelon in all of sports. 2008 renewed it with the current generation of great players and moments. Yes, I've wanted Boston. They've wanted us. Now it's the battle of the titans.
So if the Lakers win the 2010 title, will this be THAT much sweeter than the 2009 title?
JASON: Absolutely, 100%, Yes.
I'd go as far as saying the historical significance of the '09 NBA championship hinges on what happens over the next ten days.
If the Lakers repeat, it validates their '09 victory over the Orlando Magic and gives them a decided edge over Boston as the best team in the NBA over the past three seasons.
If the Lakers lose, it will be the second loss to essentially the same Celtics team in just three years – certifying the popular assertion out of Boston that a healthy KG would have resulted in a three-peat.
There is no question that this NBA title for the Lakers would be far more significant for everyone involved.
CHRIS: Yes, it will. Like Kobe said, 2008 taught them how to be champions. ANY victory over the Celtics will be much more meaningful; especially the finals. Fans still remember the great rivalry of the past and walking around L.A., there is nothing like being stopped with people raising fists in the air saying "let's go" and then saying they hate Boston. This is the pinnacle of basketball in my opinion and can solidify Kobe's legacy as every great Laker seemingly beat the Celtics. In other words, there couldn't have been a better scenario for Lakers fans.
The Lakers kinda had the ideal opponents. Does this get them ready for the Celtics?
JASON: Nope.
Oak City, Utah and Phoenix were essentially the same team. Explosive, up-tempo offense with mediocre, we want to outscore you defense. The Thunder and Suns were able to draw out some urgency from the Lakers (both lost in six games), but neither team posed the defensive threat that L.A. will see from the C's in the Finals.
On the other side of the bracket, the Celtics have been thoroughly tested – beating three superstars (Wade, Lebron and Howard) in as many series, and doing so in convincing fashion. For all intents and purposes, they are every bit as good on the defensive side of the ball as they were when they won the title in '08.
Fortunately for the Lakers, the Celtics are the Celtics, and it won't take any pep-talks from Phil or locker room visits from Magic to motivate them. I have said all season that a focused, energized Lakers' team is the best in the NBA – the Celtics will undoubtedly put that assertion to the test over the next ten days.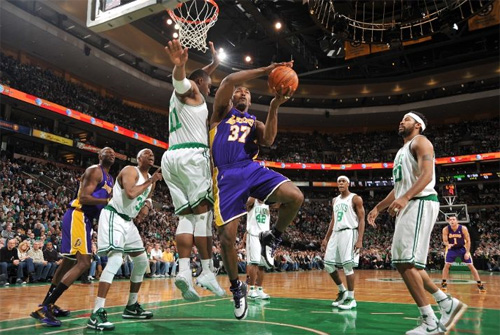 CHRIS: Boston has one key and his name is Rajon Rondo. If Westbrook, Williams and Nash haven't prepared us for Rondo, I don't know another set of PG's that will. The zone played by the Suns was also key as Boston will likely zone up against L.A.
Most of all, both sides beat some of the most talented and tough-minded teams in the league. I don't believe you can necessarily go by records because if the Celtics were healthy, they'd have the #1 seed in East.
At this point, if the Lakers aren't ready, Boston will have a new championship. Both teams are champions, tough and experienced. Bring it on.
Keys to victory for the Lakers.
JASON: I could easily write 20+ keys to victory in this series. For your sake (and mine), I'll keep it to just three:
Toughness.
It's no secret that the C's hung their hat on this in the '08 Finals. Perkins/KG/Sheed/Big Baby love to play physical. As they did with D-Howard, they will try to beat you up in the post and coerce you into being hesitant. This type of game is not in the Lakers DNA. Even so, they have to stand up to the challenge and not be forced into a passive, jump-shooting game. The Lakers bigs' (Pau, Drew and Odom) ability (or failure) to match the C's toughness will be a huge storyline in this series. .
Artest vs. Pierce.
This is exactly why the Lakers brought Ron Artest to Los Angeles. This is his moment. For better or worse, his career will likely be defined by what he does over the next 4-7 games. How will the refs call this match-up? Will they let Ron be physical? Will the Pierce-flop draw a foul call? Those are all questions that we can't answer right now.
I will say this: Pierce vs. Artest ('10) sounds a whole lot better to the Lakers than Pierce vs. Radmanovic ('08).
The 1st Quarter.
While the Celtics tackled the Eastern Conference playoffs, they were heavily reliant on getting out to quick starts in the opening quarter. Why?
Two reasons.
(1) They're not exactly spring chickens anymore.
(2) They haven't finished games well at any point during this season, including in the playoffs.
Check out the numbers they posted in the fourth quarter (and O.T.) of their series vs. Orlando:
Gm 1 (-12) | Gm 2 (-5) | Gm 3 (-5) |Gm 4 (-5) |Gm 5 (-12) |Gm 6 (-9)
Orlando won the fourth quarter in all six games, outscoring Boston by a total of 48 points, but lost the series, 4-2.
Fluke? I don't think so. In each playoff series, the C's have looked worse and worse in the all-important fourth quarter. If the Lakers can eliminate the Celtics hot starts, I really like their chances in this series.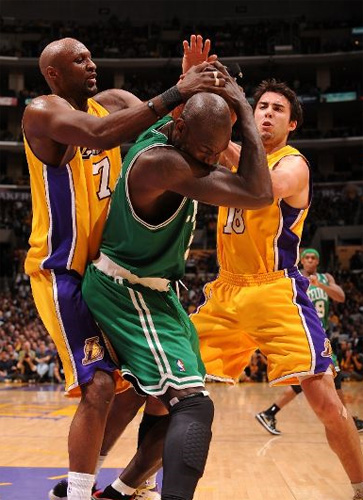 CHRIS: 1. Stopping Rondo's movement and setting up others.
2. Controlling the glass.
3. Picking up a tech on Perkins (Hey, he'll be suspended for a game, right?).
4. Matching intensity.
5. Imposing our will.
6. Make them bleed.
No need for predictions here. Anything you want to say to L.A.? To Boston? To me? The NBA? Your dog? ANYBODY?
JASON: To L.A.: Back-to-back championship merchandise will be available immediately following the trophy presentation at Staples Center on June 15th!
To Boston: I believe NBA.com has some archived highlights you can watch from the '08 Finals. Just lookin' out for you guys.
To Rey: Congrats on the SLAM gig, bro. Keep up the good work! And once again, thanks for bringing me on board for the '10 playoffs.
To the NBA: Word on the street is that Jim Joyce is on the job market. You gotta' do what you gotta' do to get Lebron to the Finals, right?
See you at the Parade, L.A.
CHRIS: Revenge is coming…
I am SO ready to go.
PHOTO CREDITS: 1 and 2) Jesse D. Garrabrant/NBAE via Getty Images. 3) Andrew D. Bernstein/NBAE via Getty Images.
Follow me on Twitter for random commentary on the FINALS. The user name is @TheNoLookPass.
And LIKE our FaceBook page. That's right! LIKE! 'Cause we said so!