#3 PHOENIX SUNS 112 @ #1 LOS ANGELES LAKERS 124
(Lakers lead series, 2-0)
Game 2 looked more of the same from the start. The Suns turned the ball over early and often; they committed 7 giveaways in the first quarter. The Lakers did the usual, playing terrific defense and running the Suns off the three-point line. Ron Artest got off to a great start. He scored 10 in the first, including a buzzer-beating 3 that put Los Angeles up, 36-24.
The Suns' bench made a nice 11-0 run in the second quarter as they tried to push the pace a little more. This prompted Phil Jackson to bring some of the starters back. Not only were they able to stop the bleeding but they were able to build the lead back up. The Suns continued to pay Artest no mind and Artest made them pay every time (15 points in the first half). The Suns were shooting much better at 3 (6/12)... but the Lakers not only matched them but outshot them outright (7/11). Lakers led at the half, 65-56. It was pretty much like the first half of Game 1.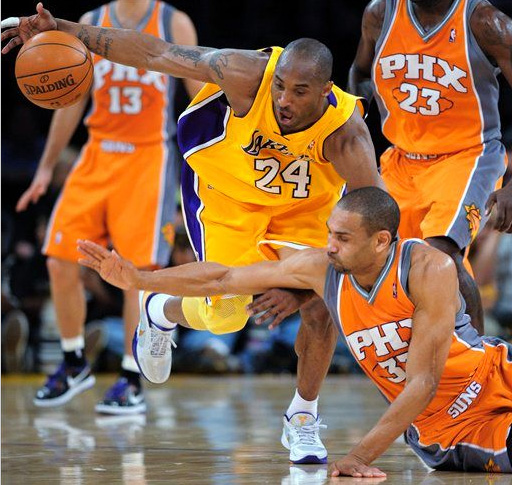 The teams traded baskets for a good chunk of the third quarter until Grant Hill (who I had mentioned was silent) got on fire. He scored 14 points in the third and helped lead a small Suns line-up to a deadlock at the end of 3, 90-all. We wondered how long that run would last.
It didn't last long. The Suns went to their bench as usual but the Lakers took advantage and went on a 9-0 run at the start of the 4th to break the game open. Phoenix returned to their regulars but it was too late. The size of the Lakers eventually overwhelmed the Suns, especially Amar'e Stoudemire, who said Lamar Odom was lucky to get 19 points and 19 rebounds in Game 1.
Kobe Bryant pretty much played facilitator all night long. He finished with 21 points and 13 assists. Gasol took advantage of his size and lead the Lakers with 29 points. Ron Artest finished with 18 and Lamar Odom was "lucky" (tired joke, I know) to score 17 points and grab 11 rebounds. On Phoenix's side, Jason Richardson ended with 27 points. Hill exploded with 23 points. Stoudemire's game didn't do much talking as he finished with 18 points and 6 rebounds. Jared Dudley came off the bench with 15 points while Steve Nash had 11 points and 15 assists.
Phoenix's small line-up of Nash, Dudley, Hill, Richardson, and Stoudemire worked for a little bit. Maybe they'll go to that more often. In the meantime, Odom has stepped up in this West Final just like he did last year against Denver. Lakers will continue to use that size advantage... just as they did against Utah and what they should have used against Oklahoma City all series long. That size advantage enabled them to get easy shots (combined with the Suns' awesome defense... ha ha) and shoot nearly 58 percent.
Scene goes back to Phoenix on Sunday. The Suns NEED to win Game 3.
PHOTO CREDIT: Mark J. Terrill/AP.
Follow my NBA "commentary" on Twitter. I am @TheNoLookPass. And check out our FaceBook page.
We're always up late. How about buying us a coffee? Or an energy drink!?